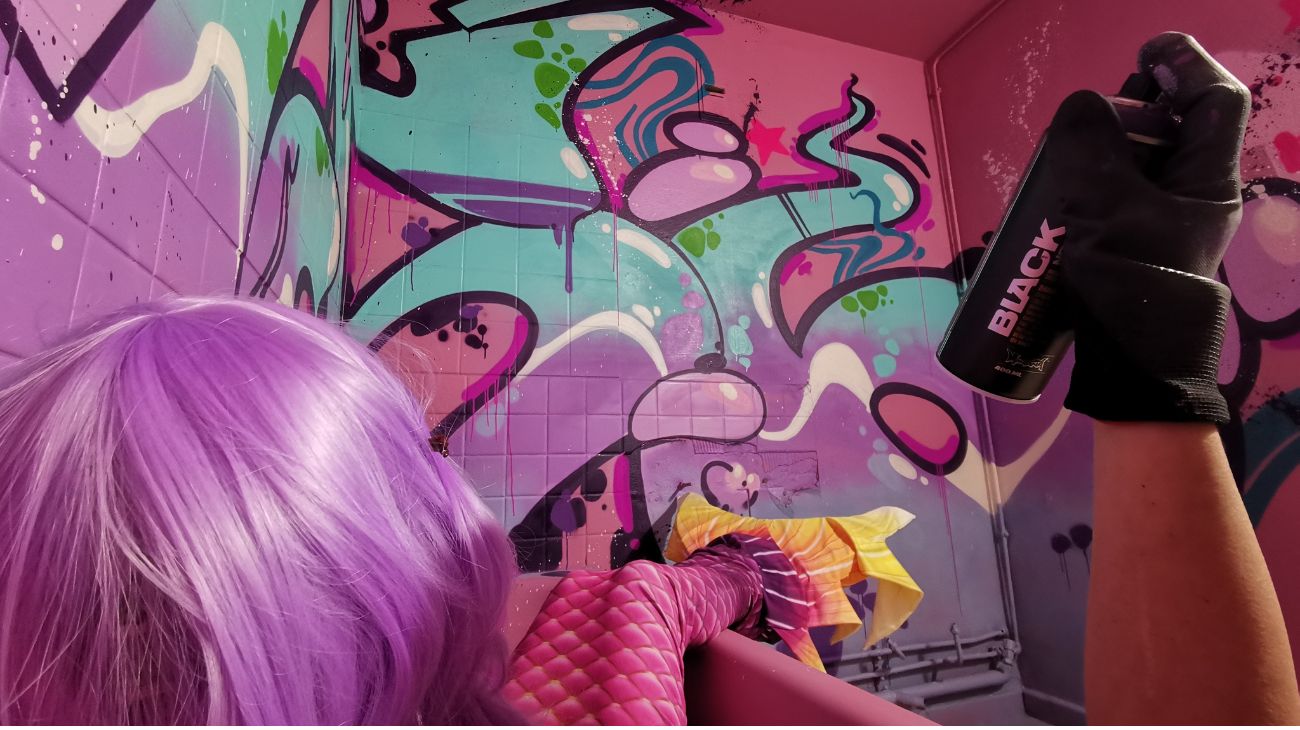 LADY K
Interview with French graffiti writer Lady K: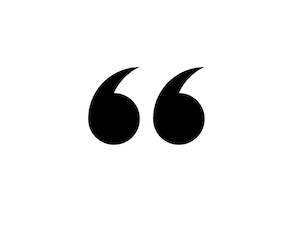 Rather than shock, I would like to lead people to think that a more direct democracy would be much more beneficial for everyone.
You grew up in the suburbs of Paris and are still active on the streets of the city. Your father was a sculptor and interior designer, your uncle painted with an airbrush, your grandfather was a photographer, and your mother worked with marble, wax, and patina. No wonder you developed a connection with art at an early age and also decided to pursue a career in art. In 2000, you began your studies at the Ecole des Beaux-Arts in Paris, and over the years you have tried different styles and mediums. But much earlier, in 1990, you discovered graffiti and tagging and started your street career. Why did you choose this form of artistic expression and not another? What were the major difficulties, both social and environmental, that you encountered at the start? And what was your motivation?
I have another uncle who was an industrial designer; my uncle who did airbrushing played the guitar and I had another one who played the synth, and my grandfather played the accordion. They were all engineers. My dad liked to sing too. This is perhaps also why I am interested in the interaction between music and the visual arts, and why Kandinsky and the modern arts interested me much more than the other periods, because during the interwar period, they loved to study the interaction between the arts.
When I was a teenager, I read books on art history and theory, learning a lot from prehistory to bio-art, but there was nothing about street art. It was innovative in the same way as the digital arts, which will become more common in the future, with more bridges between sciences and engineering. There was this outsider view, renewing the painting by placing it in public places, whether it aimed to re-enchant with very beautiful pieces or to criticize with wild tags. There are links with human sciences such as sociology and politics. When I was younger, I think my family pattern pushed men towards more technical disciplines and girls towards more literary sectors. So that's also perhaps why I opted for this form of art – to disrupt everyday life. I wanted to show that I could be like these men and invest in the street in this way and not be worried because I walk alone and late. I think I wanted to reveal that there was something wrong with the political arrangement.
The first difficulty was to avoid the police or attackers. The second was to find people to write with. It's an environment made up almost entirely of men. You had to either find girlfriends or find male friends who would just be interested in painting, not develop a love story, or have jealous girlfriends. Women are much more criticized than men of equal or superior competence: tough-skinned misogyny. We always highlight their sexuality too, as if we were reduced to a pair of breasts, a flat belly, and a big butt. Women are raised to serve men; this is still so deeply rooted in our education.
My motivation was to be able to walk around without being arrested, avoiding aggressions, to have girl and boyfriends, to have created beautiful art (paintings, sculptures, installations, videos, photos), and to be able to seduce many people: collectors, gallery owners, journalists, public institutions… And it's still as such, if not even more.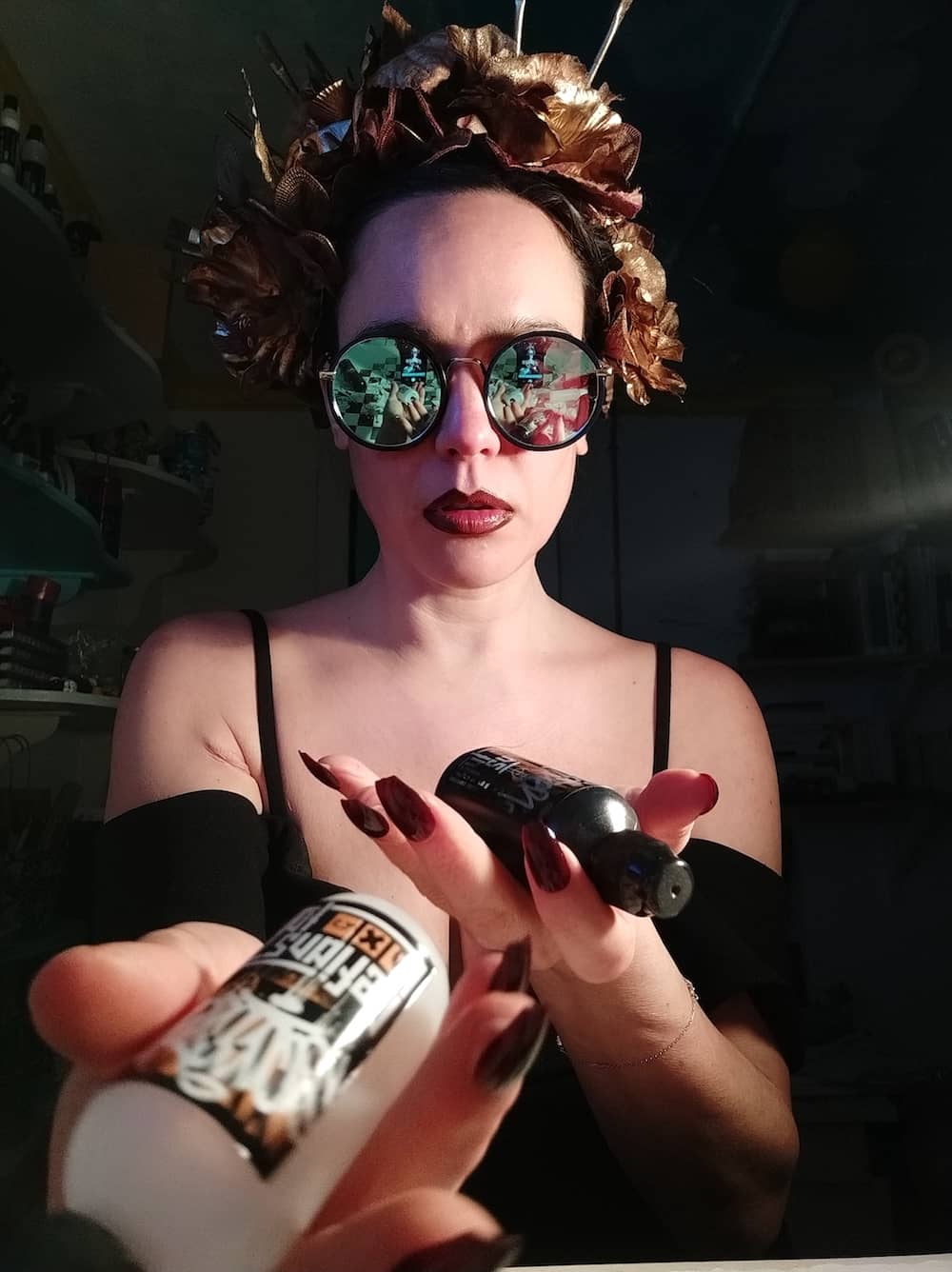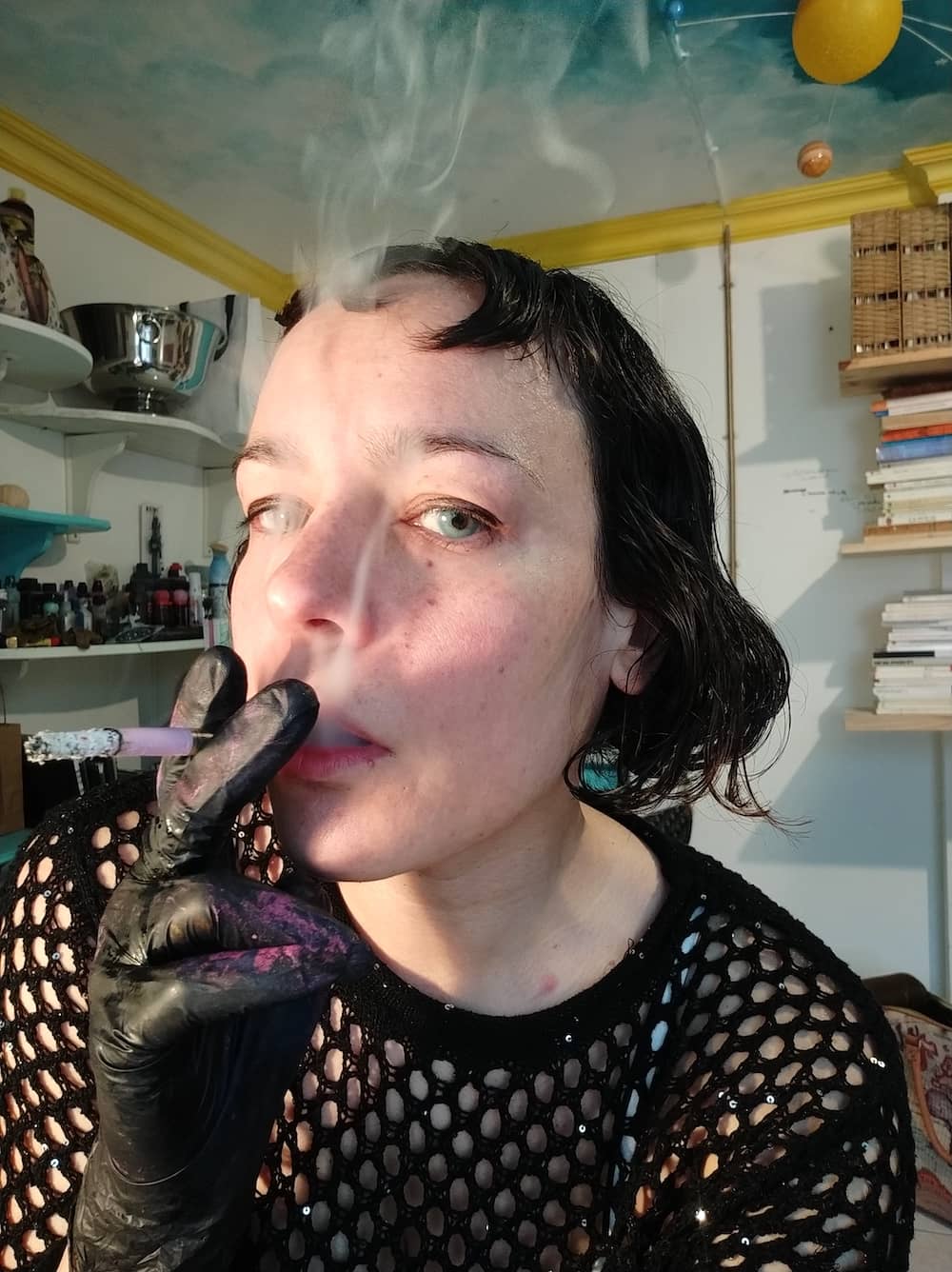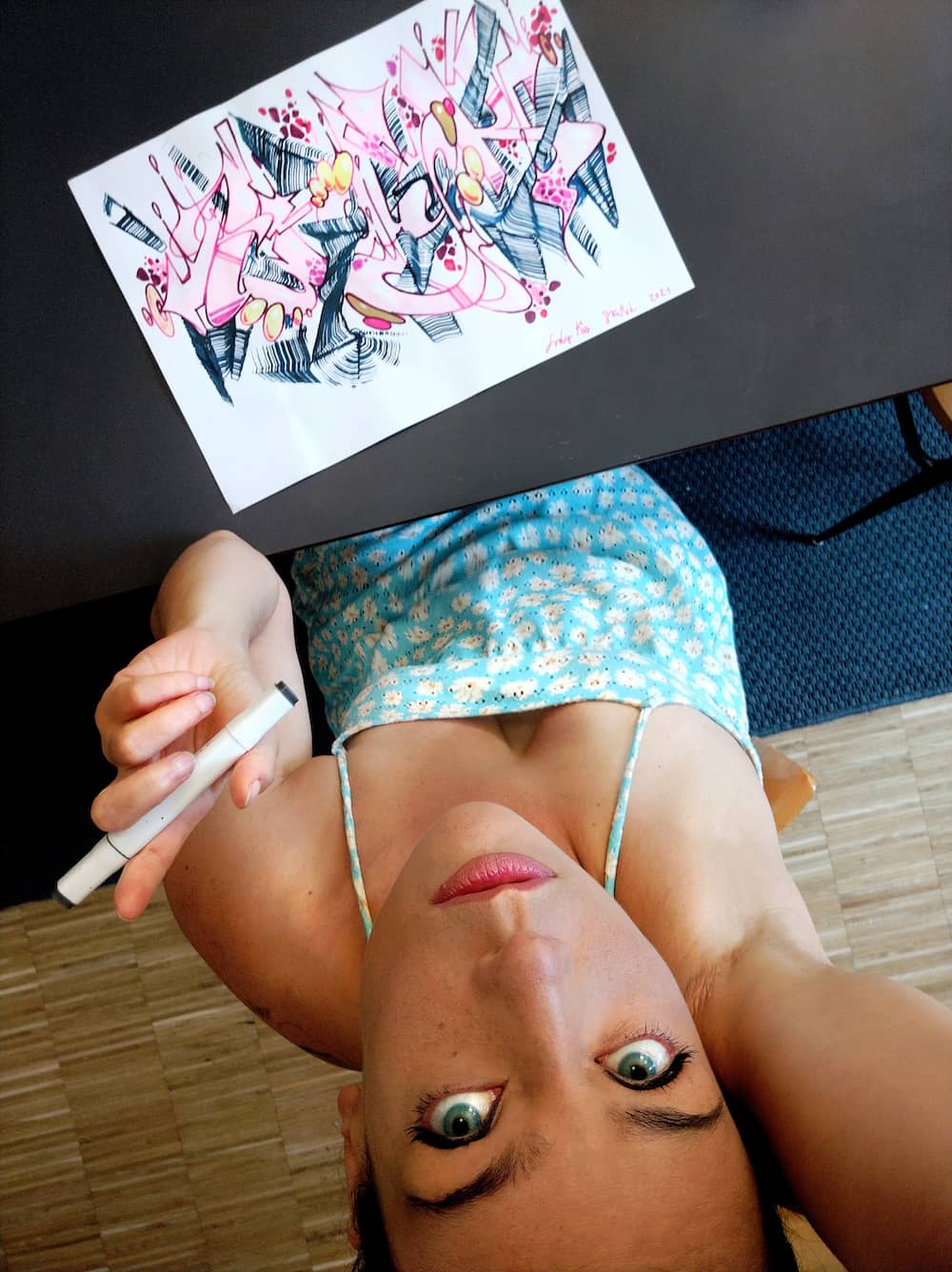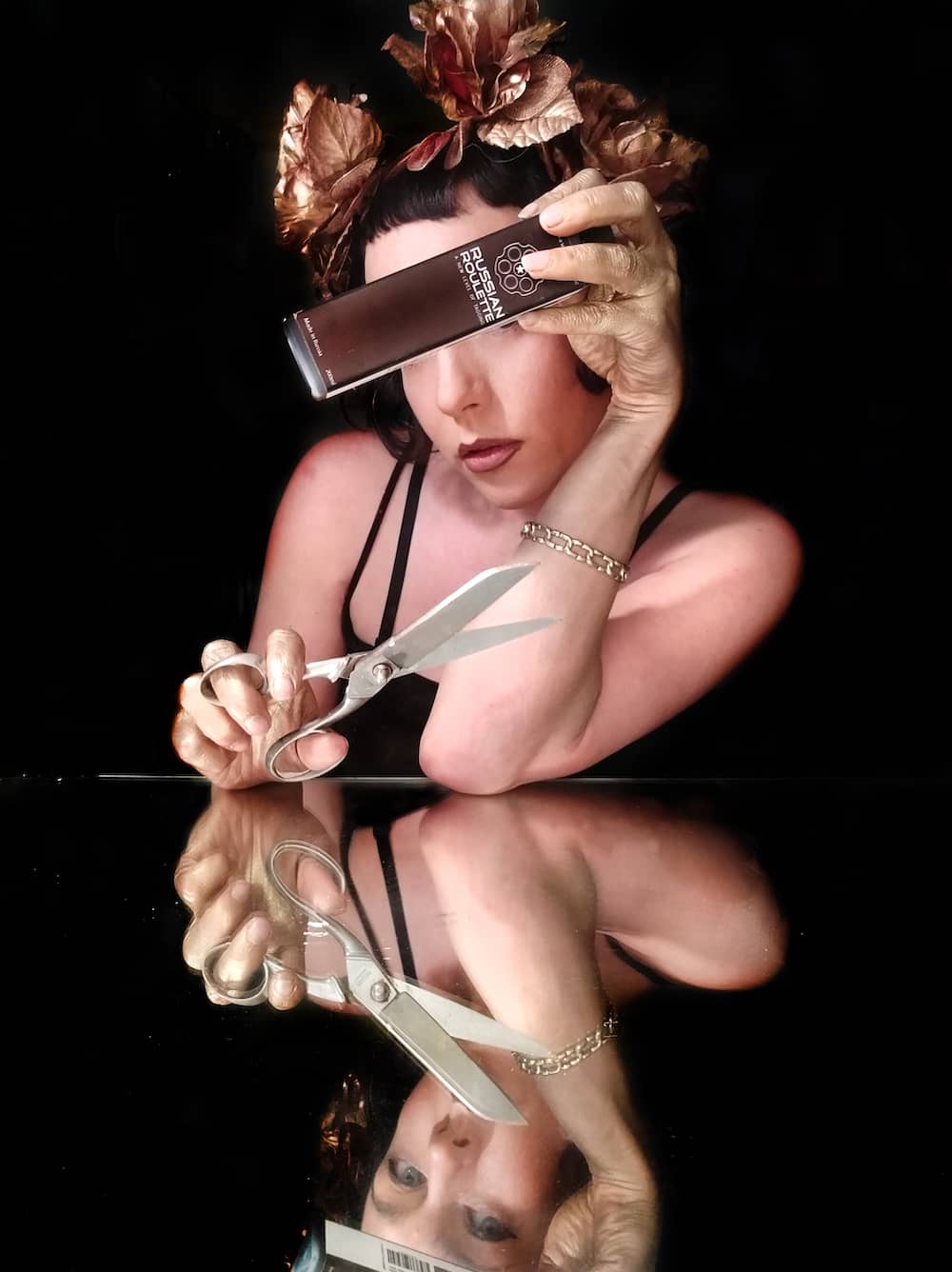 What memories do you keep of your first piece? How much have you changed artistically compared to the last ones?
My first piece in the street, apart from tags, was done with a brush, red paint on a wall where everyone was signing near the police station and the town hall. It looked horrible. I still have the pictures. I have improved my style a lot both in terms of painting technique and photos (because even the photos of this place are horrible). I have always painted and theorized at the same time. I wanted to make my paintings more political, by choosing strategic locations and mediums, by writing sentences, then by working on the link between arts and sciences. 
Thoughts configure the world; we imagine the world of tomorrow by producing political theories that will organize social and economic exchanges. Science invents the technology of tomorrow by imagining it today, and arts and other human sciences do the same. They invent the soul of tomorrow's world by imagining it today. 
I think many of us believe in a more mindful, sustainable world. We cannot cut humans off from the world; our well-being depends on interactions with the environment, and many are alarmed by today's situation. We cannot envisage economic decline; we can only imagine how to produce a circular economy and hope to be able to put it in place. Art, through its communicative function, participates in spreading ideas, whether ideologies or utopias. This is why the political powers use the arts in propaganda. An image is very effective; it tells you an entire book in three brushstrokes, or a song gets into your head and organizes your way of thinking…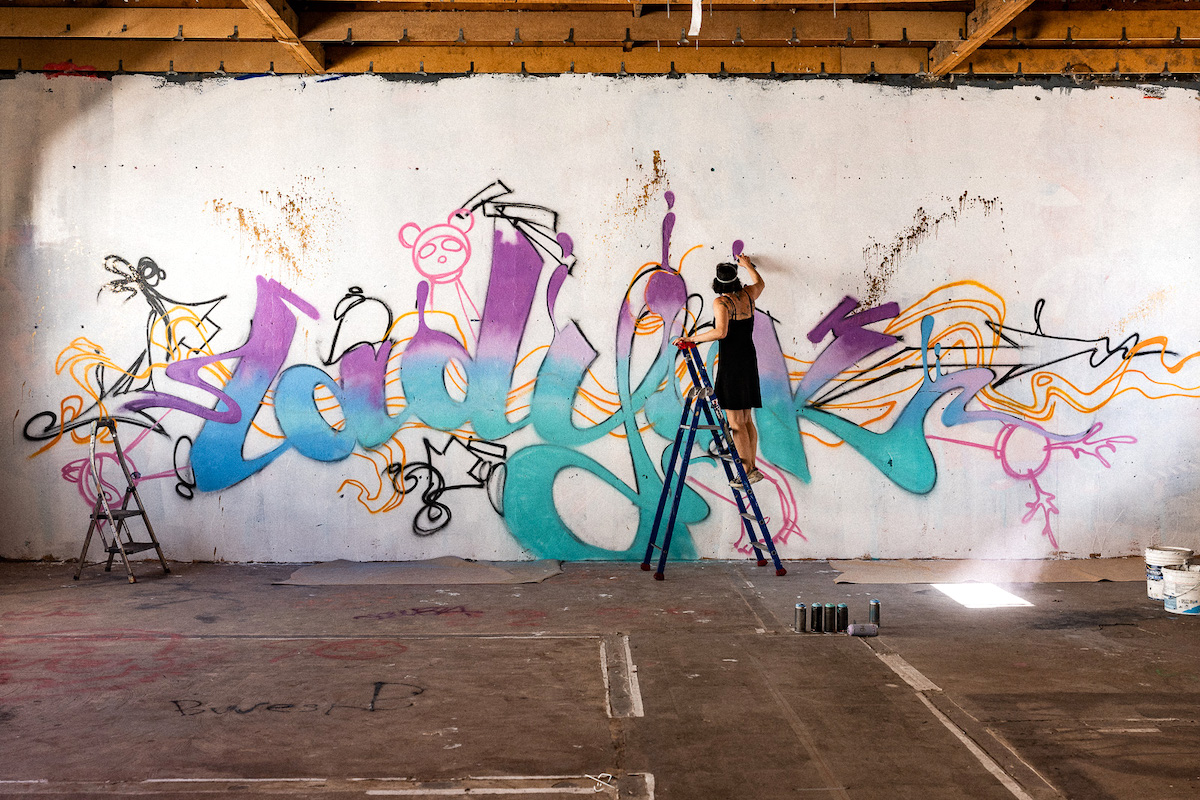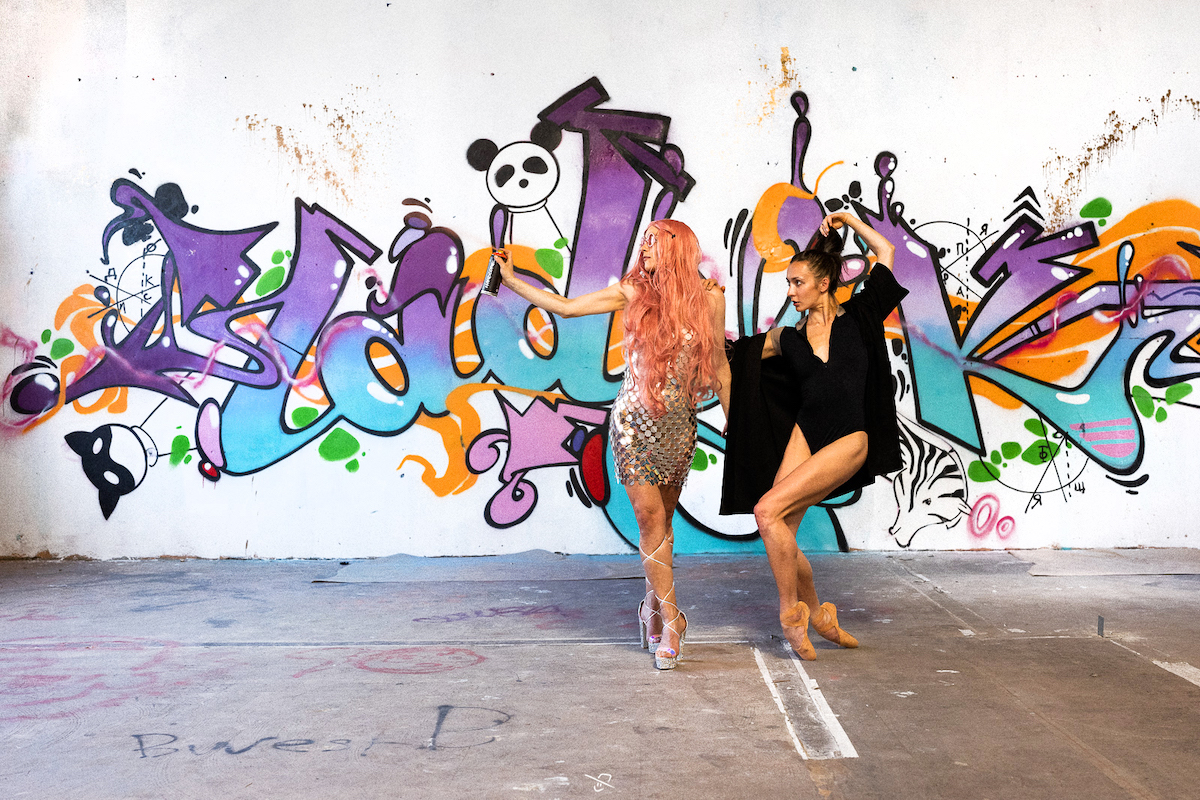 In an interview for "PAINTERZ" magazine, you described tagging and graffiti as a portrait of the social and economic environment in which it is perceived. Another of your assertions is "that writing is the artistic consequence of the excesses of capitalism". Can you describe in more detail?
It came to my mind when I was watching a documentary about tagging. They said tagging is dirty. I thought to myself, if people believe that tagging, which is a form of artistic expression, is dirty, it may be because the world is dirty and it is only revealing it: wars, murders, rapes, unemployment, poverty… 
Cruelty exists at the microeconomic and macroeconomic level. Rapists haunt homes, governments invade countries for their wealth, and leave behind victims, some of whom will become aggressors, thus perpetuating the loop… 
It is in this sense that the tag constitutes a harsh criticism of society. If our world was softer, more respectful of life, would we have tags in the streets? Would we be motivated to write? We could produce the beauty of the world that would be nothing but luxury, calm, and voluptuousness, in an invitation that is more a dream than a journey.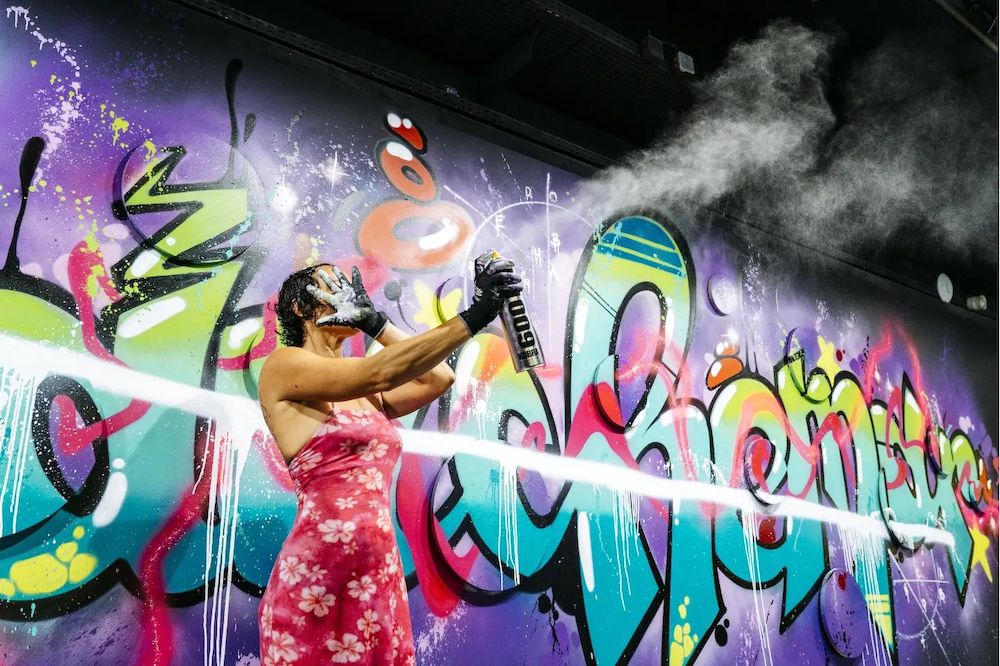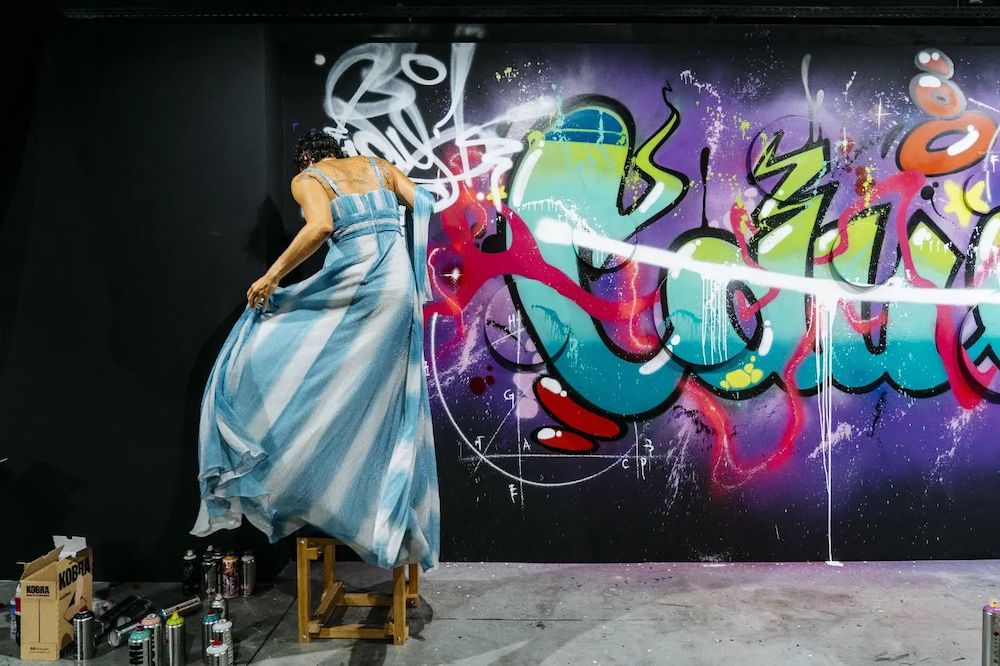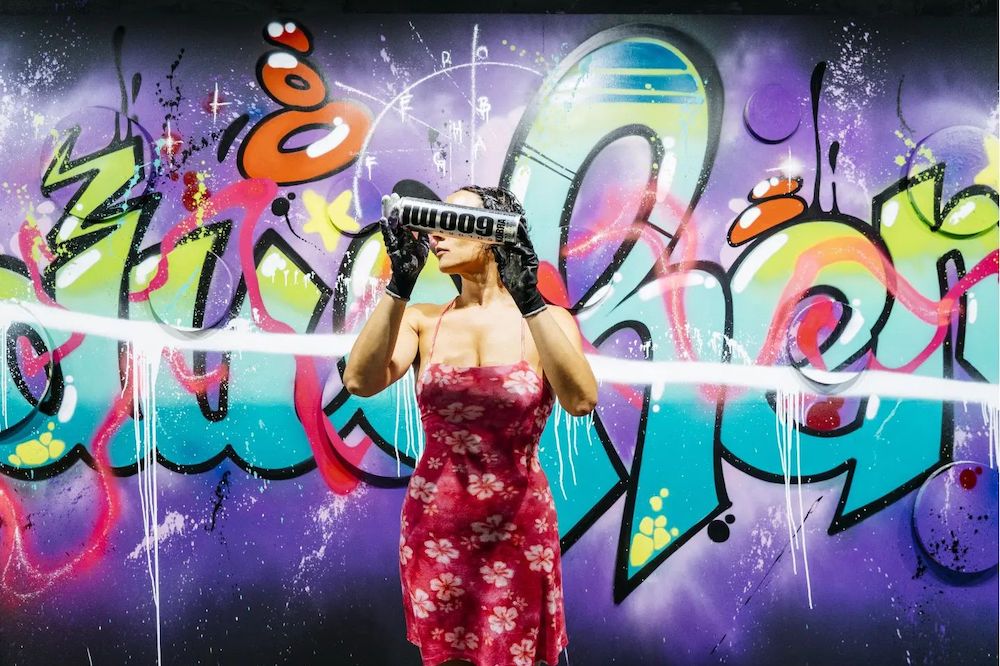 In all art forms, inspiration is key. What inspires you and how does it reflect in your art? Is it true that scientists and Nobel laureates such as Einstein, Planck, and Marie Curie are important points of reference for you?
Yes, I have been very interested since my son was born. I wanted to imagine a more peaceful world for him. The first object I bought for him was Newton's principia. For myself, I bought Nadine de Rotchilde's guide on how to live. I consider that knowing how to live was linked to social interactions, what poetry was to literature, a refinement of the spirit that made the world more pleasant to live in. 
I had been pregnant for six months, and I knew he could come out of his placenta anytime he wanted and be viable. All of his stuffed animals had the names of scientists. I have thought a lot about the porosities between the arts and sciences and how to put it in place, since first meeting my child, when he was no bigger than a grain of rice. I replaced the tag with equations, I enriched the equations with explanations to take them out of their abstraction, I added geometric shapes to my paintings… I went to the Sorbonne-Panthéon and the university in Orsay to study this question during two years of a master's degree in contemporary plastic practices and another year of a second master's in sociology of art (I also undertook a postdoctoral degree in invisible art). I would like to be able to do more work in this area in addition to my main practice which is writting (the two Ts are intentional: when Claire Champenois was writing a book about me, it seemed essential to us to add one T to distinguish the writer who writes books from the writer who draws letters).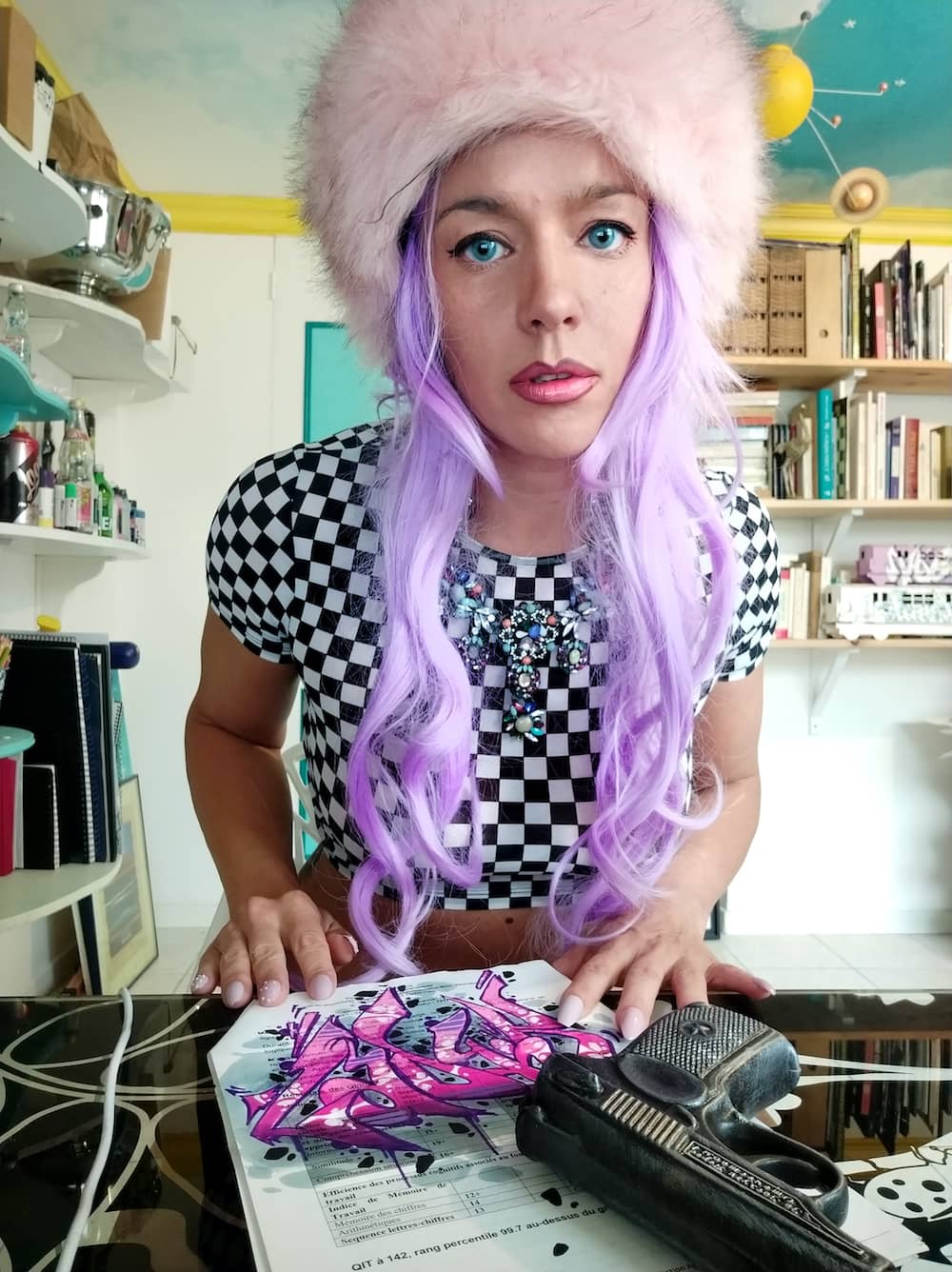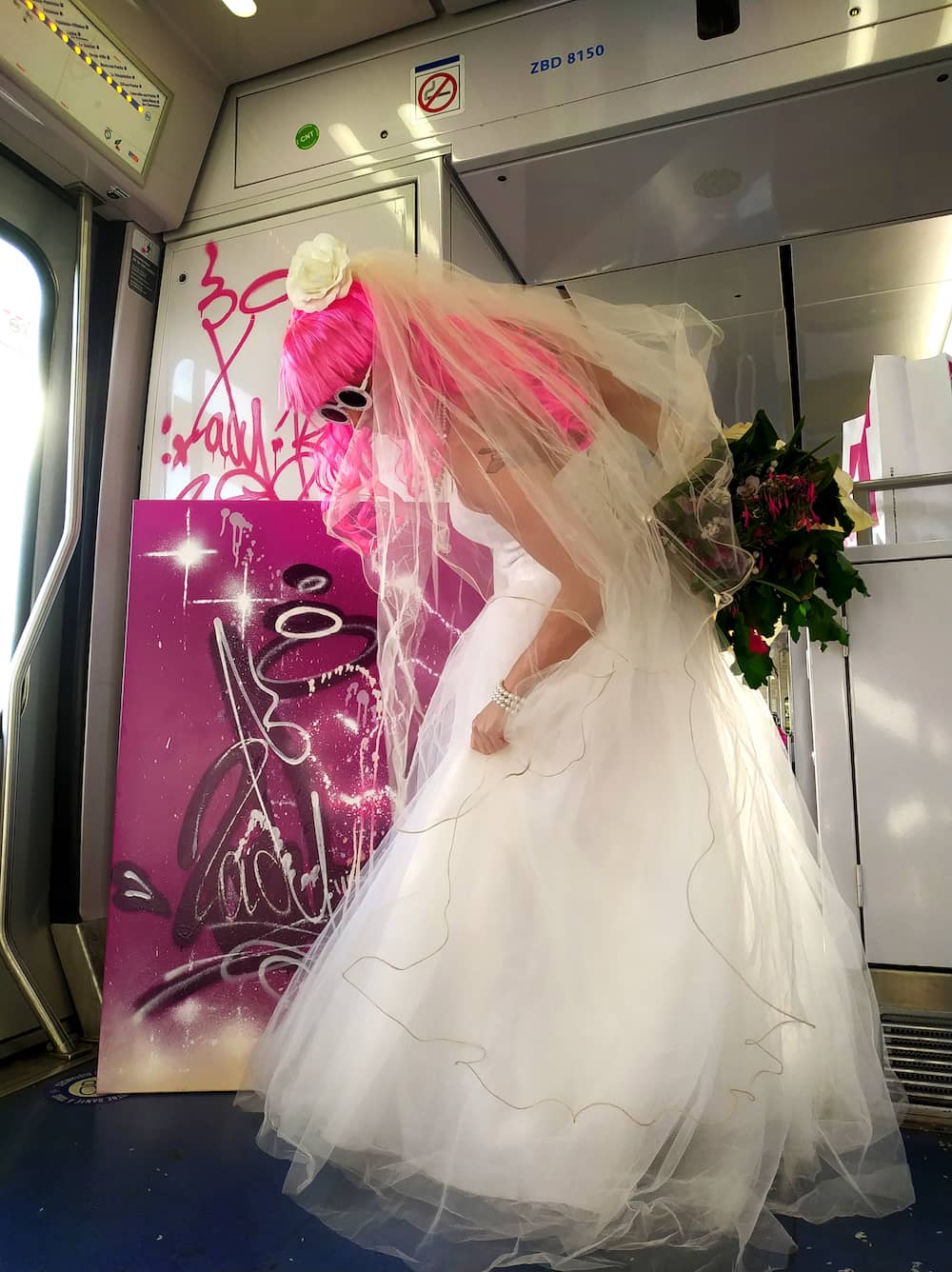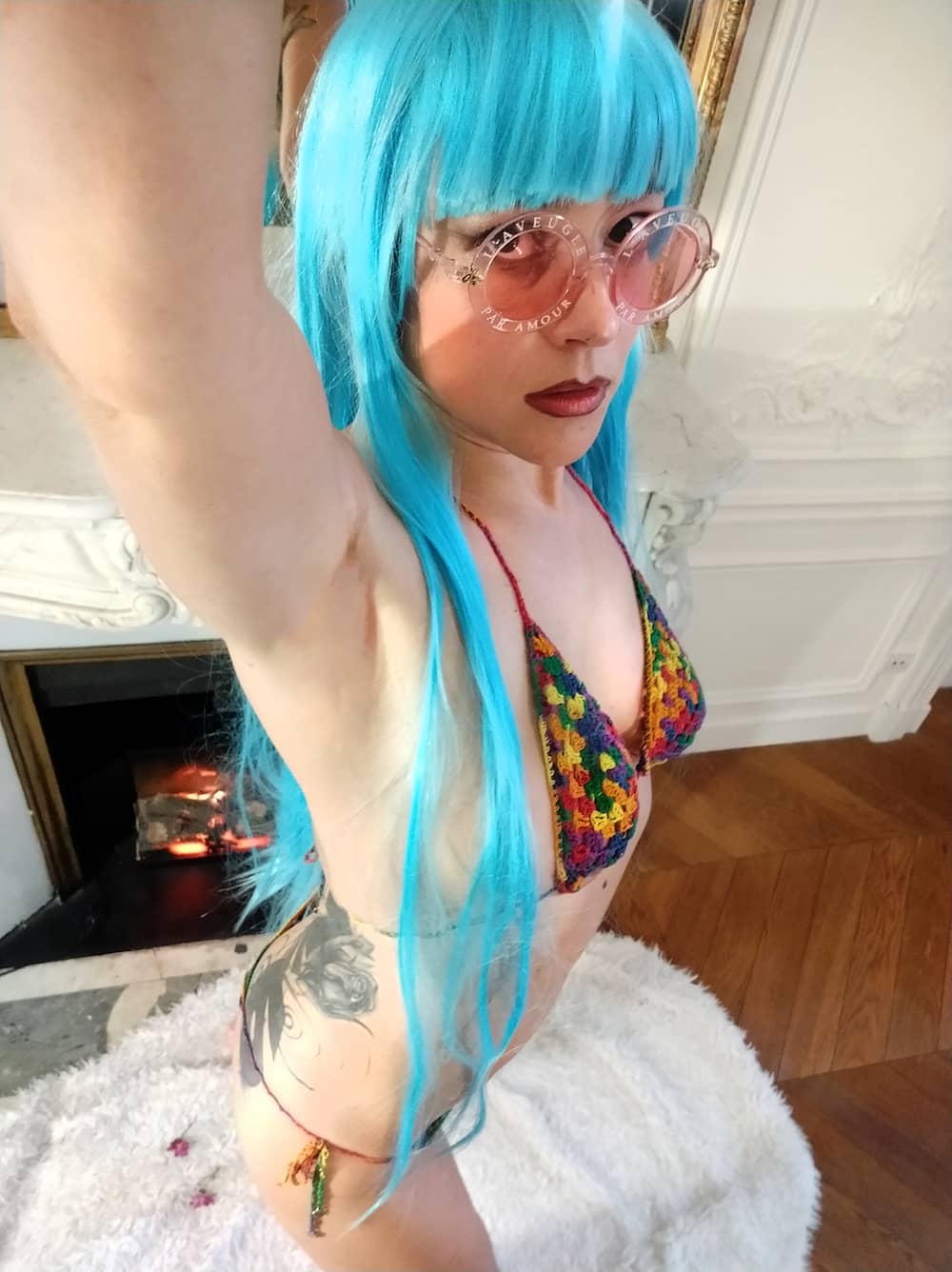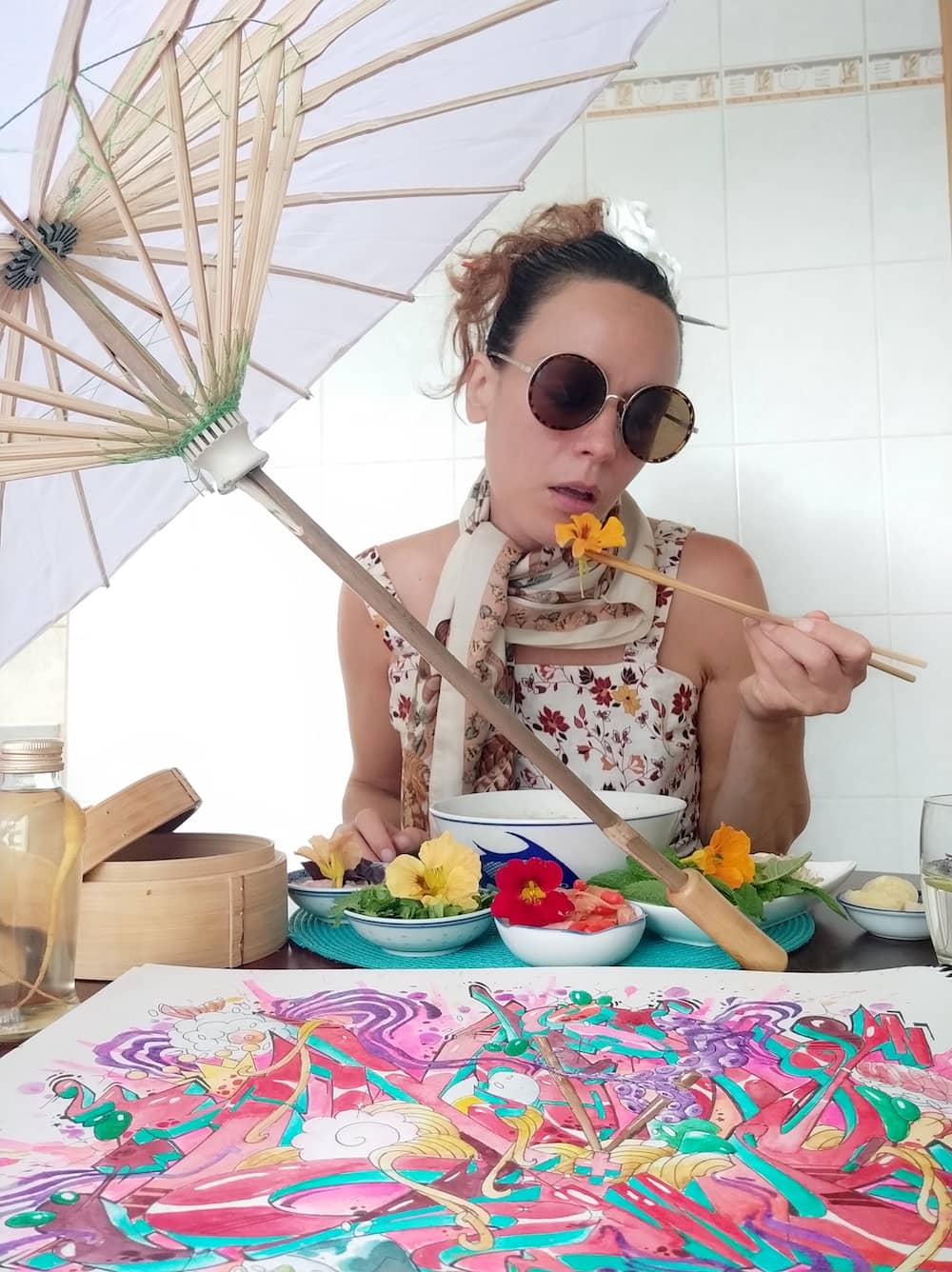 Who are your main influences in the graffiti world, or other artists more generally who inspire you?
I really like Mode2, Daim, Weave, Phet, Waspe, Honey, Dizy, la picadora Eneri, Jonone, Psy… as well as Kandinsky, Picasso, Picabia, but also Rihanna, Dua Lipa, Ava Max, and ballet dancers such as Anna Romanova, sports coaches such as Senada Greca, philosophers such as Deleuze, Foucault, Barthes, doctors such as Montessori, neuroscientists such as Damiano. Everything is an inspiration in a holistic world. And what inspires me the most are the concepts, the meaning of things.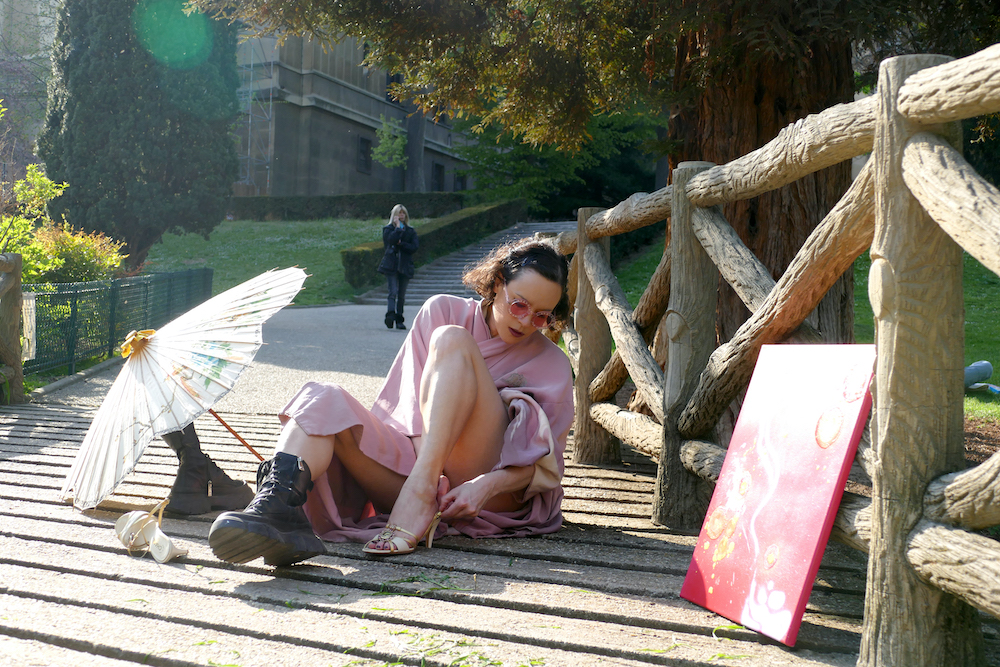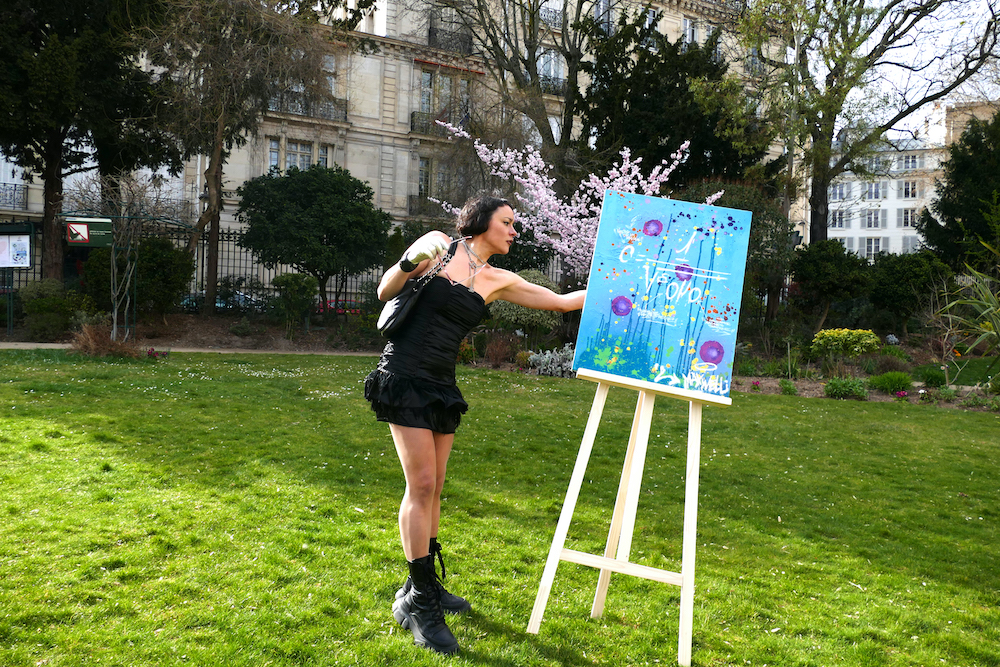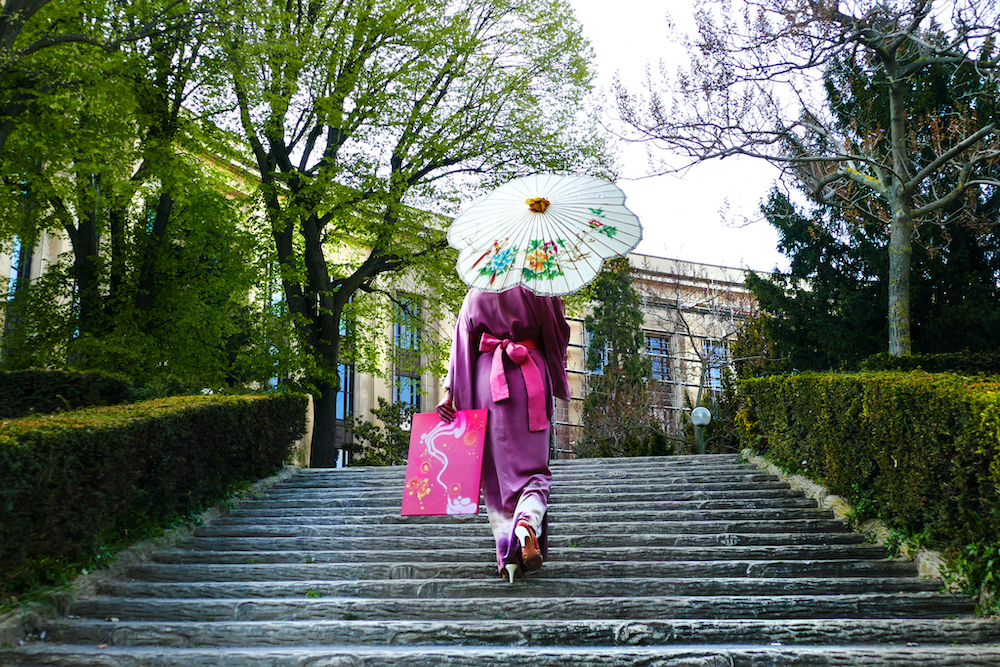 What message do you want to convey to people in the street? What reactions would you like to provoke?
I think intrinsically that the tag marks a desire for more direct democracy, because it changes the landscape that only the authorities are allowed to change. We can also perceive it as a US soft power; it appeared in the United States, it knew how to conquer the world like Coca Cola, Hollywood and musical productions…
Rather than shock, I would like to lead people to think that a more direct democracy would be much more beneficial for everyone. We could have a symbiotic type of political philosophy where everyone is happy and there is no exploitation, no hierarchy, just respect and happiness. It is a utopia, but before being an ideology, liberalism was a utopia.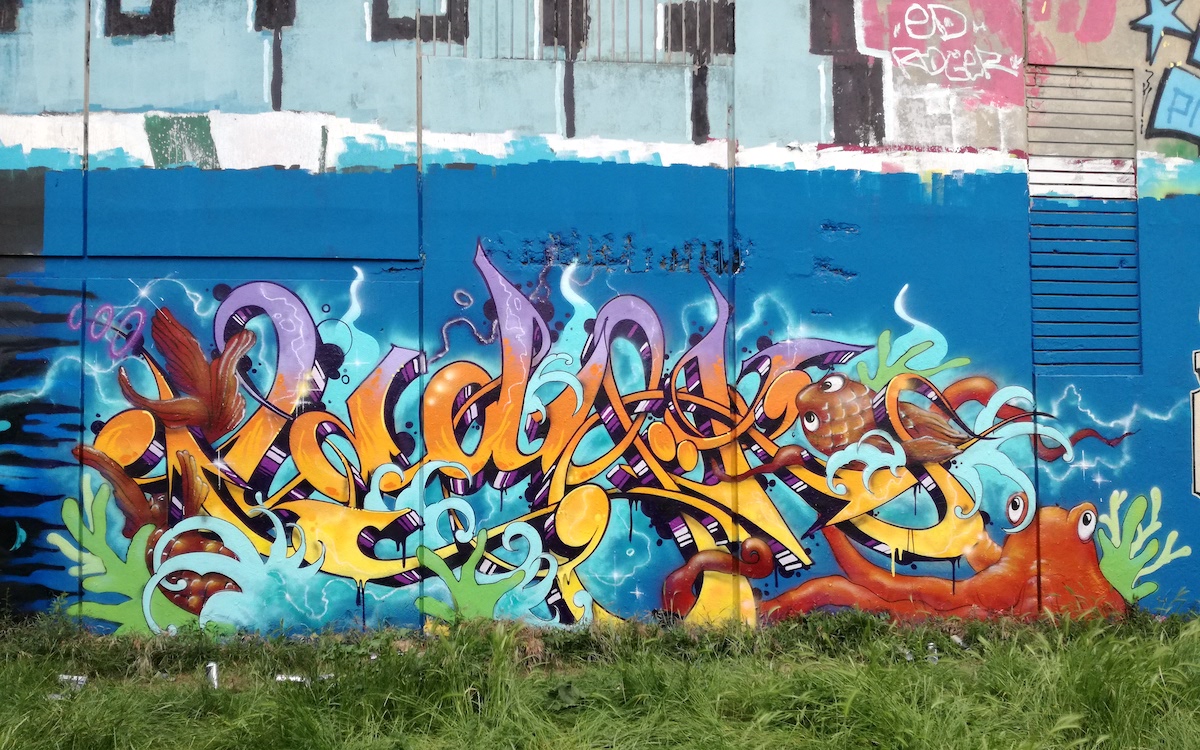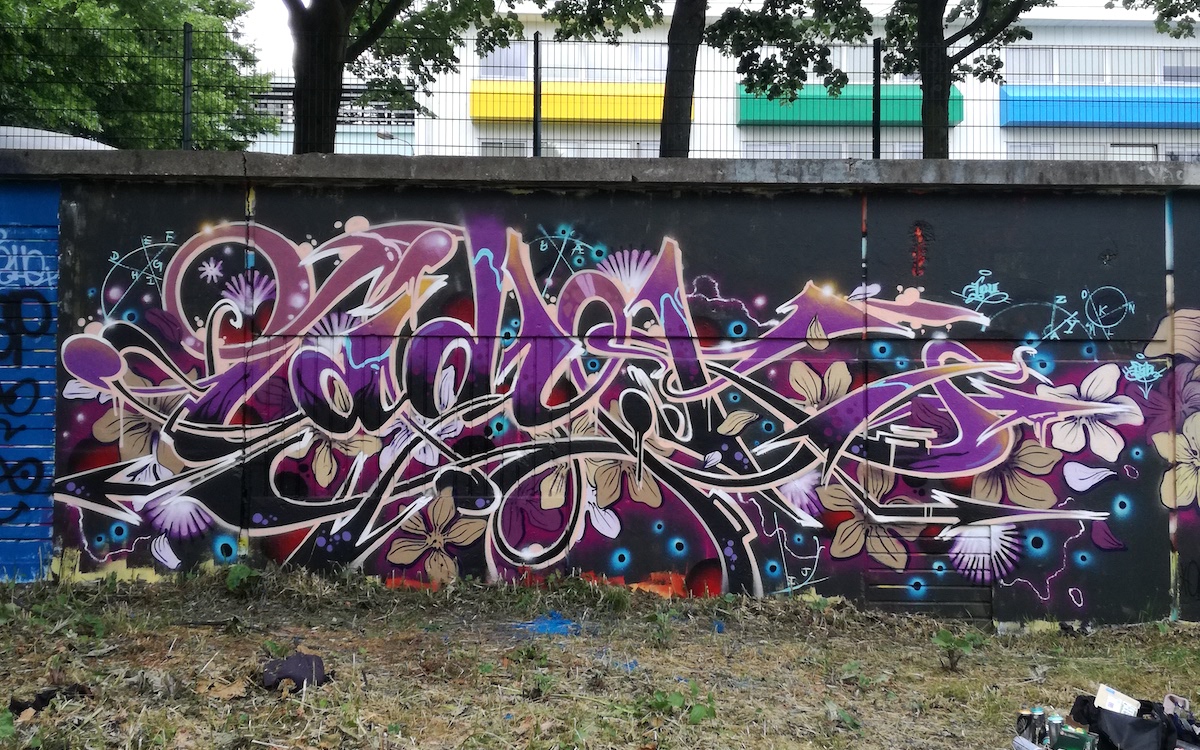 How important do you think it is to keep up to date, evaluate different creative techniques, and then experiment? 
I think it's very important to improve, to always question things to improve them. Dogma makes things stagnate; there is no creativity in entrenched things and no possibility of being able to improve them. Religious thought, for example, is very dogmatic; things are fixed. I prefer critical thinking that makes you evolve; evolution is intrinsic to life.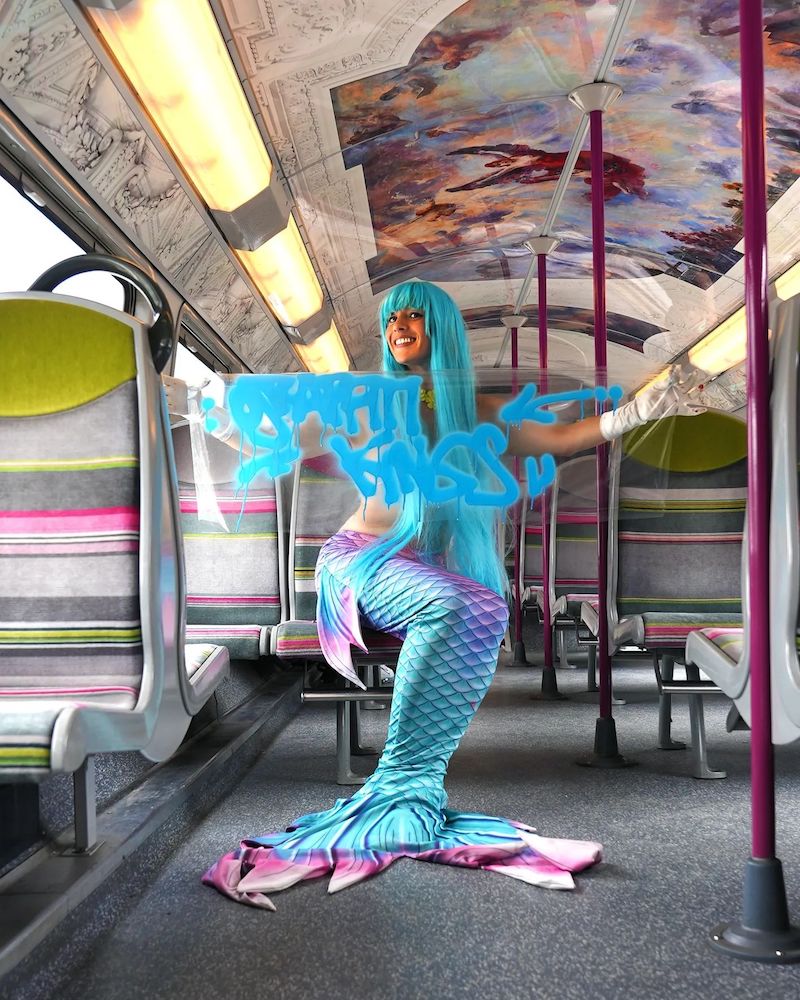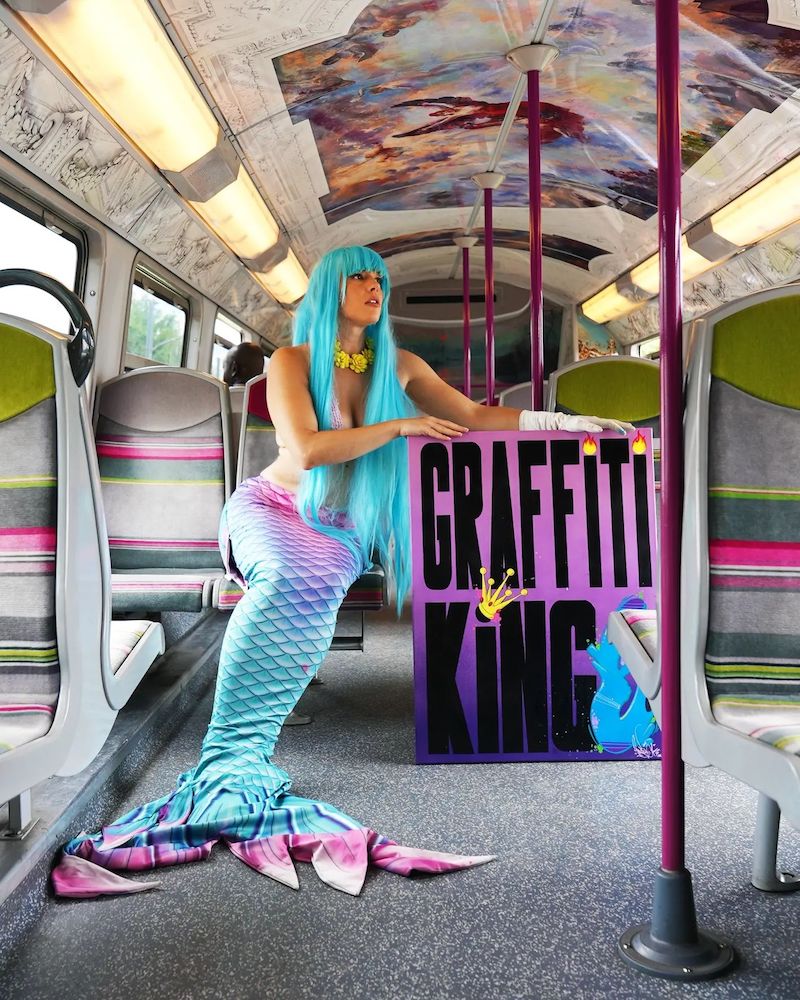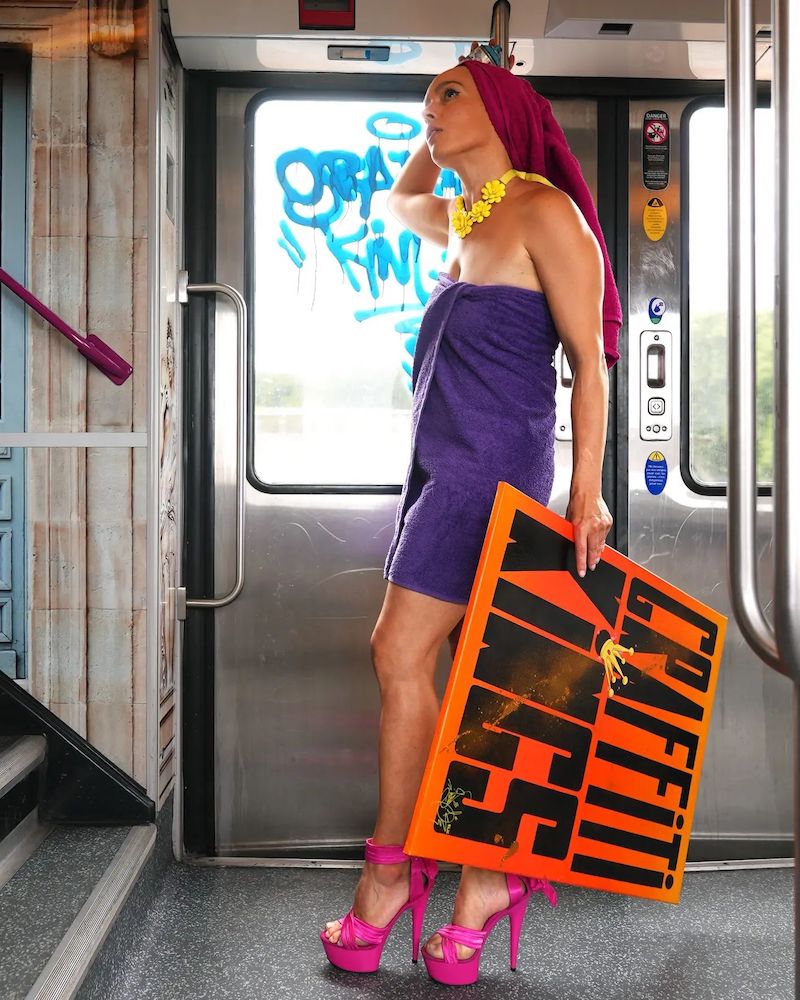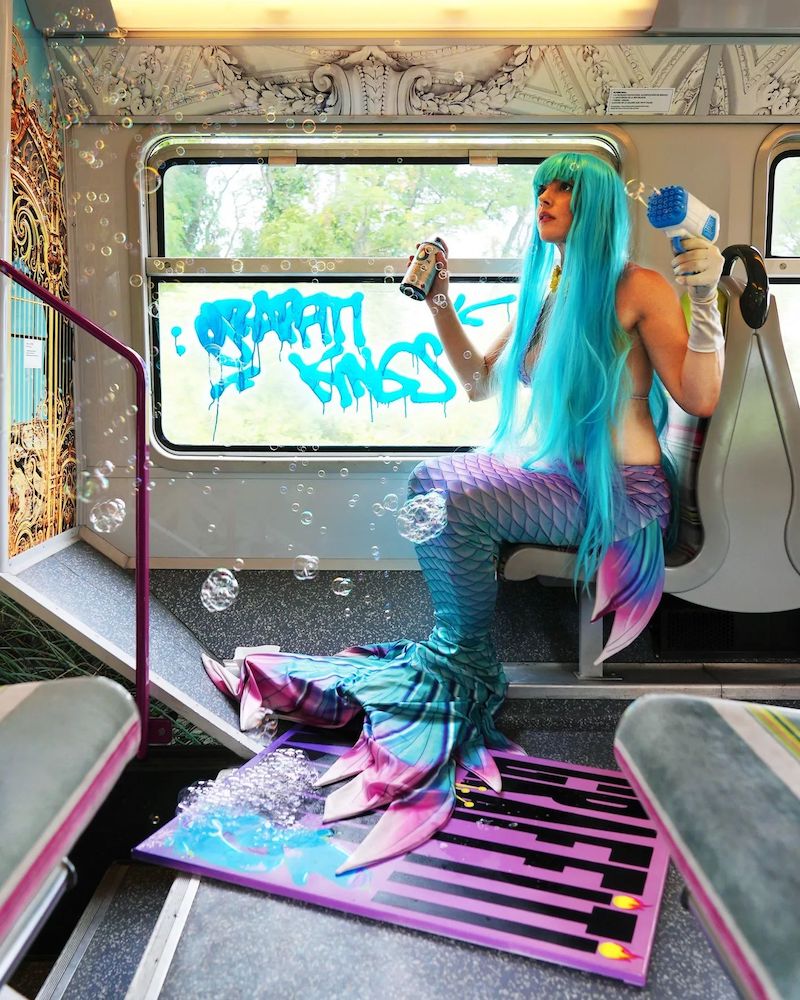 To what extent does the place and the context where you represent your works influence your creative process?
I like to create installations with paintings on the walls where the canvases are hung and the canvas becomes a residue of the wall. We question street art and more traditional practices. I think that currently we are at the junction of contemporary art and street art, which for me is a division of the history of art in the same way as the Renaissance, Classicism… Art comes out of museums; it accompanies our daily lives as the modernists dreamed of before us. It is also international; it is possible that street art will be followed by more technological art. It is very interesting to produce exhibitions that confront these two mediums, as we question the history of art from the walls to the canvases. The aerosol has made it possible to democratize painting on the walls but also for the public, who no longer need to go to a museum to see painting.
Everything inspires me. I want to produce a painting that is in harmony with its environment; the context for me is a very important factor. The architectural lines, the light, the landscapes…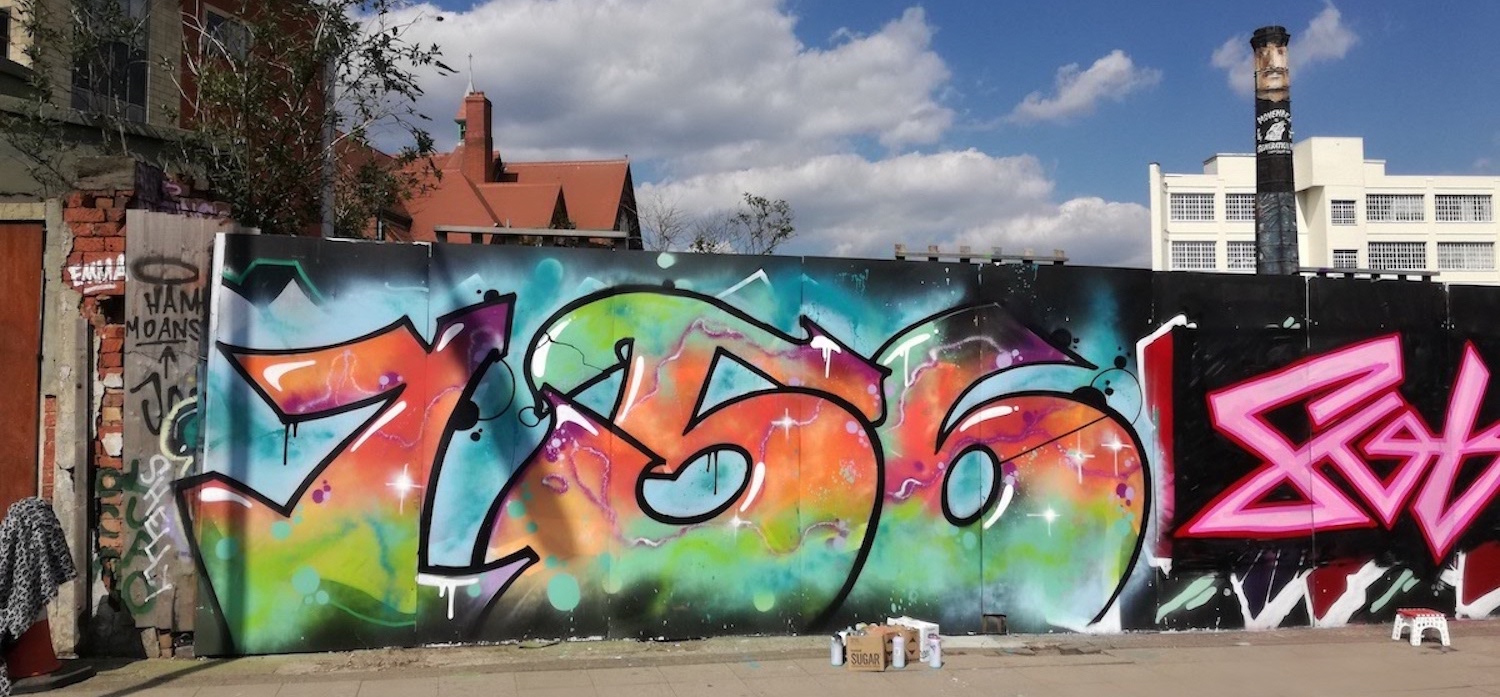 If you could choose any location in the world to express your art, where would it be and why?
In the world or the universe? I would take Mars, or space, for the innovative, pioneering side, and in the world, a landscape with coconut palms and a sunset, because usually urban art is found precisely in urban planning. But would it still be urban art or street art in the absence of street? Perhaps an evolved form of land art? This is why I prefer the word "writing"; we are more focused on writing independently of its medium. The word "graffiti" refers to an illicit act, while the word "writing" is the nobility of the transmission of knowledge through writing. Your writing on a paradise island could be beach art, or exotic art, an art form that would be a sub-section of travel art because the notion of travel is very present in street art. Many street artists travel around the world; this is what allowed it to step up to an international dimension.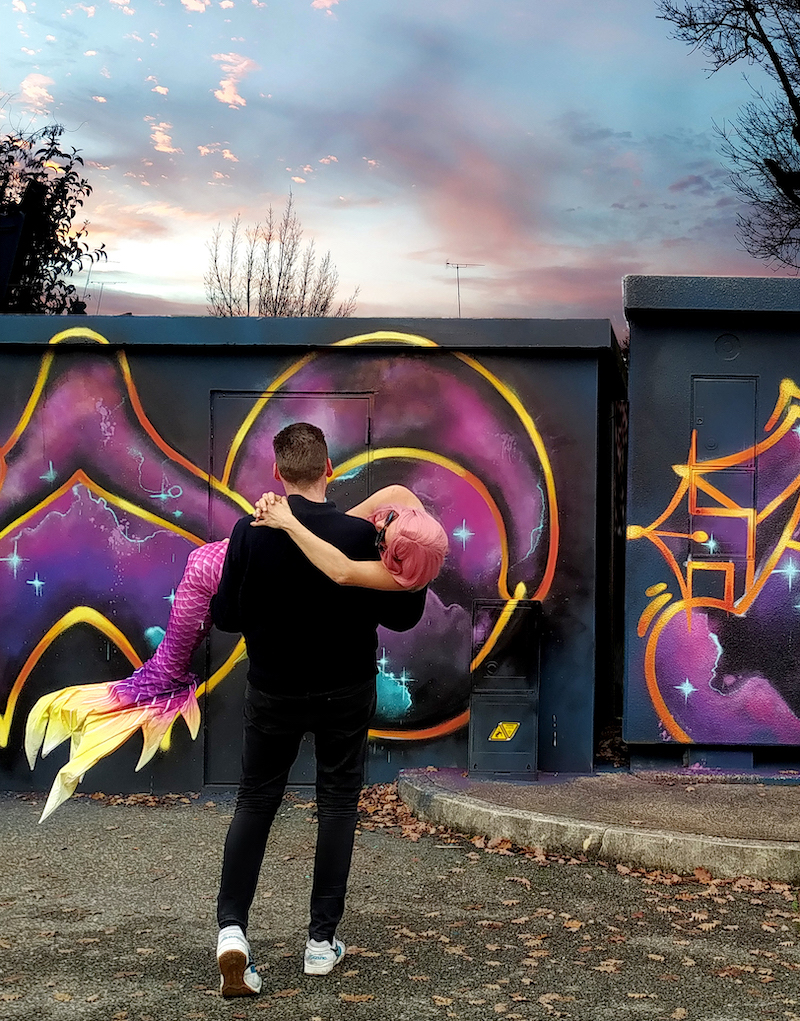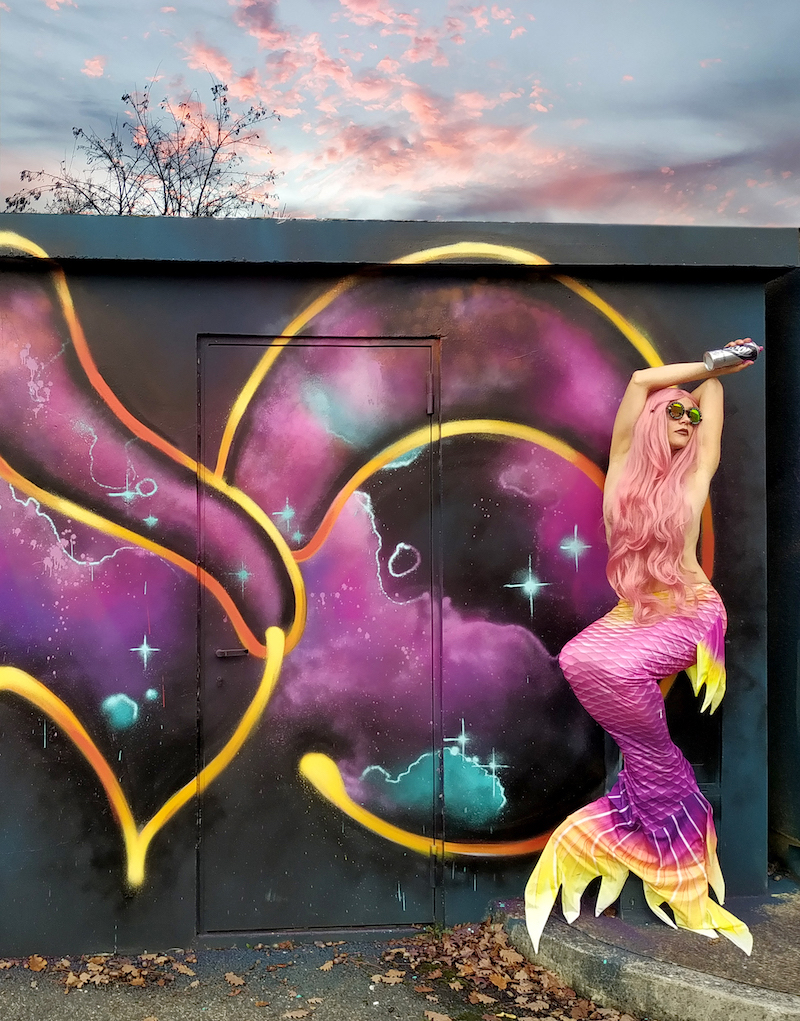 You're also known for bombing in broad daylight, with flashy fashion and heels, almost like a turn to performance art. What role does illegality play for you in your practice? Is it a thrill, a risk, an indispensable factor?
I worked on epinal images (a naive vision; a stereotype) of the graffiti artist and the woman, it was very interesting in terms of performance. I had first noticed that most tag videos were made at night, and I thought of shooting during the day to improve the quality of the image, which made it more interesting. It was very interesting to film the context with the people passing by, those watching… I always had to be very careful who was around so as not to end up at the police station or in an altercation with a passerby. Second, if men dress in shorts, jeans, and tracksuits, I wear dresses. I also play with my everyday clothes. I increased the challenge by adopting typically feminine outfits that attract more attention because they are inappropriate in the street: wedding dress, evening dress, mermaid tail… I wanted to create innovative images full of contrast. With the contrasts, a third material place is created. Take the white and the black: the mind will create gray, then the associations of ideas will be numerous: a chessboard, a wedding or a funeral, a carrier pigeon… with two identical colors. There is also a lot going on; you may imagine a contrast, another color. Everything can be a source of inspiration, an invitation to imagination.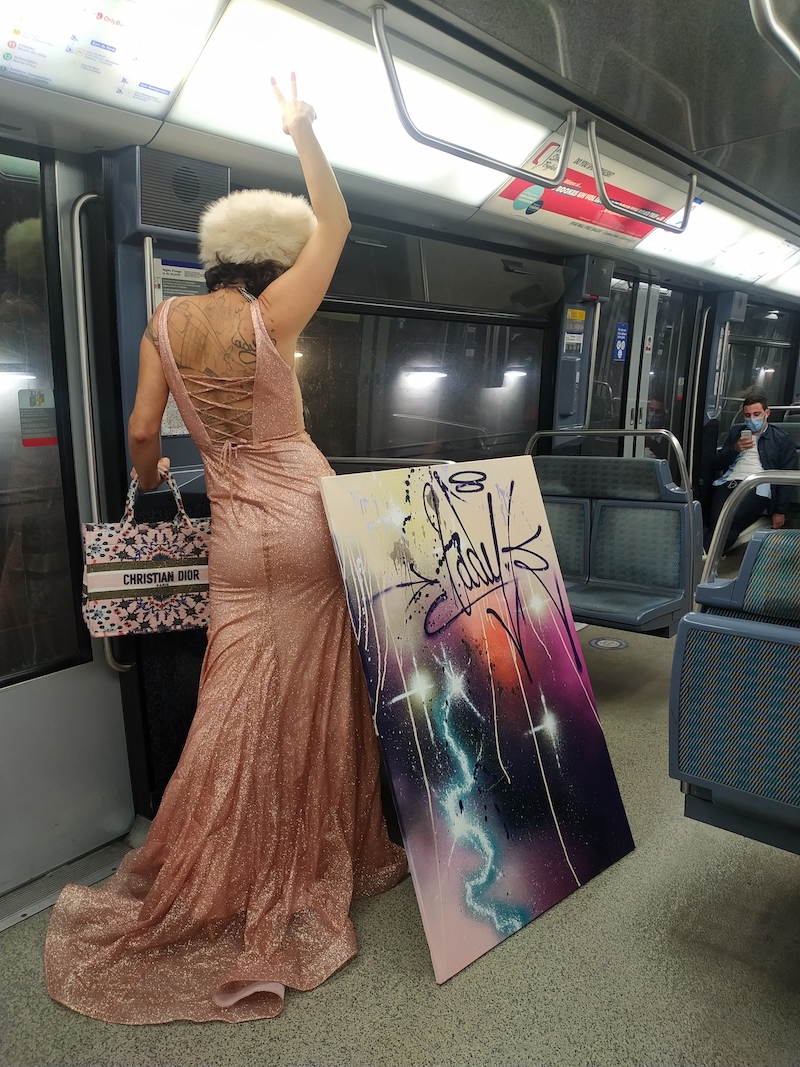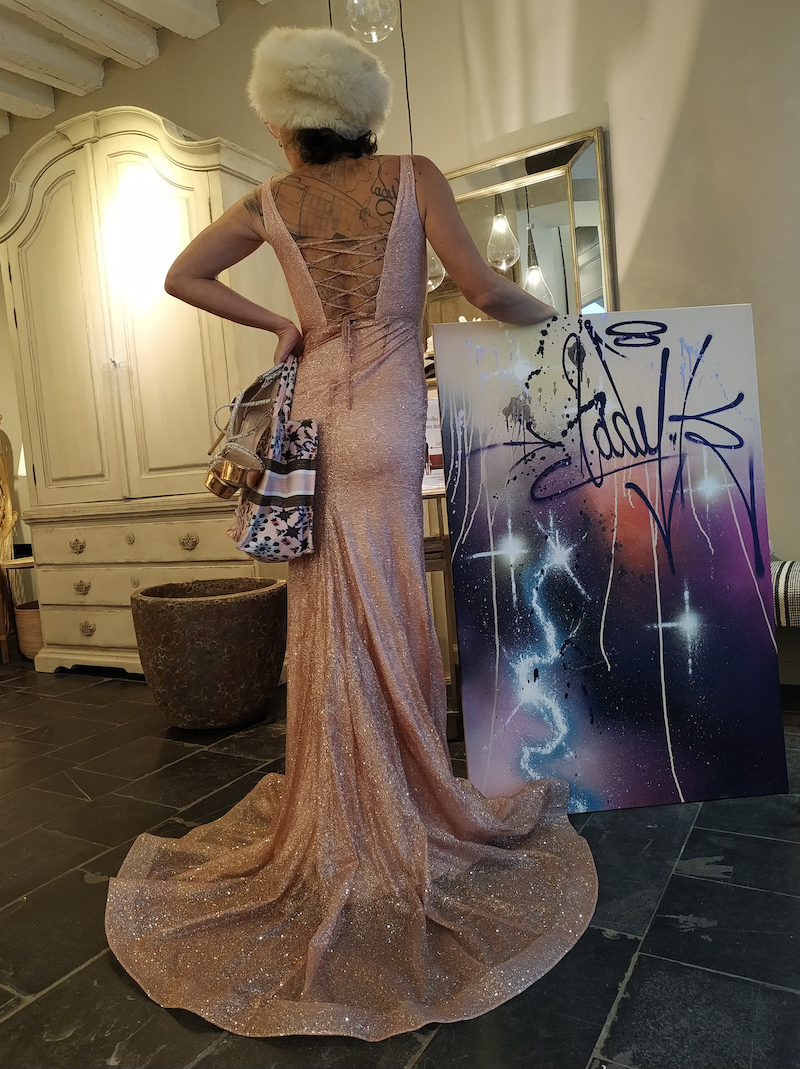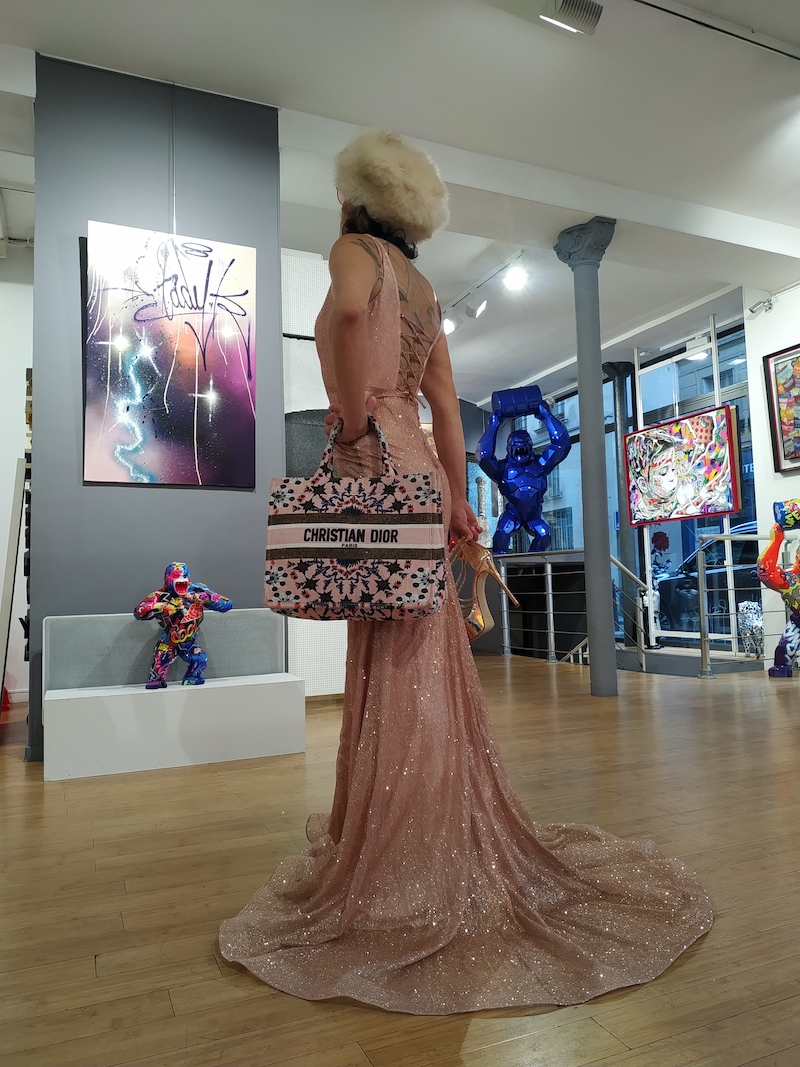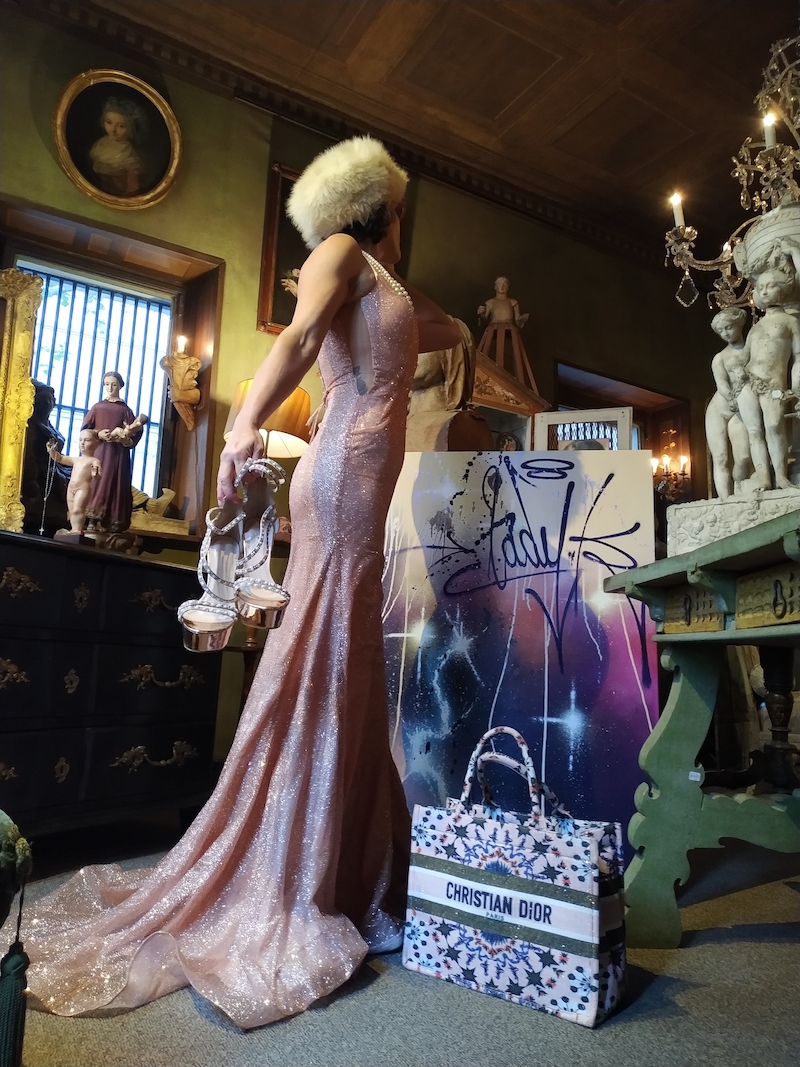 What role does photography and self-directing play for you?
At the beginning the photo was a documentary; it tried to capture the painting on the wall. Often we only saw the wall where the painting was or on the train with visibility on the model. Self-directing came with mobile phones and social networks where we put ourselves on stage. Of course there are references to Cindy Sherman, Frida Kahlo, or Van Gogh, those people who worked on the self-portrait. My photo painting on a wall gradually captured more scenery, people, and moods. I even made a book where I chose photos of writings that had to reflect the atmosphere, the place, the weather, the season. We had to feel the context. Self-directing is interesting, a kind of identity in writing; when it's illegal, you have to hide it. It has always oppressed me to have to hide my identity, my femininity, my personality. I don't feel free, not me. With these selfies, I have much more fun being what I am. So yes, it is important. I am gifted. Sometimes we have to over-adapt to conform to a standard that is not ours. And we end up forgetting who we are. I think I have found who I am. People think of me as a painter because I manipulate aerosols, but at the Beaux-Arts in Paris I was enrolled in a multimedia workshop. It's true that my main axis is painting, but faced with the ephemeral nature of the media used, I think the writer is a performer who must use photos and videos to keep track of their pictorial performances – a bit as if we were signing the death of painting in the face of the digital world that awaits us. It is the last vestige of the industrial revolution, before all those others to come in connection with technologies that are taking up more and more space in our daily lives.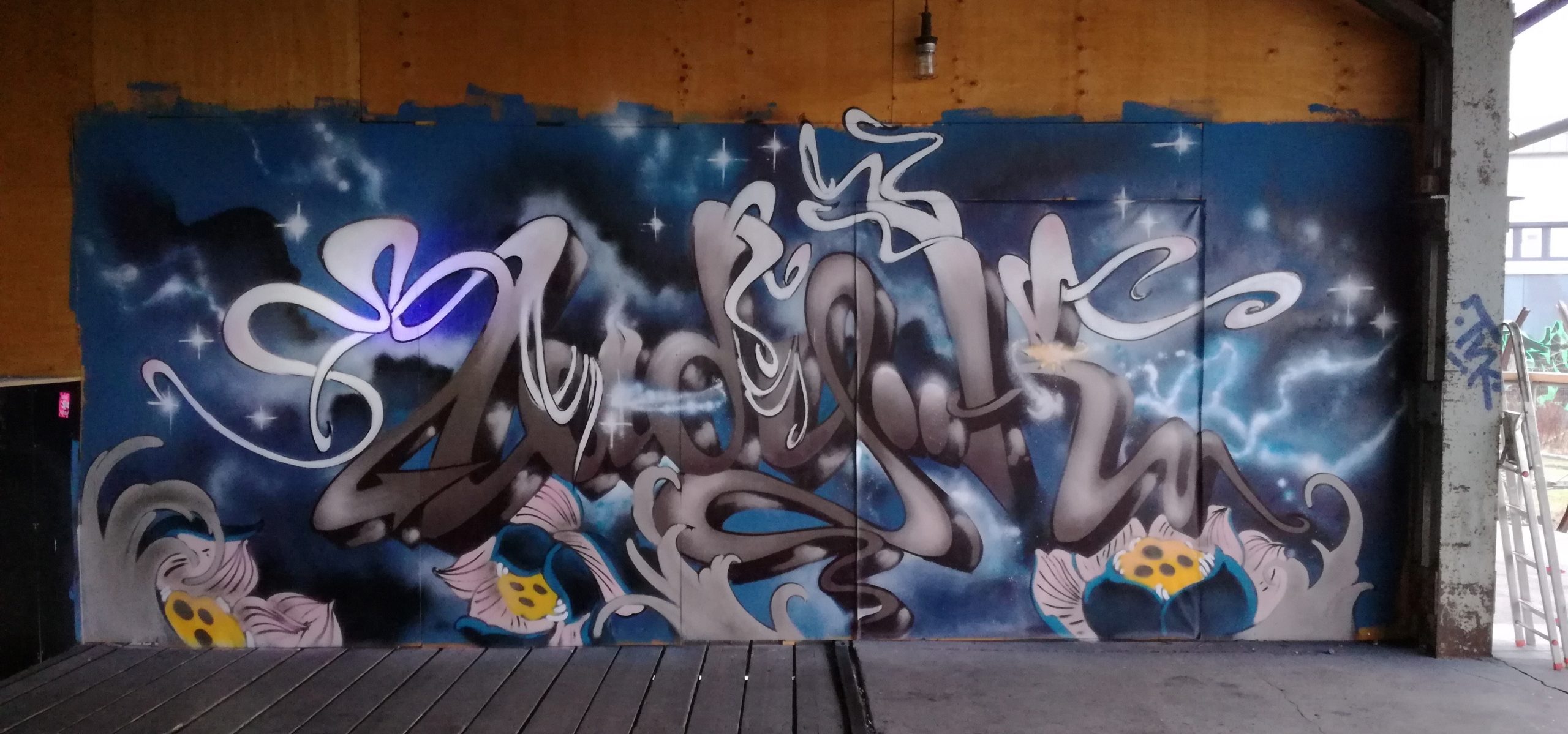 In your opinion and in your experience, why are women still strongly under-represented in the graffiti scene?
Because they are not yet equal in all sectors. Ministers, culinary chefs, stylists, presidents, CEOs, journalists, policewomen, doctors, engineers…. We are still rare in high-ranking positions, to aspire to typically male jobs for centuries. There is also the belief that men prefer to support men, and successful women often have no awareness of the principle of sisterhood and behave like dominating men towards other women, leaving them in their condition of servility. By doing this, they do not think they are sinking themselves into this condition, because we are all related as a concept (which is therefore a female creature to be subjected to a male creature). Writing is a reflection of this asymmetry, the causality of which is biology and morals that place us in an inferior position to men. This resonates with the divine punishment found in Genesis where man will dominate us and the serpent will crawl because Eve and Adam ate the forbidden fruit.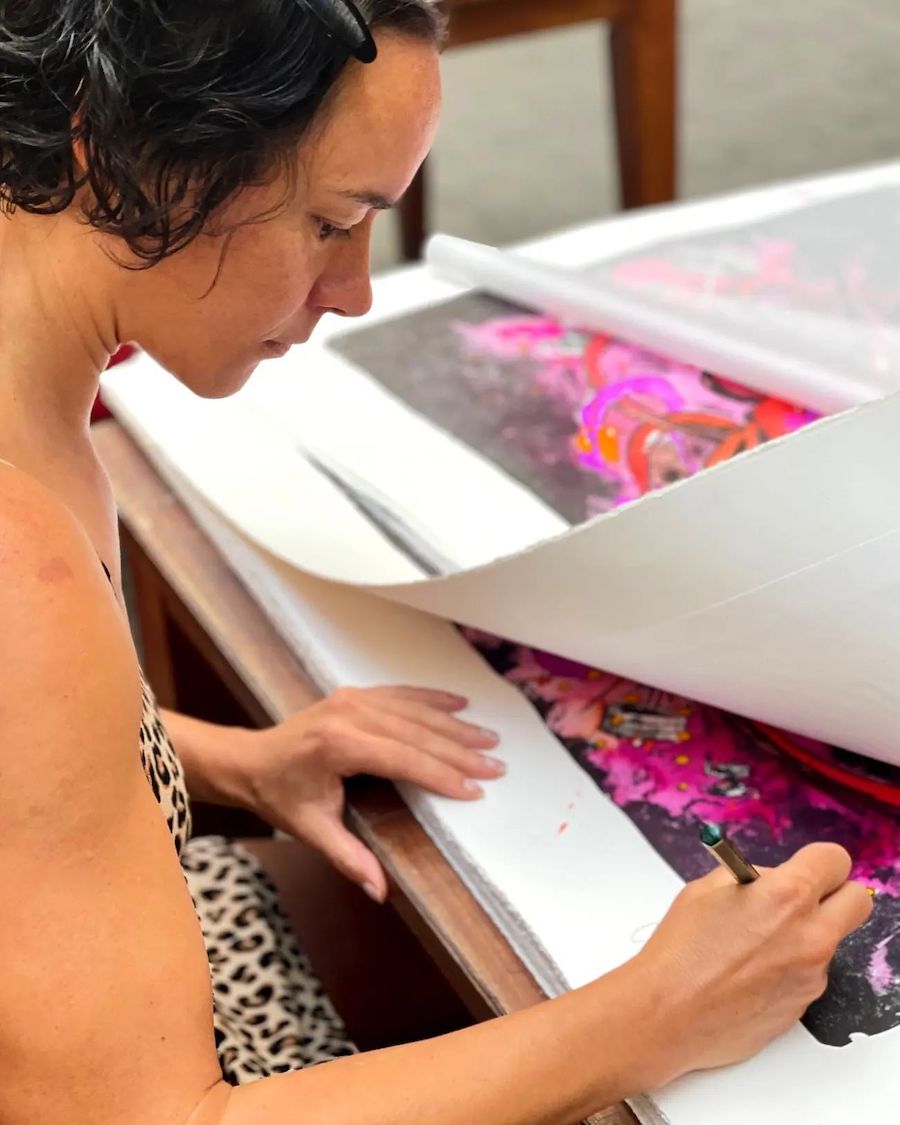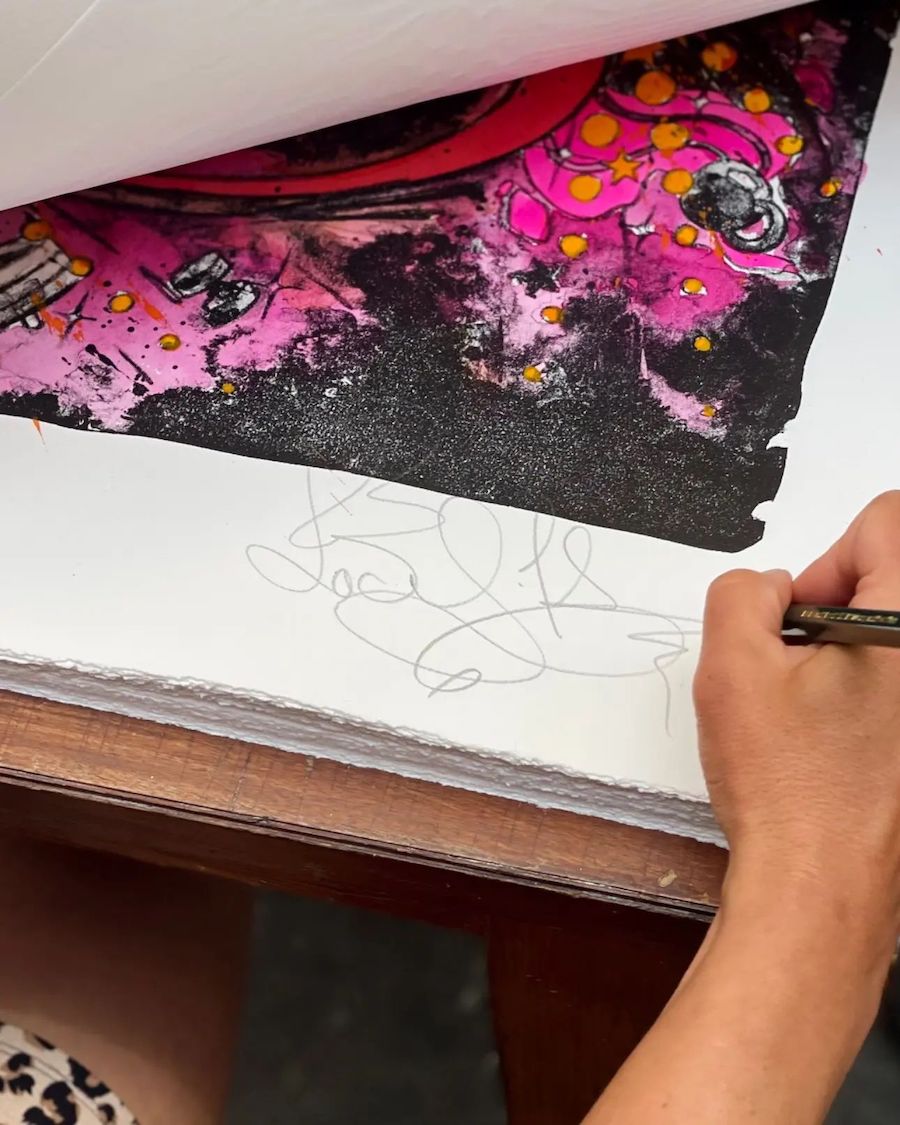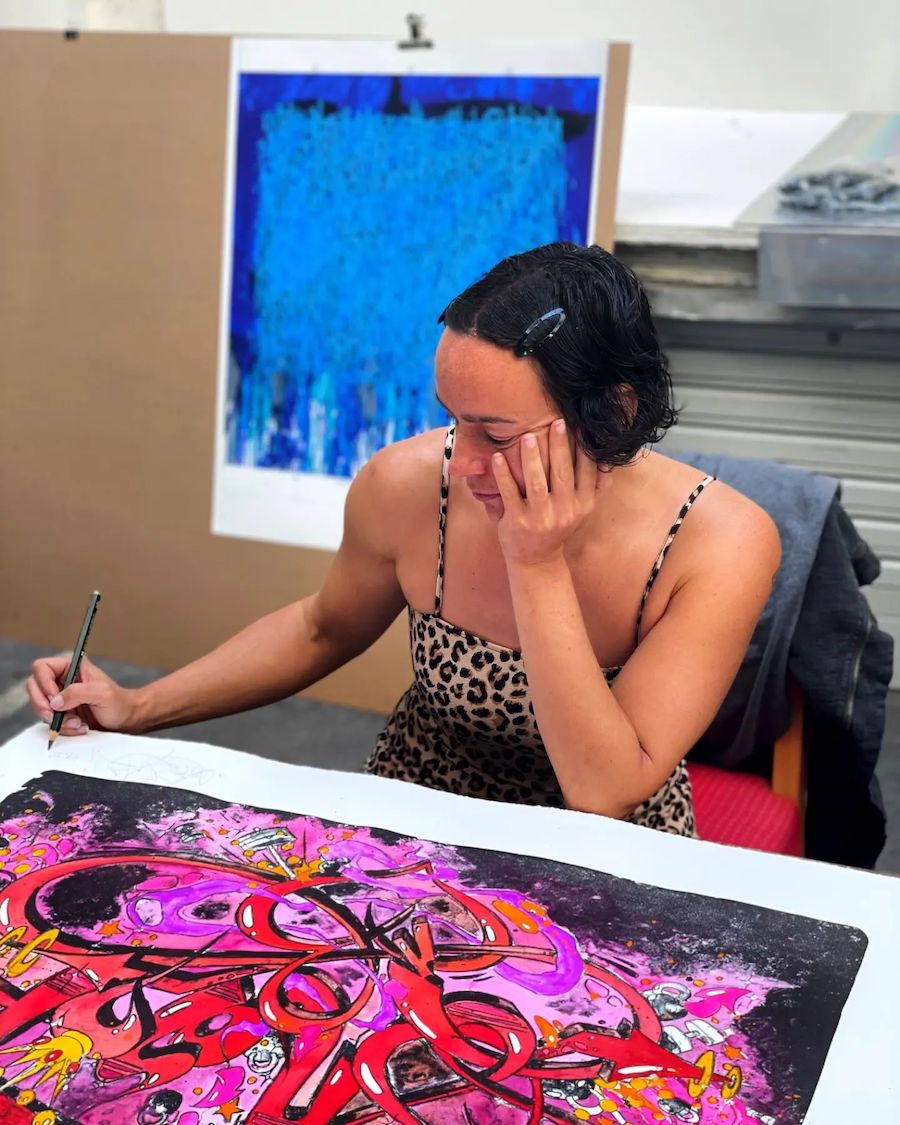 What are your plans, ideas, and dreams for the future?
Travel around the world while waiting to change it – if you dream big, travel around the world to change it. Impossible is a word that does not exist in French!!!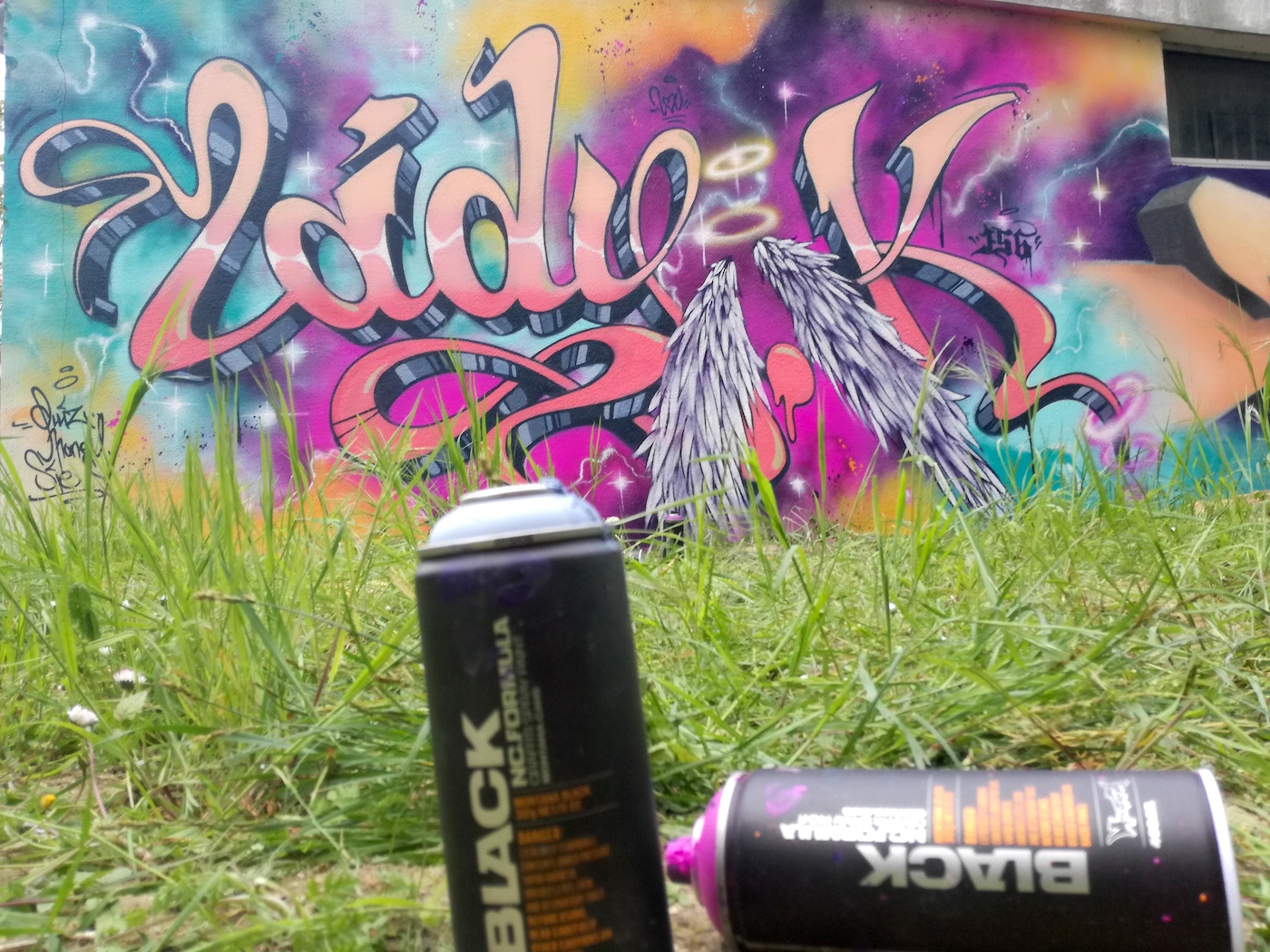 _______________________________________
Pictures © Lady K
September 2022
by Laura Vetter