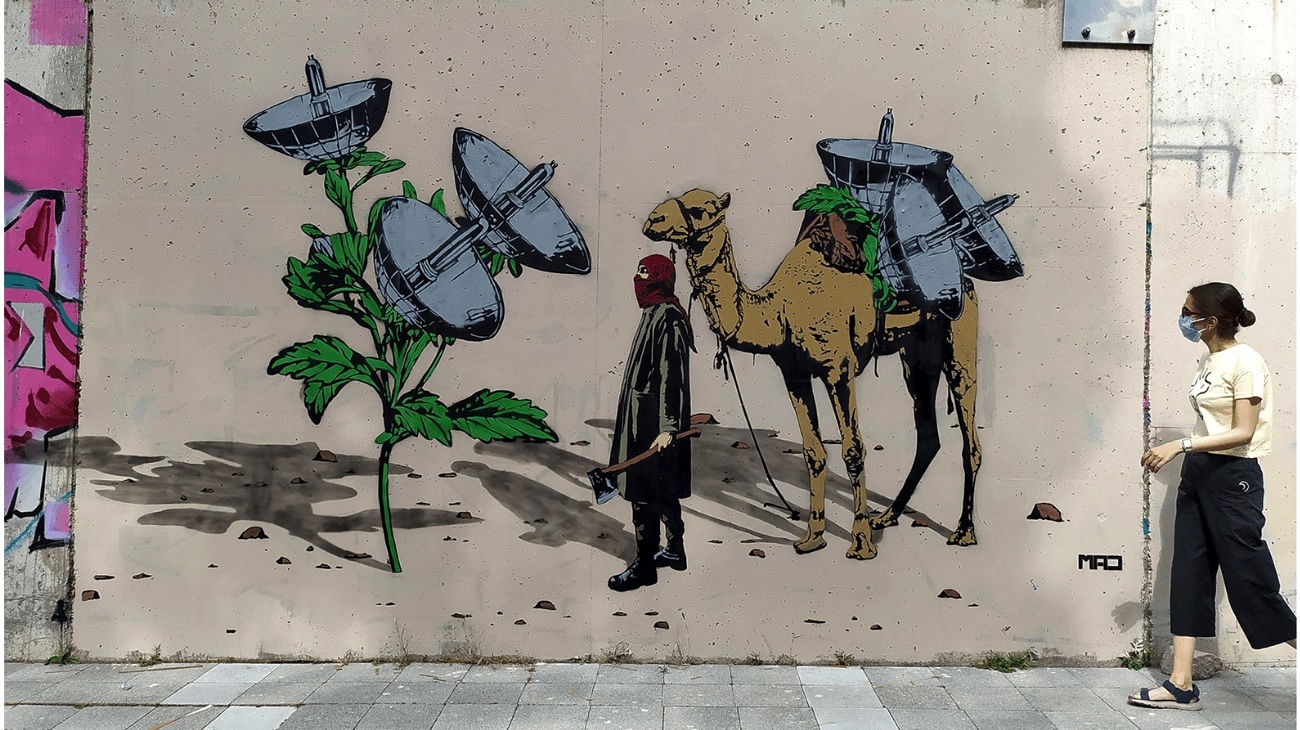 MAD
Interview with the Iranian street artist MAD: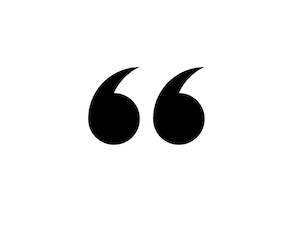 I think art can take the form of protest, addressing political and social issues with direct action. Art can connect you to your senses, body, and mind. It can make people sympathize with and connect to each other, and hopefully it may cause a change in their way of thinking and acting.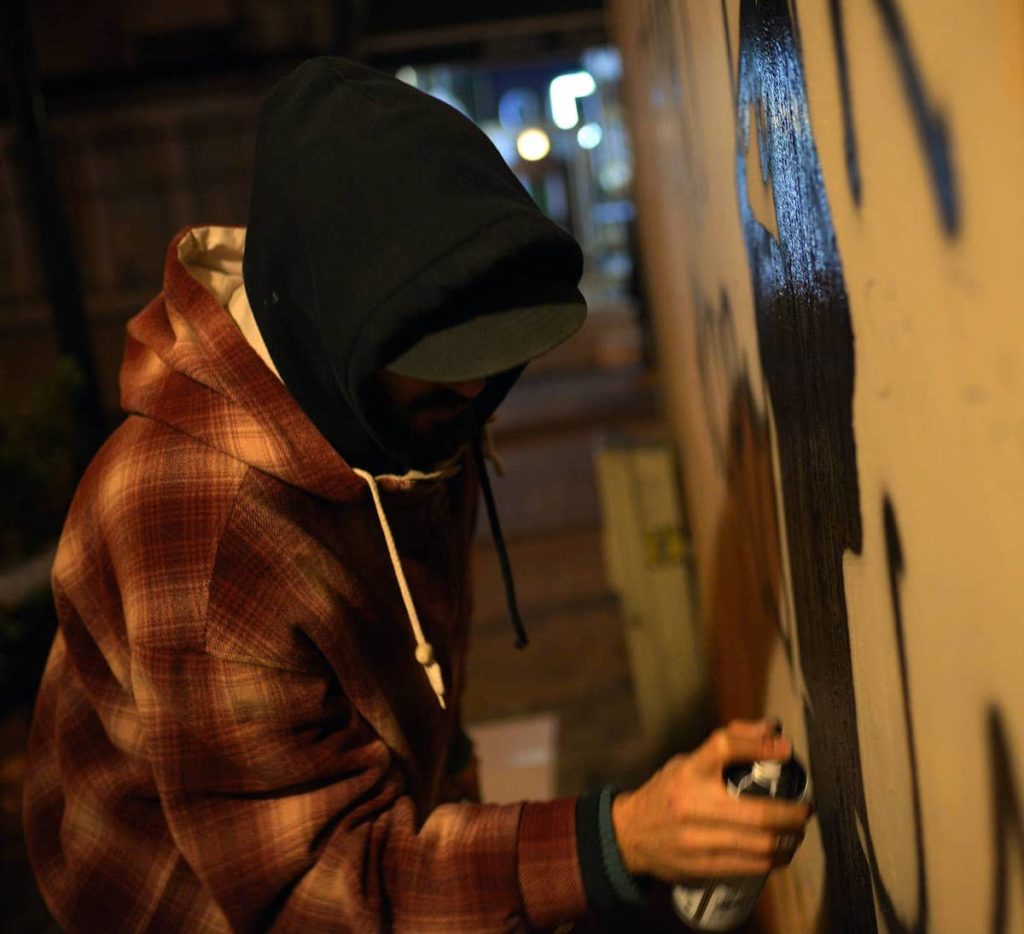 You were born in 1987 in Tabriz, Iran, and have been active on the streets, in Iran and beyond, since 2008. How did you get into art, and what made you choose the street as your place of artistic creation?
I was born in Tabriz, the city where I met Icy and Sot, who are brothers and friends. We became very close friends and spent a lot of time together, skateboarding or doing parkour sports. We spent our days in the street of Tabriz, where these guys paint small stencils on the walls from time to time. So, I started to paint small stencils too, and it was the first time I felt that I could express myself better and show my feelings about certain topics by using walls and street art. Over the time it became my profession, and I have made many sacrifices for that.
If you weren't an artist, what would you have become?
I studied computer science at university. I used to work as a web developer, but I chose to be an artist. I like it more and found it closer to my ideology. So I can say, if I wasn't an artist, I would be a computer engineer.
You have changed your style over time but have always remained dedicated to the stencil technique. Can you tell us more about your artistic development and what has influenced your new style of works?
I think changing is part of many artists' progress. The style of thinking and painting can change over time. There are many reasons to change your way of thinking and varying subjects, such as the environment, culture, language, age, etc. I mainly worked on social and political issues when I was living and working in Iran. Later, when I moved to Turkey, I started to work on different subjects and made my paintings to a higher artistic standard. I add more details, more colors, and more layers to my works now, and the stories they deal with have become more complex. I try to create fictional and fantasy worlds by mixing different elements and characters, sometimes based on mythological and divine stories blended with my own vision. A world where everything can happen and without any limits. But I've always been faithful to stencil. I like this technique and how fast it is.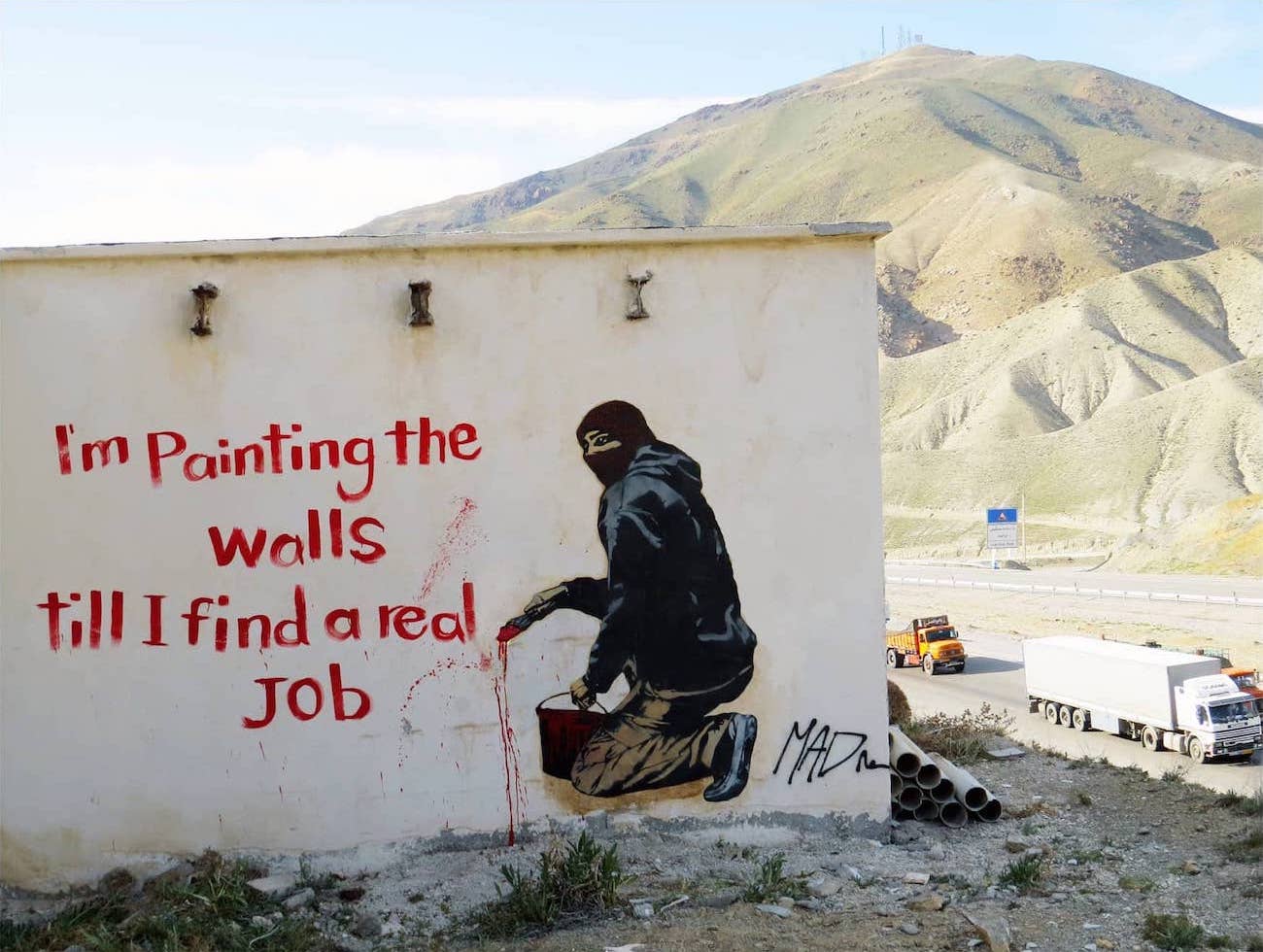 REAL JOB I Tabriz, Iran I 2015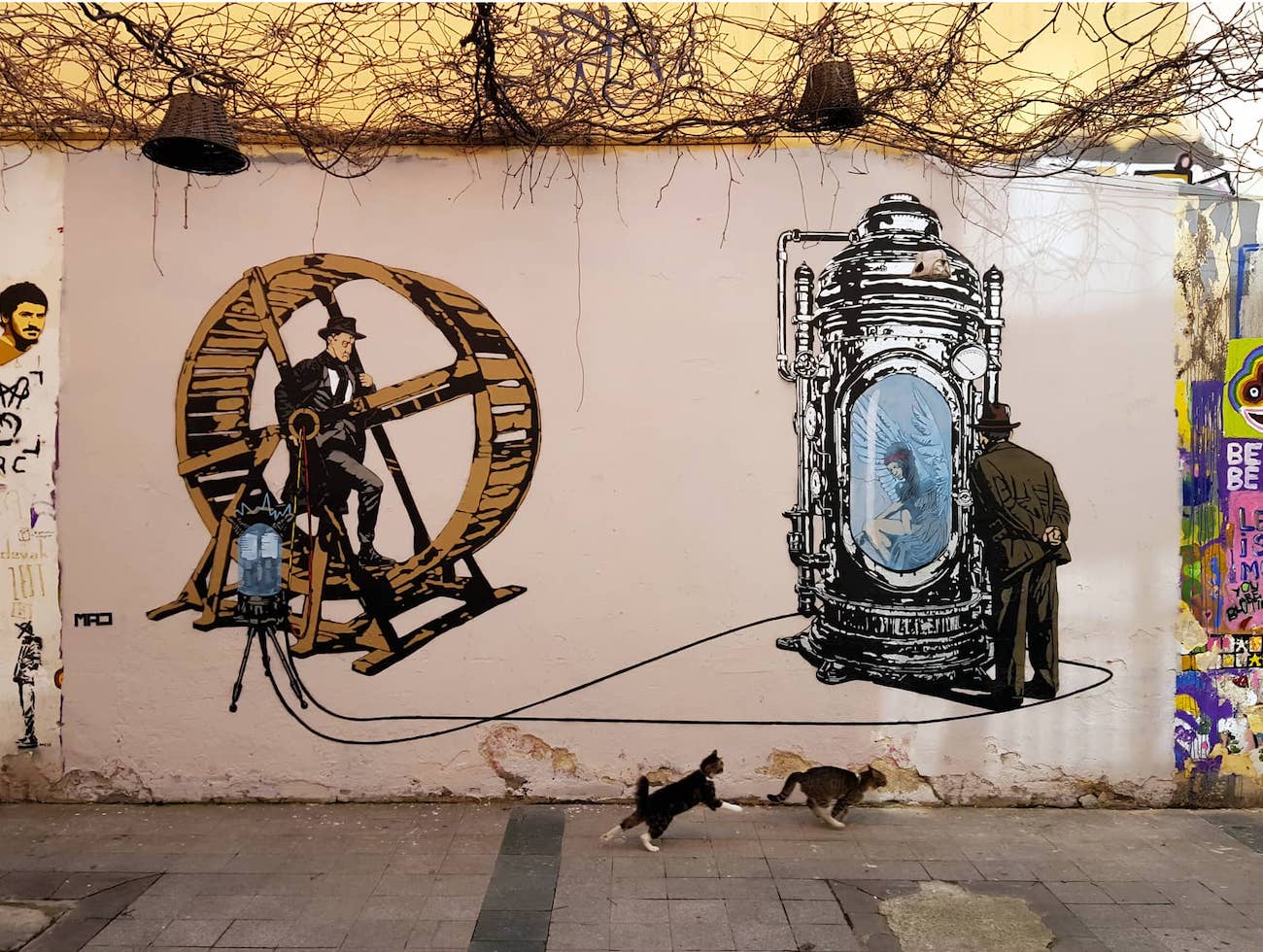 THE LAST ANGLEL I Istanbul, Turkey I 2019
Your works include critical social and cultural commentary with a dose of humor and metaphor, and revolve around topics such as censorship, humanity, and social problems. Do you think art can change society or even politics? 
Changing society or politics may be a little bit of a big word for it. But I think art can take the form of protest, addressing political and social issues with direct action. Art can connect you to your senses, body, and mind. It can make people sympathize with and connect to each other, and hopefully it may cause a change in their way of thinking and acting.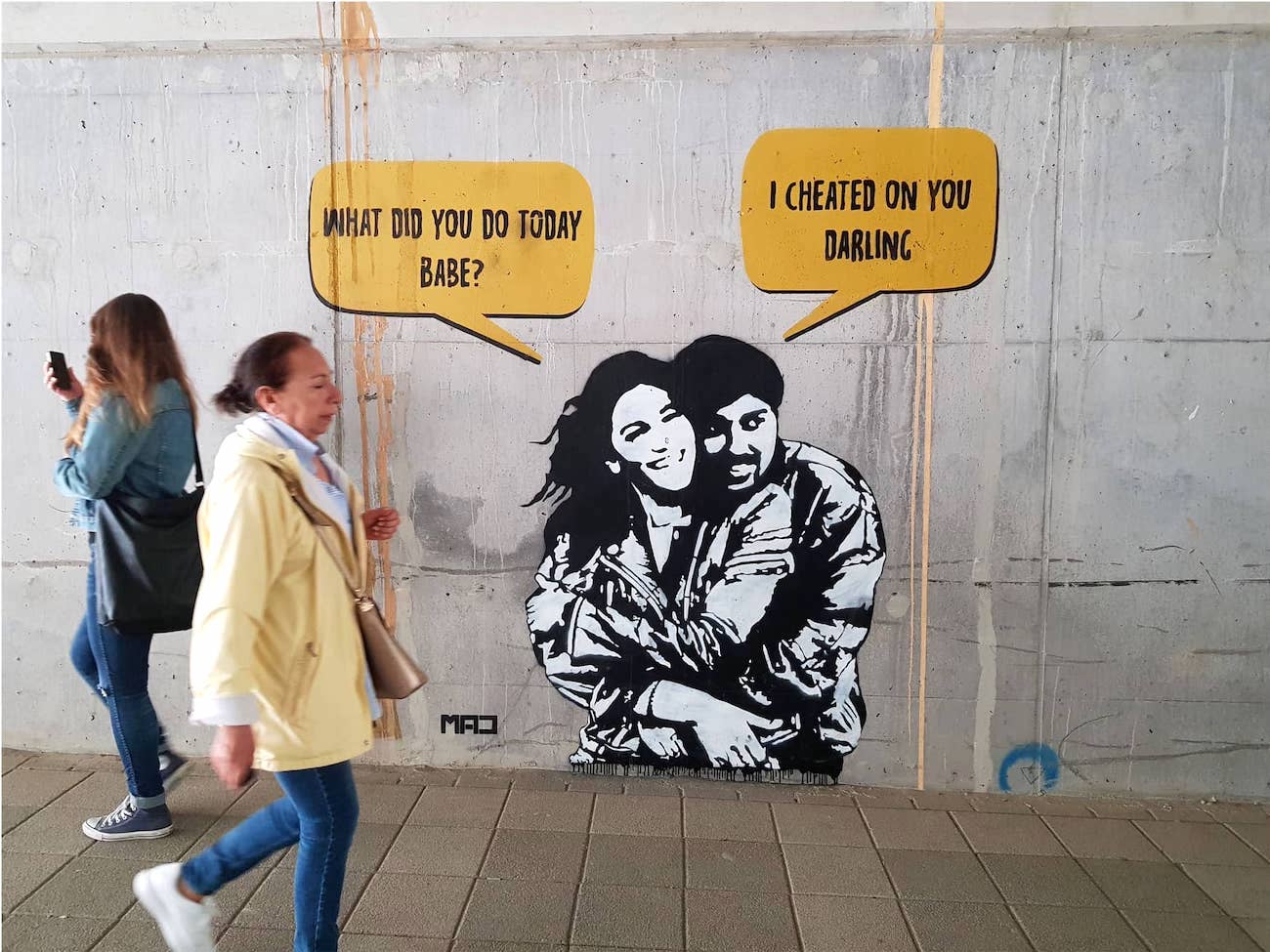 LOVE QUOTE I Istanbul, Turkey I 2018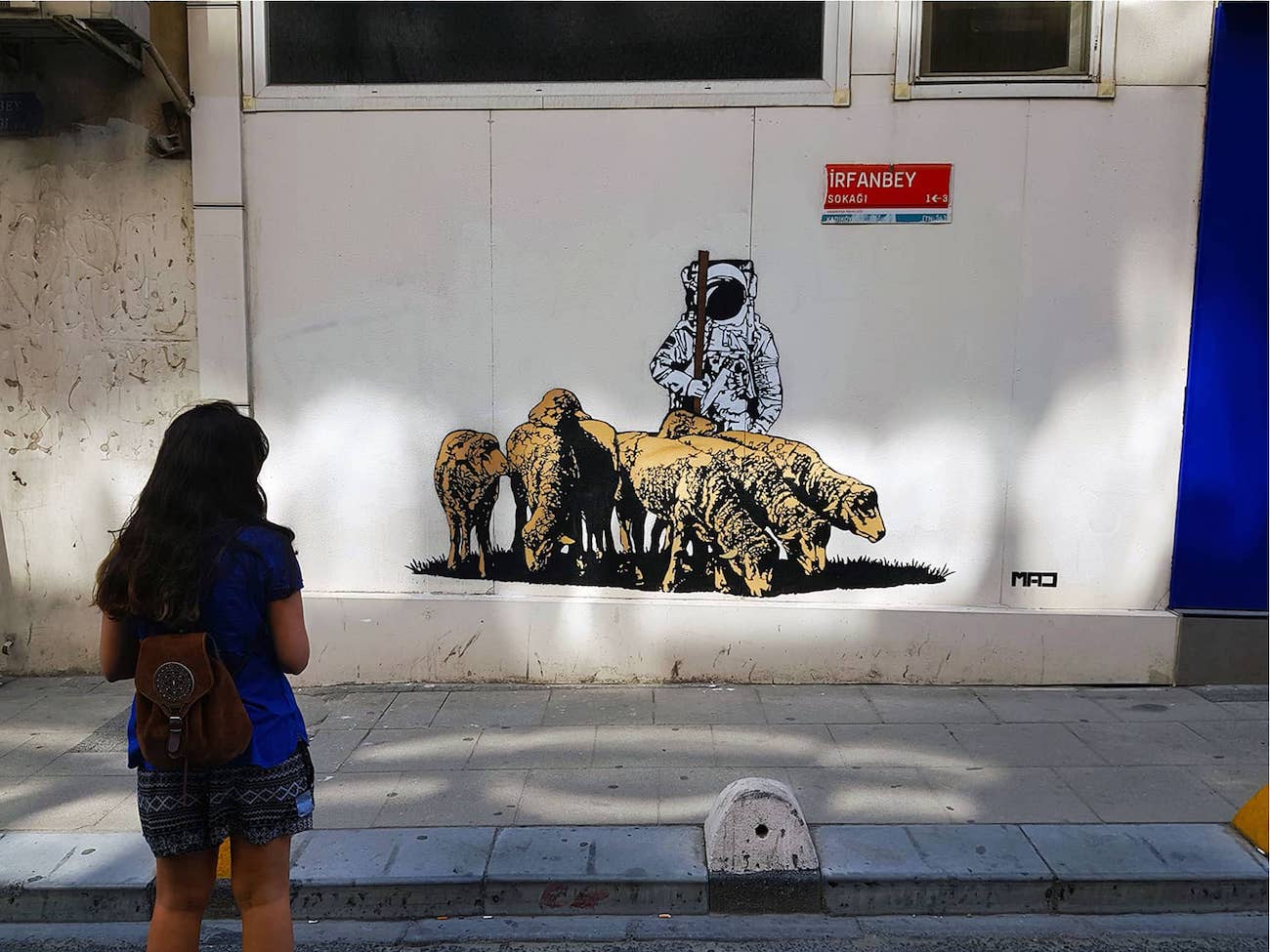 SHEPHERNAUT I Istanbul, Turkey I 2018
What are your sources of inspiration? Are there other (urban) artists who inspire you?
The society we live in and all the matters we face in our daily life and the mechanization of everyday life, next to fictional and mythological, divine stories, have inspired me a lot in my works. I usually watch and follow many artists. I enjoy watching the process of development of my favorite artists. There are many artists who have inspired me a lot since I started painting, such as Moebius, Frank Frazetta, Banksy, Dolk, Pobel, Pejac, Aec Interesni Kazki, and many more. I truly admire their artworks.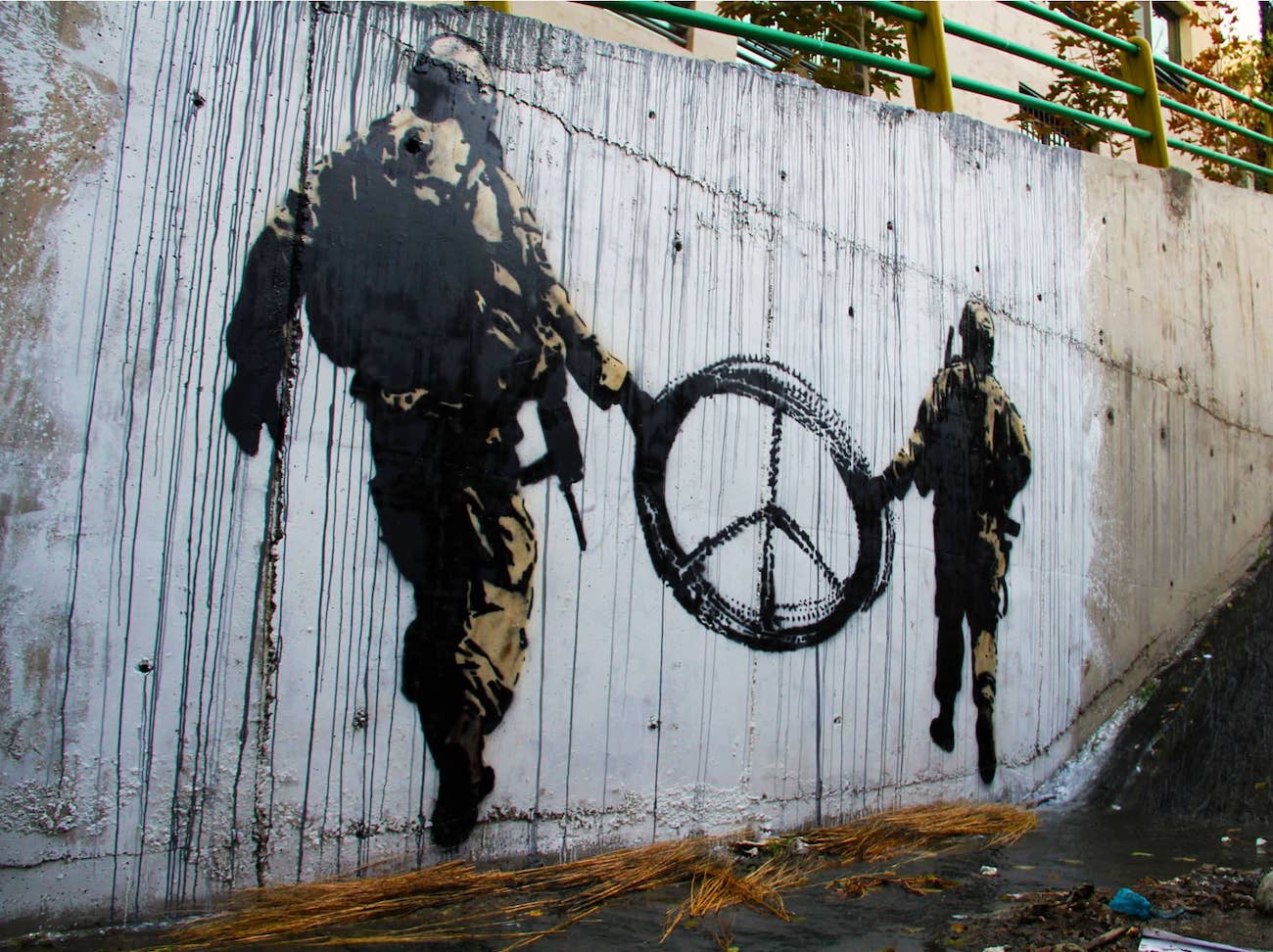 PRETENCE I Tehran, Iran I 2012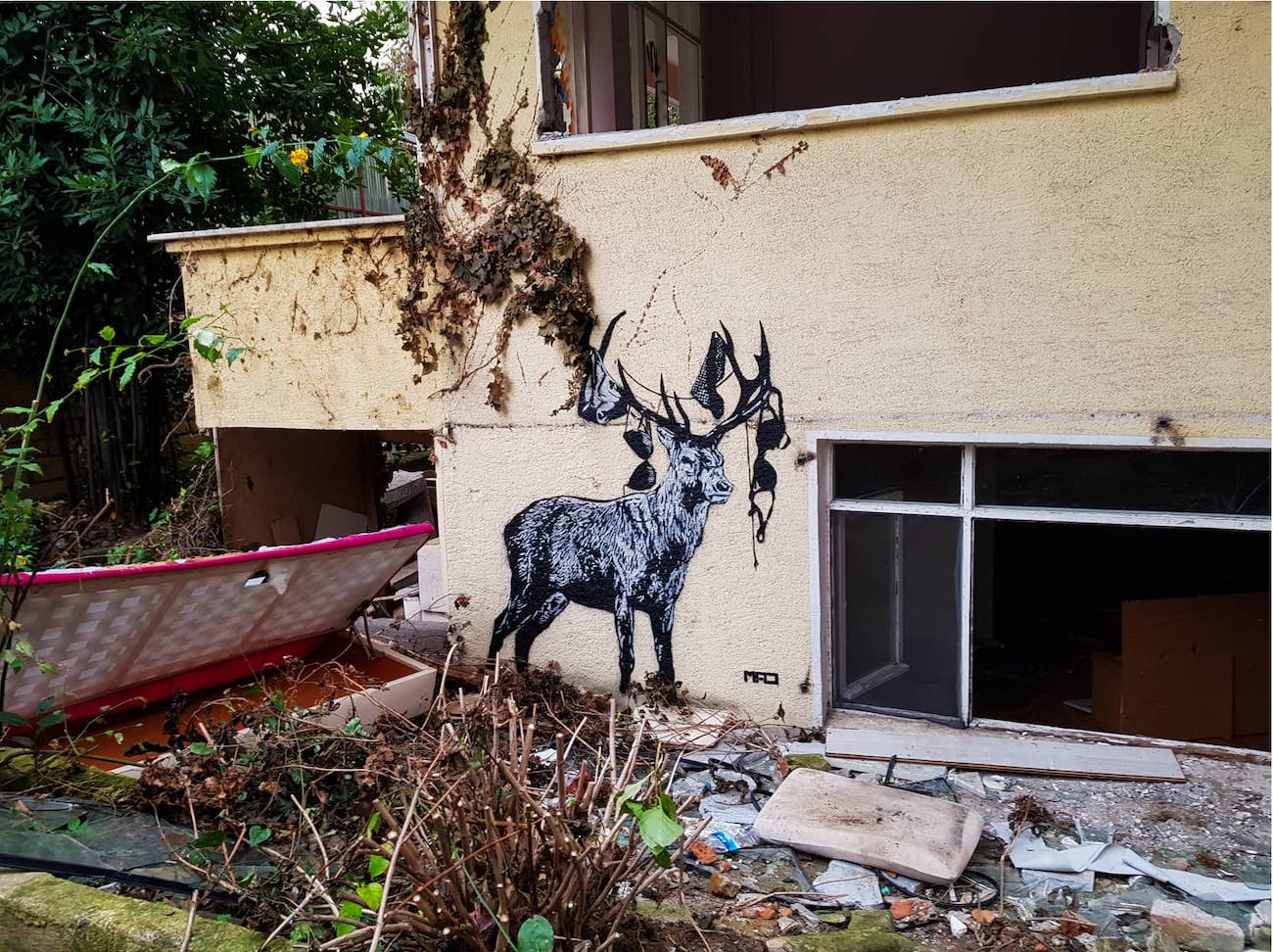 RUNAWAY STAG I Istanbul, Turkey I 2020
You grew up in Iran, but for almost five years now, you have been living and working in Istanbul, Turkey. Considering the fact that street art and graffiti are still considered to be a crime in many countries, how would you describe the artistic climate and freedom, and the urban art scene in general, in these two countries?   
I want to start answering this question with a memory. When I came to Istanbul for the first time, I was invited to paint a mural inside the Boğaziçi University in Istanbul. It was my first trip to Turkey and I felt there where the same problems we had back in Iran, such as the lack of freedom of speech and many others. I felt the same pressures on people here in Istanbul. So, I decided to paint one of my works called "Rise against the system". A rebel inside the glass jar wants to throw a stone at the glass, which symbolizes the system that controls the people. It shows how fragile the system can be, if we can understand its weaknesses. But of course, after one week, the university had to buff that painting because of the issues they were facing with the government.
I can say both Iran and Turkey have their own attractions. But working in Iran as a street artist is so dangerous. As far as I know there isn't any particular law against graffiti or street art in Iran. So, you can be charged with anything including political crimes, even if your work has nothing to do with political issues. Whereas in Turkey, if you paint non-political things, it's just ok. Painting in Istanbul in comparison with Tehran is easier, but of course, it also changes from neighborhood to neighborhood.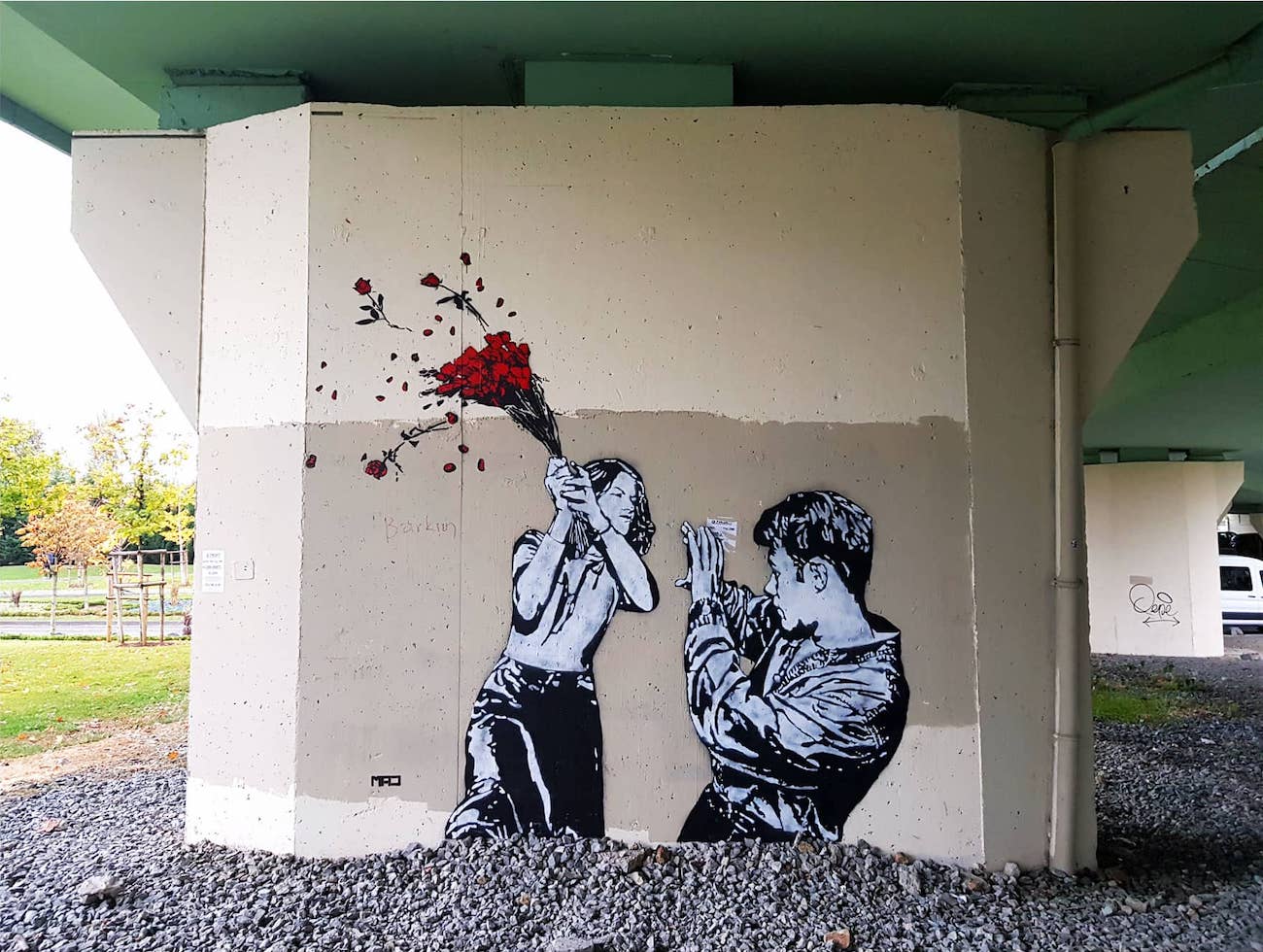 KNOCKOUT I Istanbul, Turkey I 2017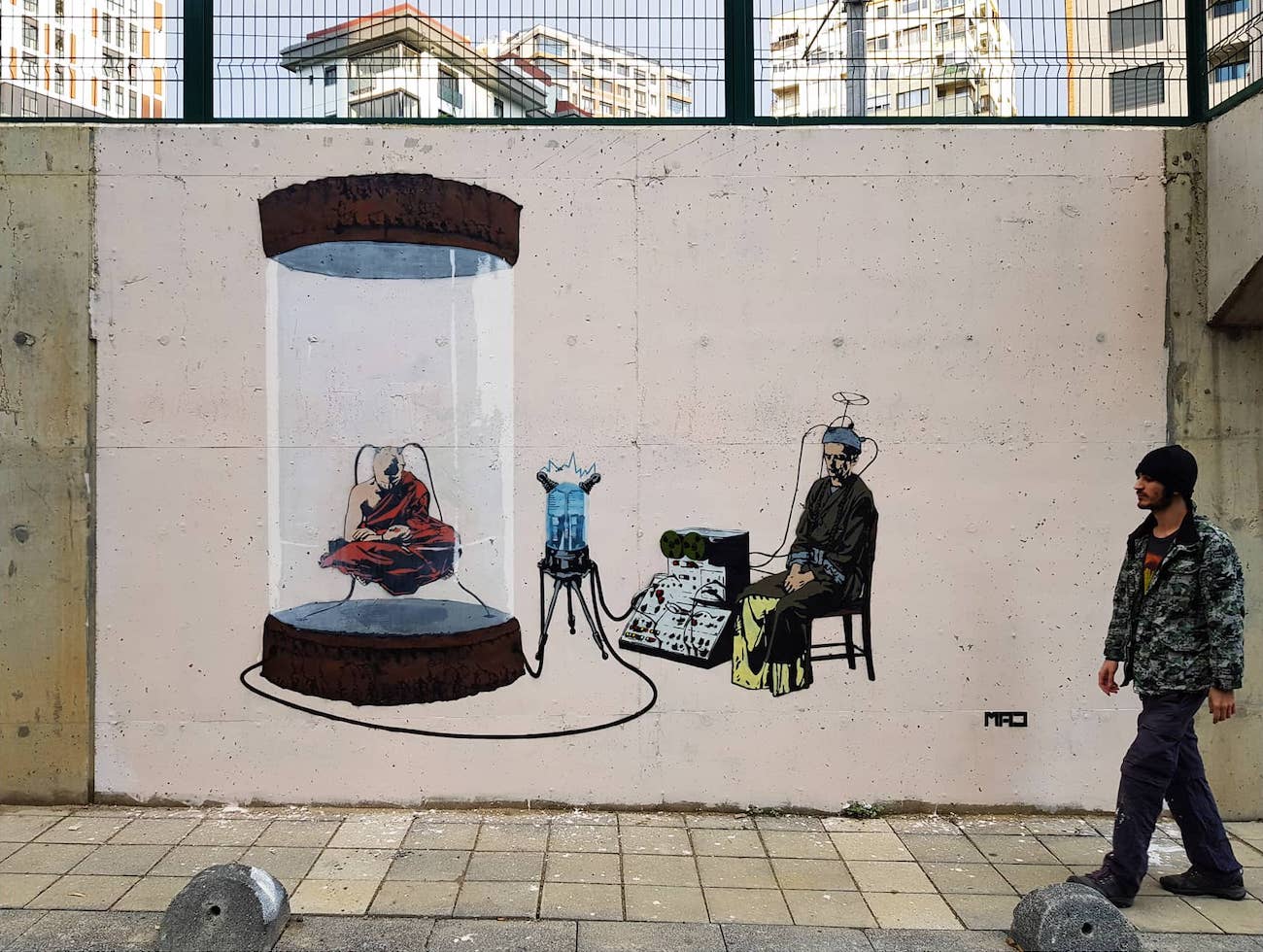 ORACLE I Istanbul, Turkey I 2019
Have you ever been caught doing illegal work?
Yes, I was caught in Iran several times. But I was lucky enough that nothing serious happened to me. I just got warned by the police. Here in Istanbul, I haven't been caught, but I have been warned by the police several times when I have been painting.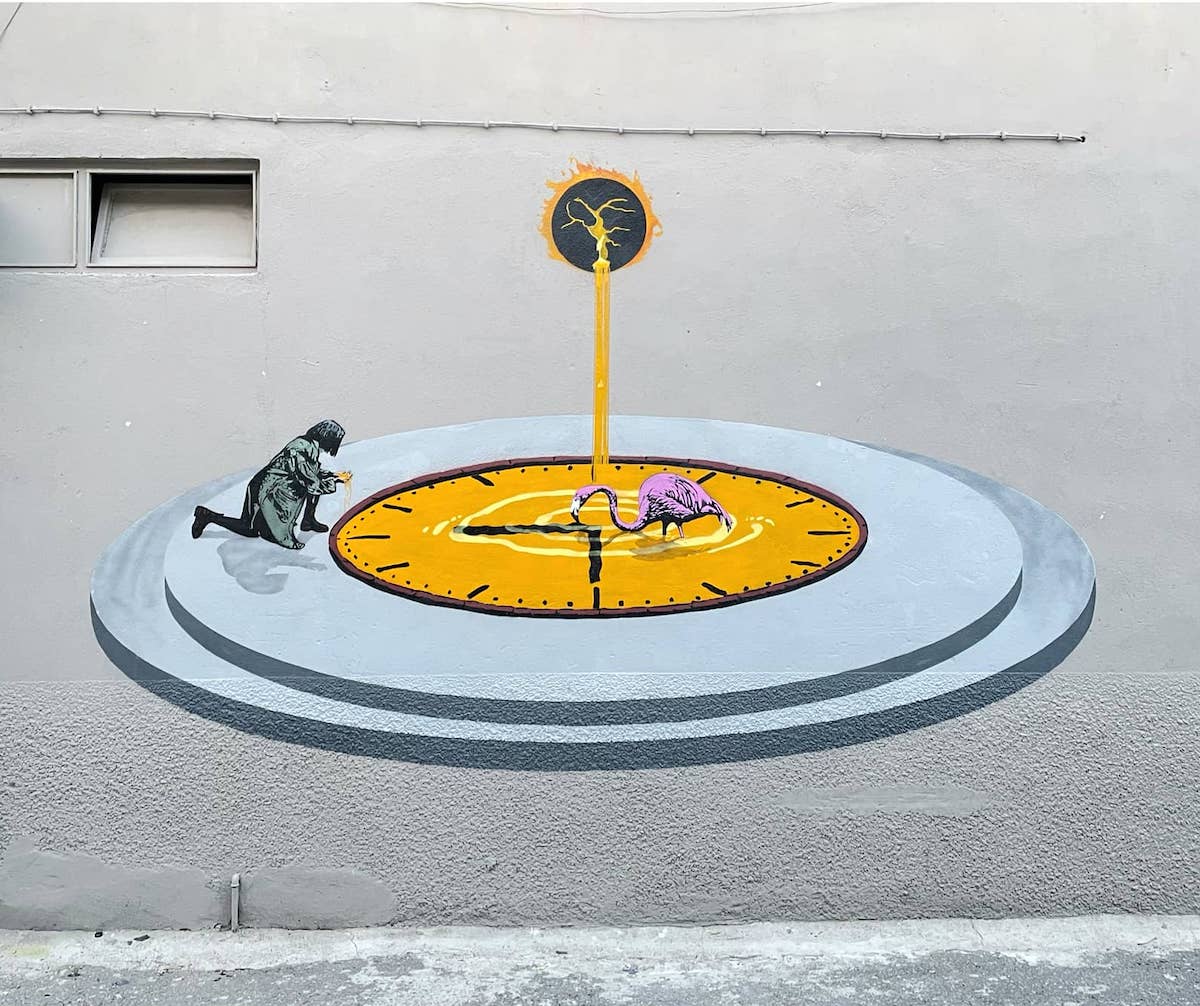 TIME SOURCE I Izmir, Turkey I 2022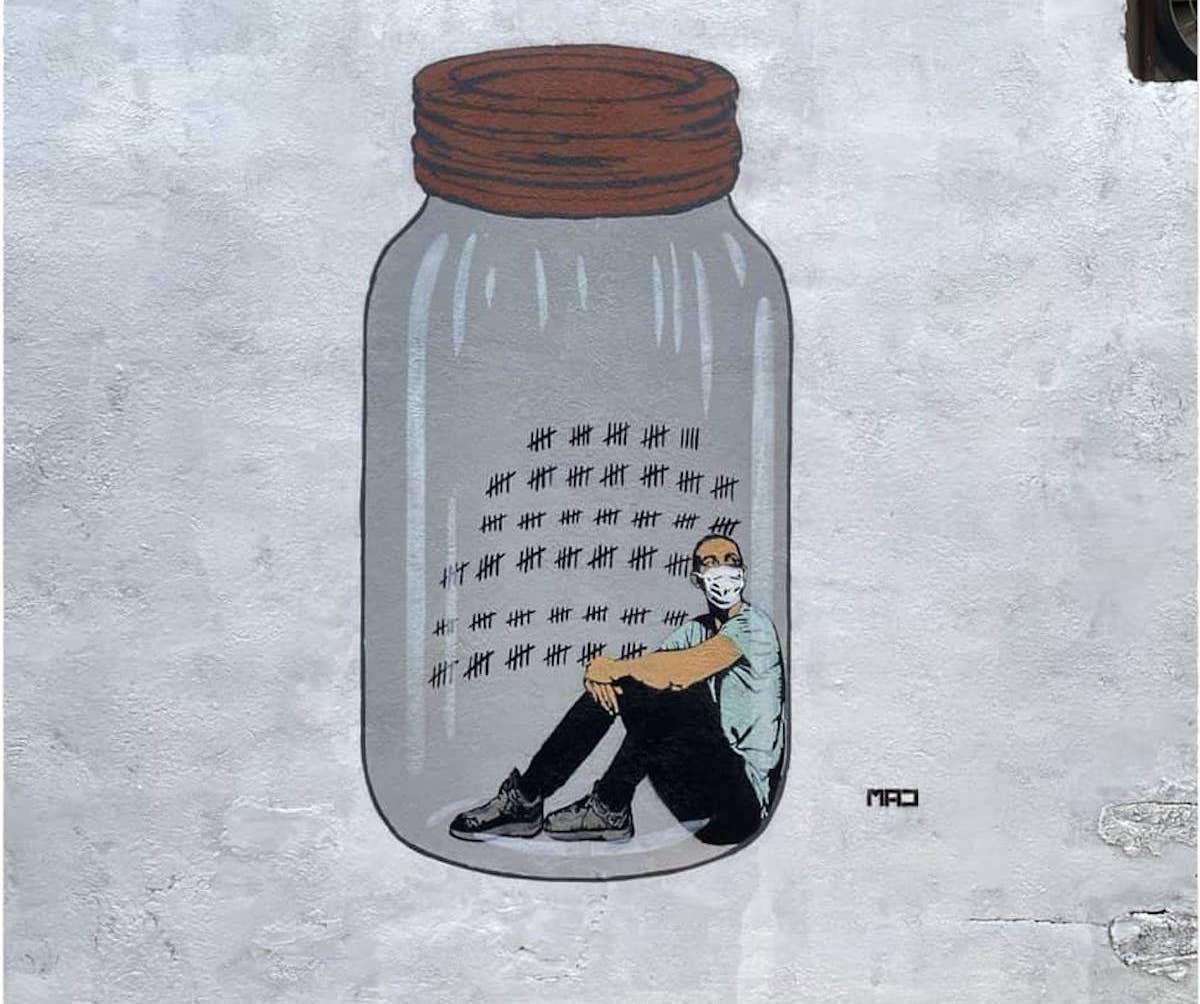 QUARANTINE I Izmir, Turkey I 2022
What determines free artistic practice for you?
As an Iranian citizen, it's hard to travel around the world. Traveling freely could influence me a lot, because I love to travel and to know more about countries' culture, their old mythological stories, their literature, their history, and many other things that can help me during my artistic creation.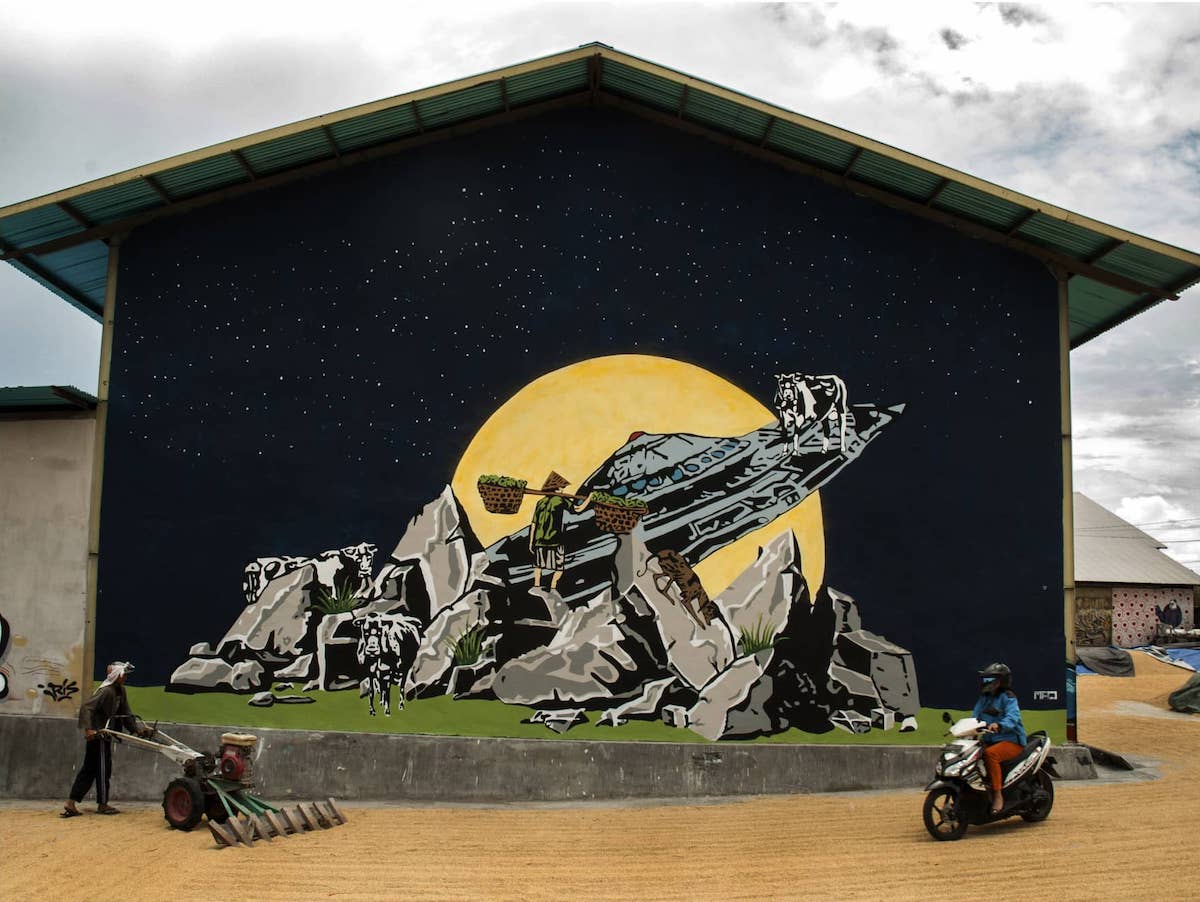 UFO CRASH I Bali, Indonesia I 2017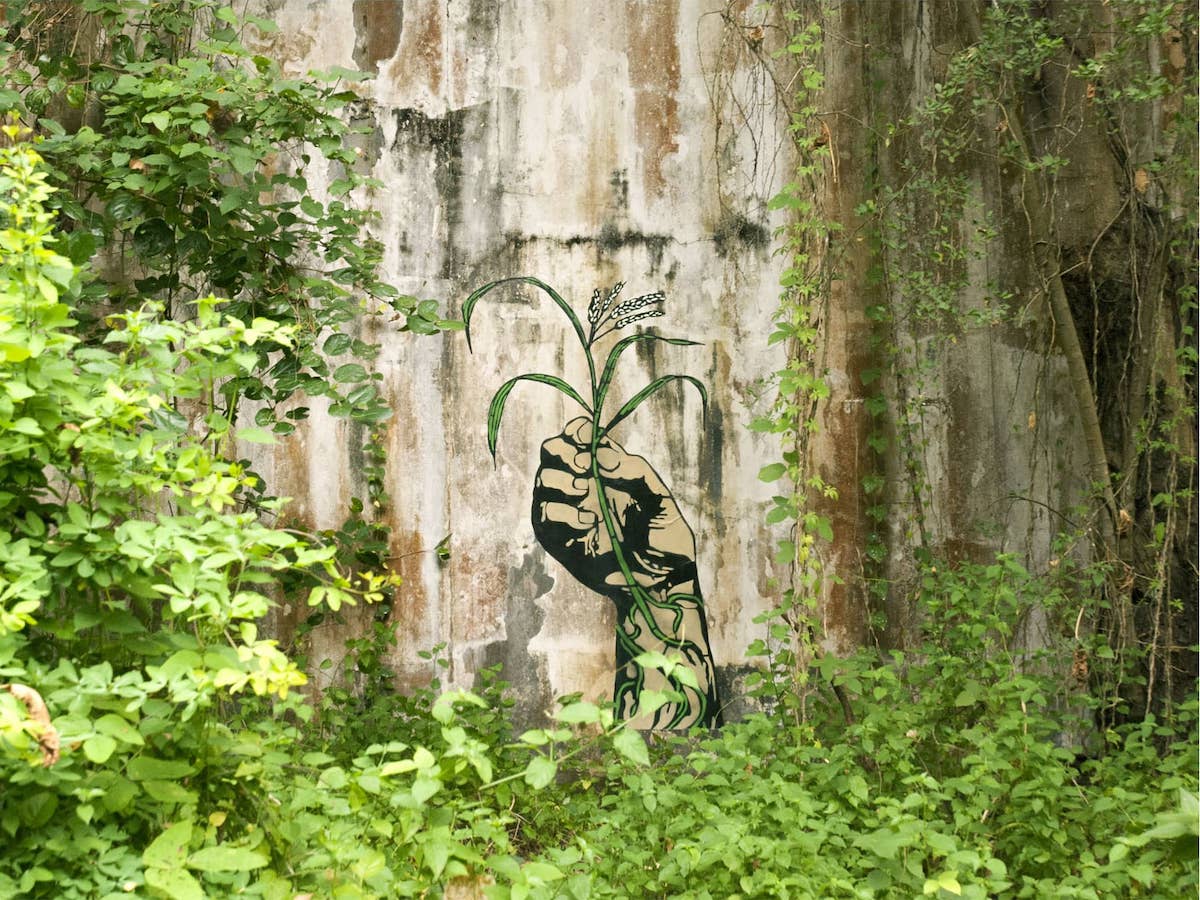 RICE I Bali, Indonesia I 2017
What has been your most challenging and rewarding piece of work or project so far?
As I said, my new paintings have lots of details and colors and therefore layers. So, painting and cutting their stencils by hand takes so much time and effort. I can say they are really challenging for me. 
When my mural "Rise against the system," a work I really liked, was buffed it seemed to me that it had fulfilled its mission and sent the message it should send. When they removed it, the students in that university were really pissed off and started protesting against censorship. I liked that, and I think it was my most rewarding project so far.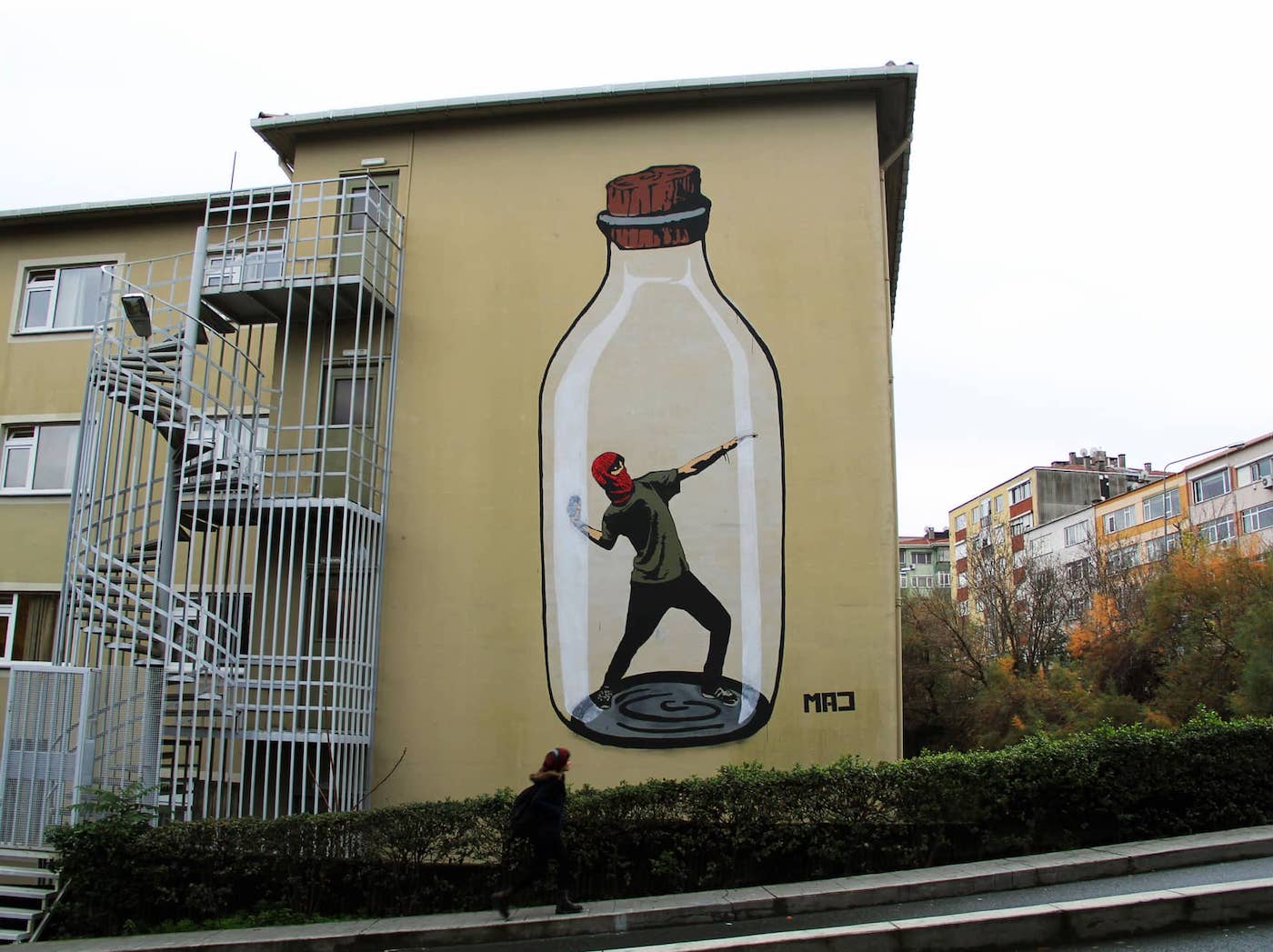 RISE AGAINST THE SYSTEM I Istanbul, Turkey I 2015
What's next for you? 
I'm working on a collection of paintings, and I intend to have a solo exhibition in the U.S. or Europe soon, where I would like to travel this year, if it is possible. I'm also planning to participate in an art residency program and to extend my paintings on the street around the world.
UNTITLED I Izmir, Turkey I 2022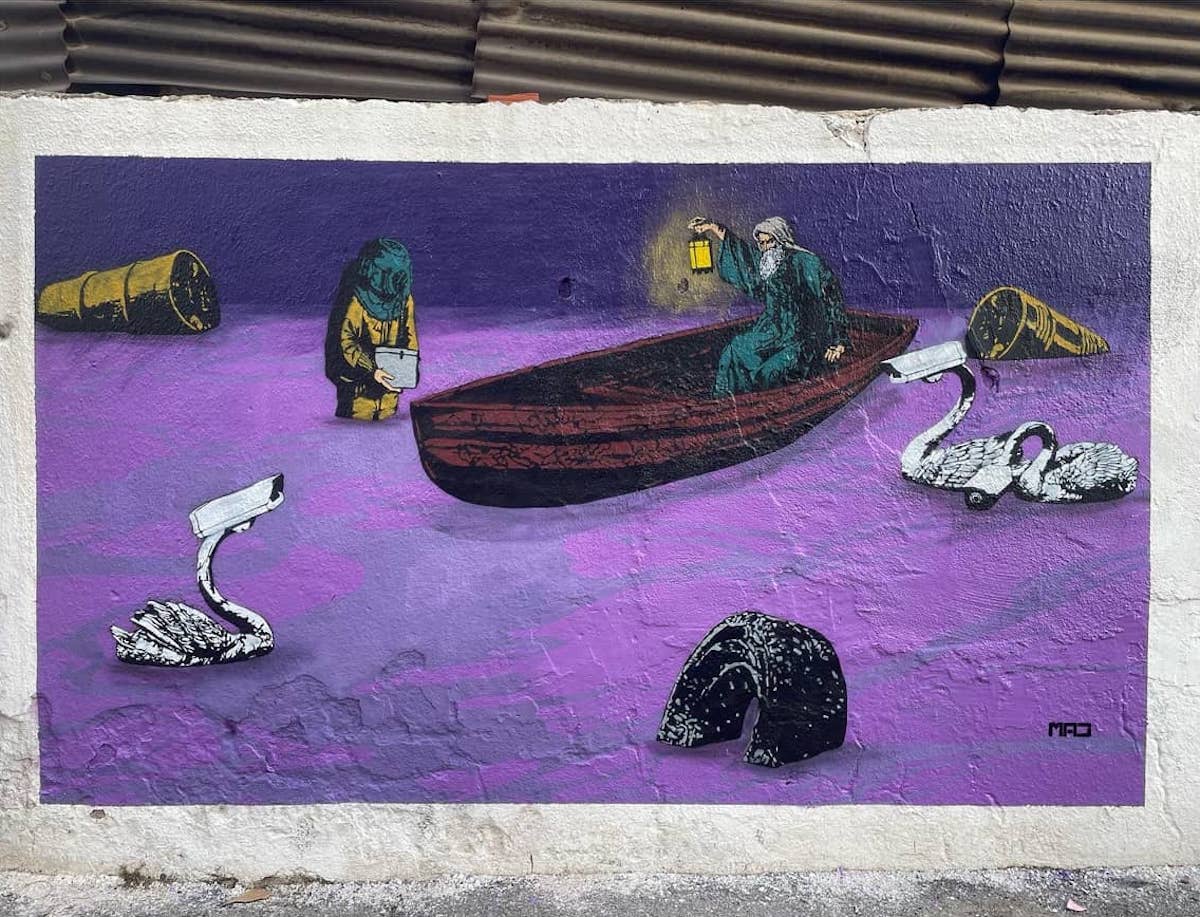 THE PASSAGE I Izmir, Turkey I 2022
_______________________________________
Pictures © MAD
February 2022
by Laura Vetter