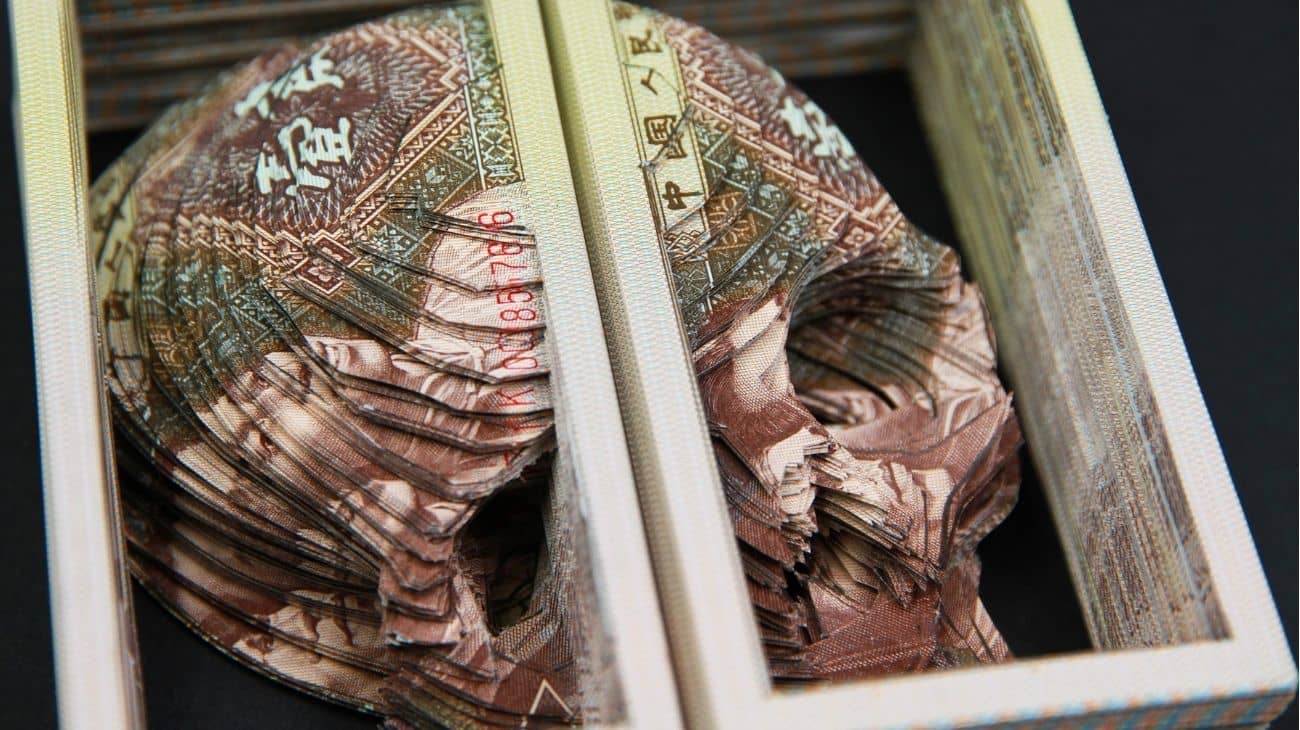 MONEY FOR NOTHING
Interview with Dominique Barlaud about MONEY FOR NOTHING: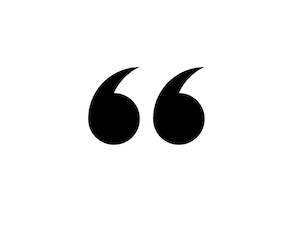 The project became conceptual as it was built. Each of the works has been purchased, and some of the banknotes are museum pieces. I wish to ensure, through the legal status, the indivisible and non-commercial character of the collection. The impossibility of reselling it will, therefore, remove any commercial exchange value from it.
You are an architect and an art collector, and with MONEY FOR NOTHING you started a unique project, bringing together painted banknotes from 1001 urban and contemporary artists from all over the world. Can you tell us more about yourself, and how and when the idea for the project was born? 

Coming from a modest rural environment, I have, since my childhood, developed a very strong taste for art. Very quickly it became food, an energy of life for me. Before I started this particular project, the fields of art I was interested in were quite diversified, but rather oriented towards contemporary art, especially the Cobra movement. Nine years ago, on September 11 to be precise, an architect friend of mine gave me for my birthday, the film "Make the Wall" directed by Banksy. Watching this documentary triggered a whole series of improbable events. Indeed, after having devoured this film, I discovered the unknown world of urban art. In a few clicks I contacted Speedy Graphito, one of the first artists I had gotten in touch with. Two days later, as unexpected as the meeting of Brainwash with Banksy, I met Speedy Graphito. Then the fortunes/chances continued to multiply, regularly reinforcing me to continue this adventure. This meeting was one of the main triggers of the project by leading me to open my eyes from the many prejudices I originally had.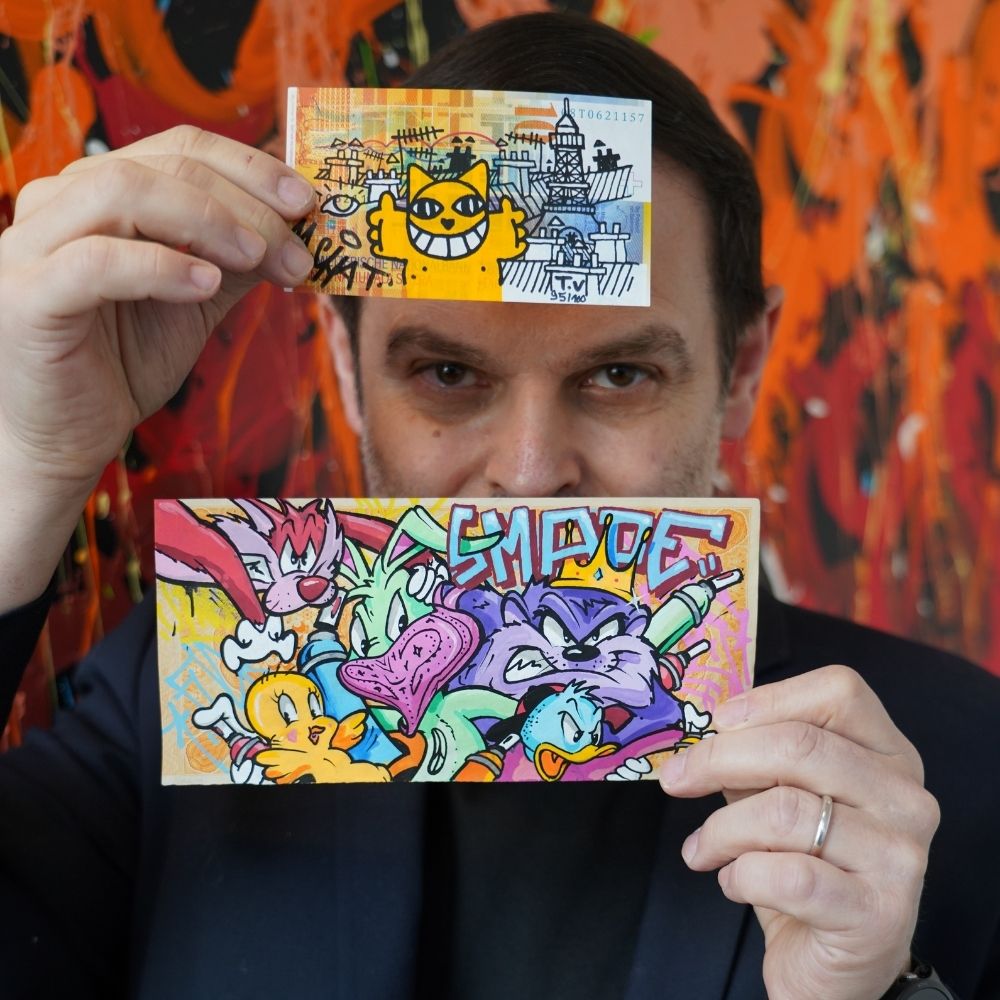 What is your relation to (urban) art? Why did you choose to work especially with urban artists for this project? 

The banknote is a complex, paradoxical and very symbolic object with which I have had a special relationship since my childhood. As a child, I used to accompany my father, an itinerant trader and "bargain hunter" on his tours through the countryside. Every day, I would see a ritual repeated invariably: my father would exchange goods for pieces of paper. In the evening, my mother would hide the money in cardboard boxes. This took place in the late 70s, in the deep countryside, without internet and credit cards. I think I kept this "magic" relationship with the banknote, not for the value it represents, but for the object. 
Graffiti and banknotes cultivate many parallels and paradoxes: this art, which was originally exposed for free in the street, has gradually found its way onto the walls of galleries, acquiring a market value symbolized by the banknote. At the same time, the banknote, which has been the dominant currency for centuries, is gradually disappearing in favor of virtual monetization. Like graffiti, the banknote is international and is expressed in all cultures: it is also a means of communication for States, and it undergoes the wear and tear of time, like a fresco on a wall. Finally, it constitutes in itself a two-sided work of art, which is especially interesting because an artist is offering his art for free in the streets. The banknote, through countries and history, was often a means of propaganda or communication beyond its "market" value, just like urban art.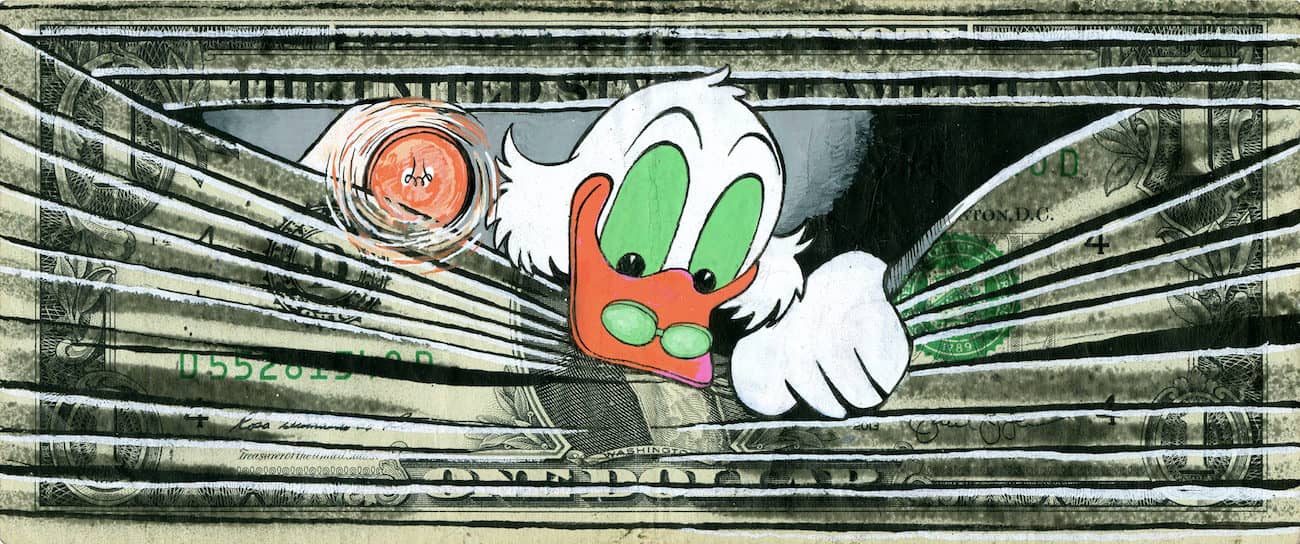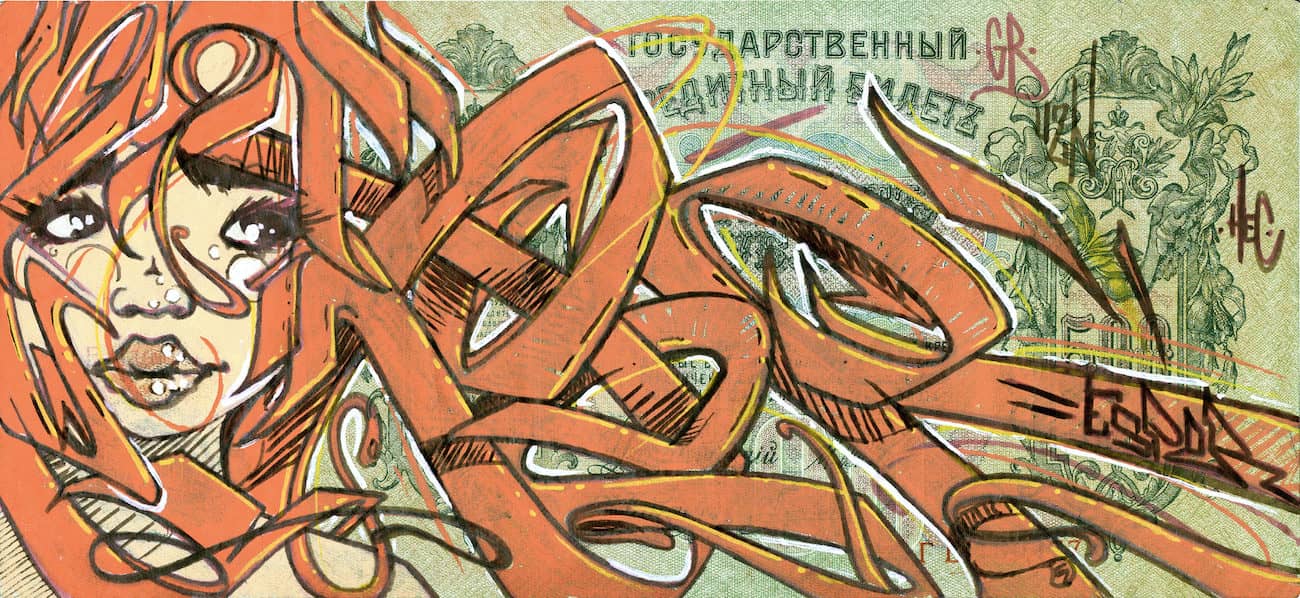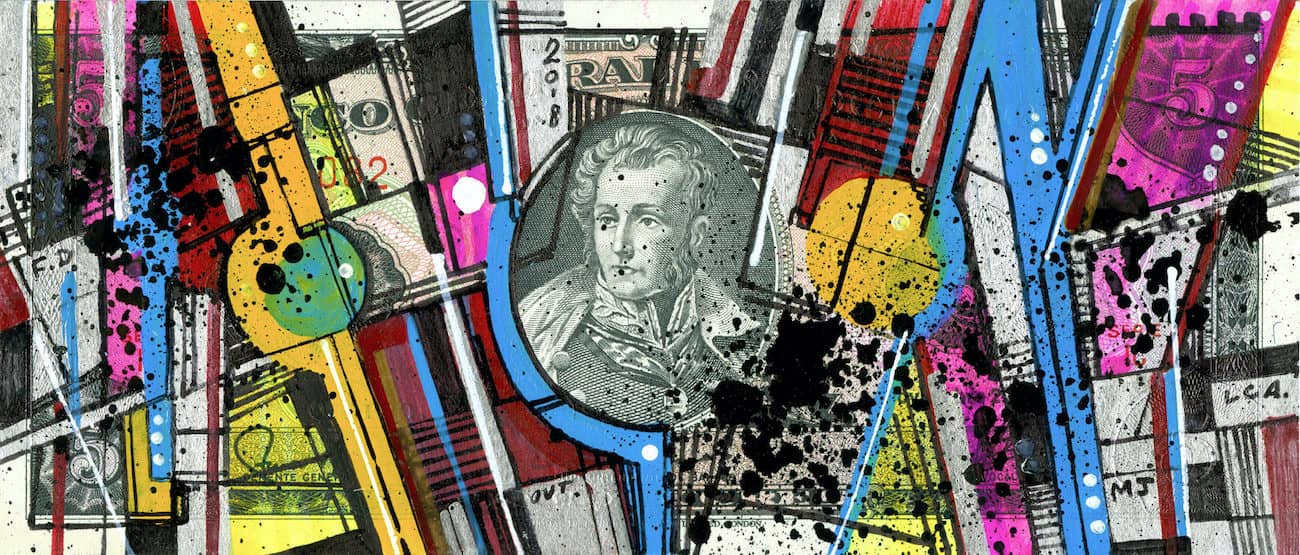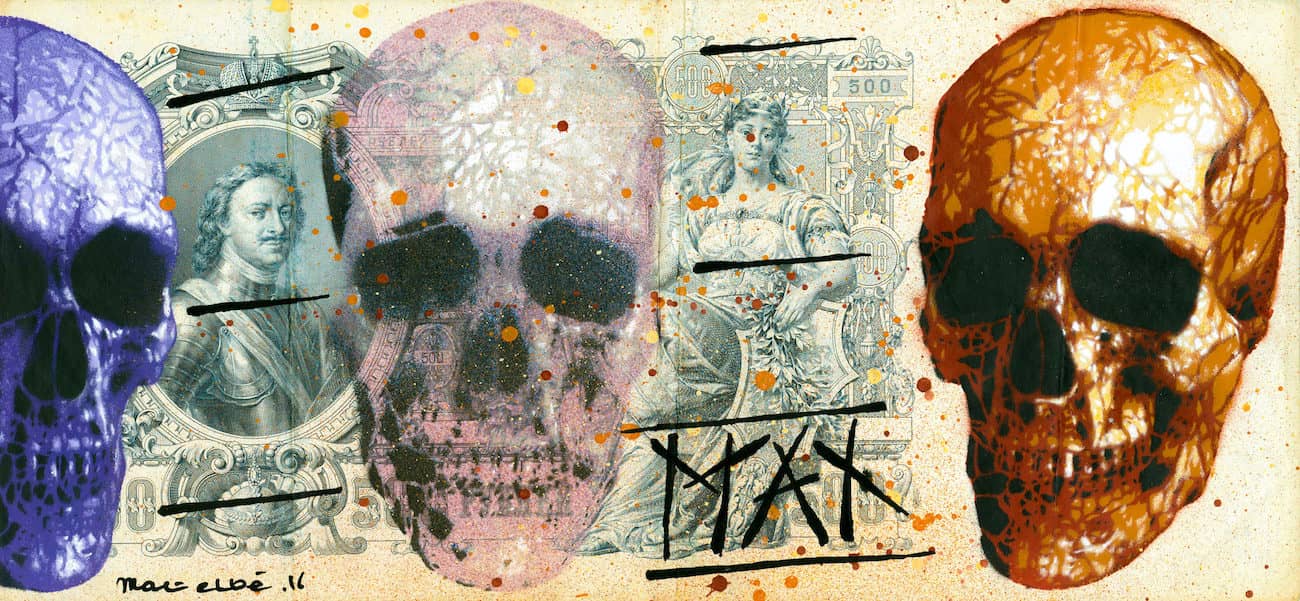 You worked, next to many others, with artists like Andy Warhol, Banksy, Shepard Fairy and Keith Haring. How were the artists selected? What is your organizational and methodical way of realizing this project?
At the beginning, I had no goal in mind, this project was above all a personal project. The dimension of the support and also the price of the works allowed me to collect many pieces. Soon enough, artists and gallery owners pushed me into this crazy project. The choice of artists at the beginning was opportunistic, then through word of mouth the project took off. Nevertheless, I had the desire to make the most known artists in the field and the emerging ones cohabit together in this project. 
Today, I have about 750 artists out of the 1001 that the project will contain. For the last two years, I have been looking more for foreign artists and artists from other backgrounds other than graffiti or street art, so I have spoken to cartoonists, sculptors and glassmakers. A team of about ten people, all equally passionate, help me in the search for artists with lists of unavoidable names, of course.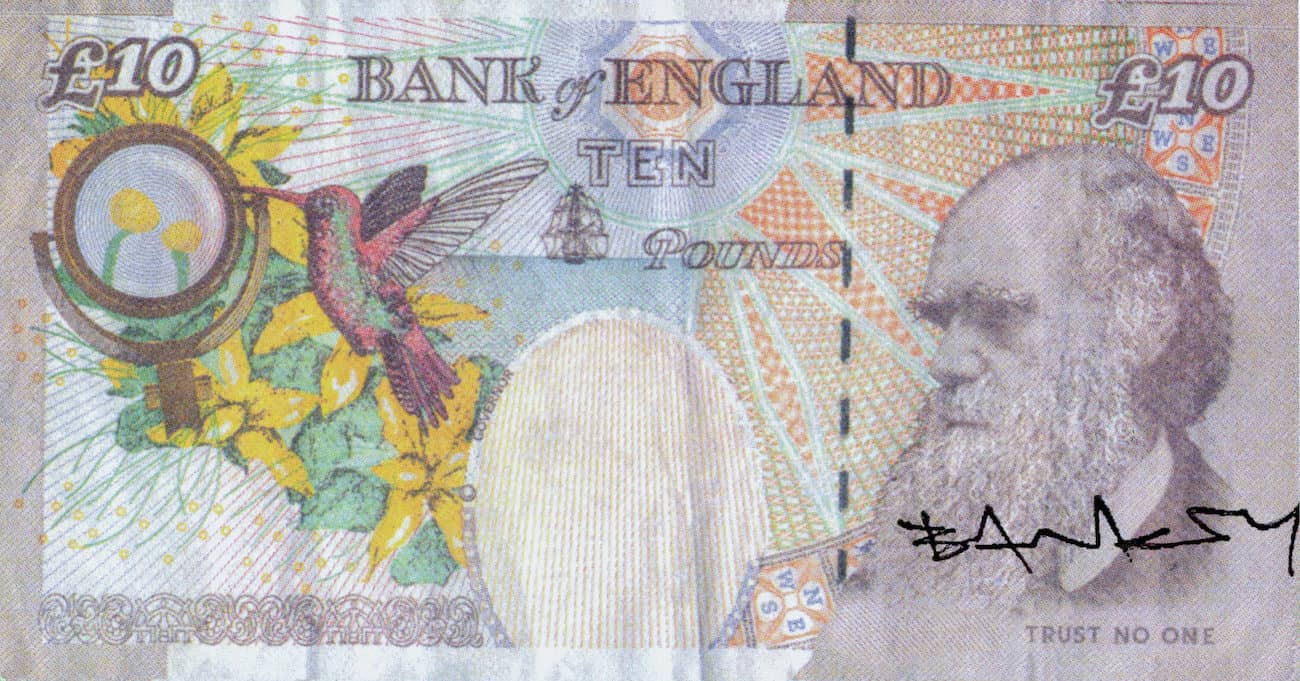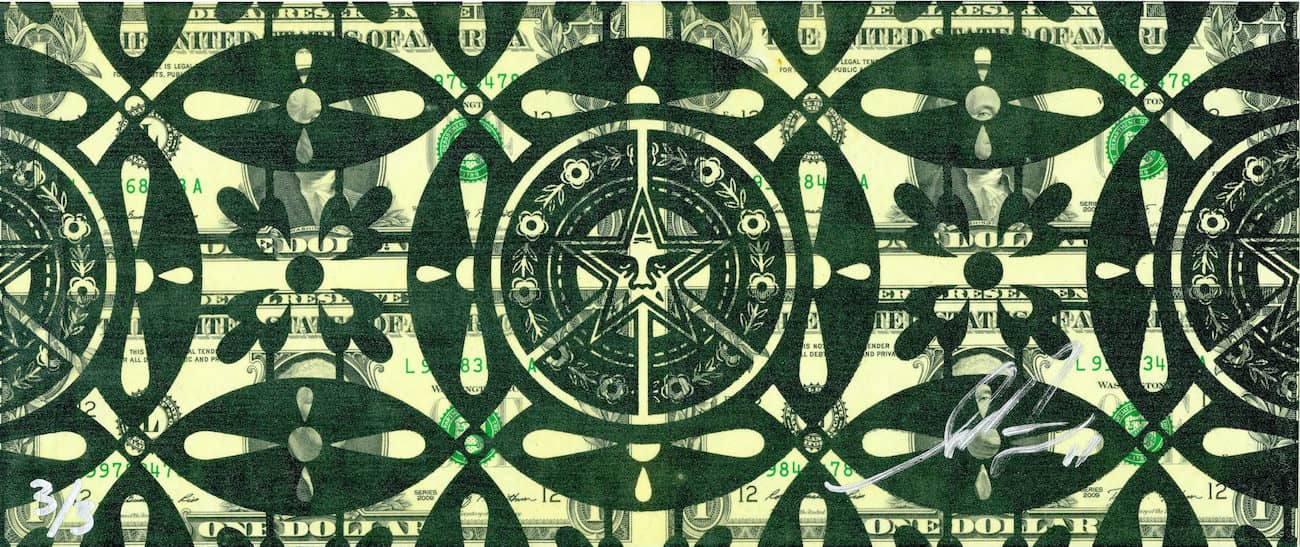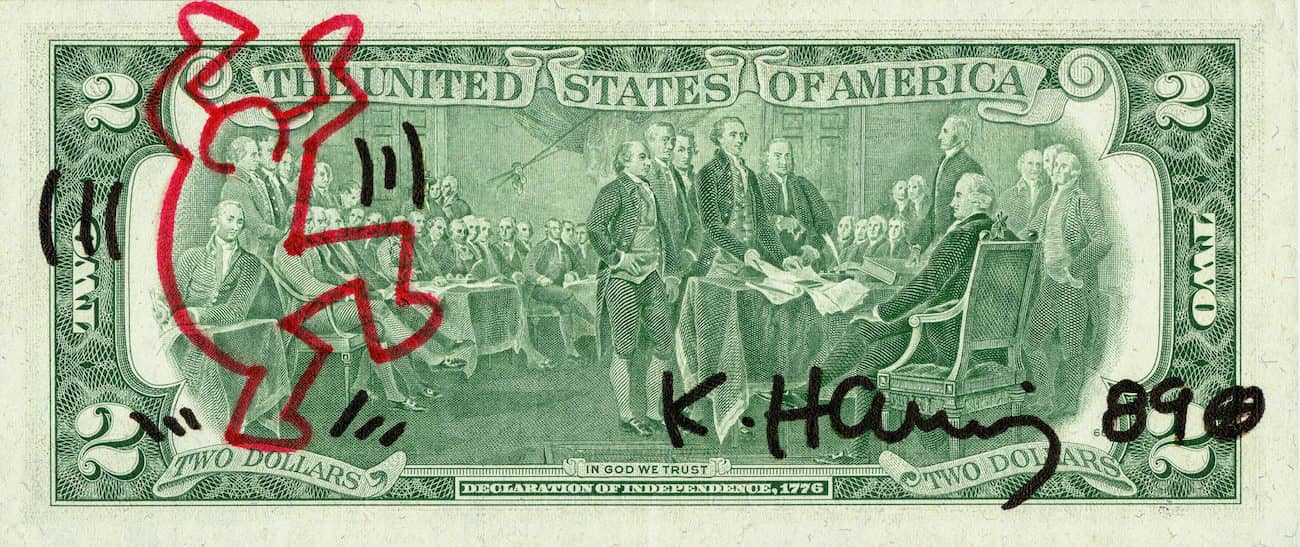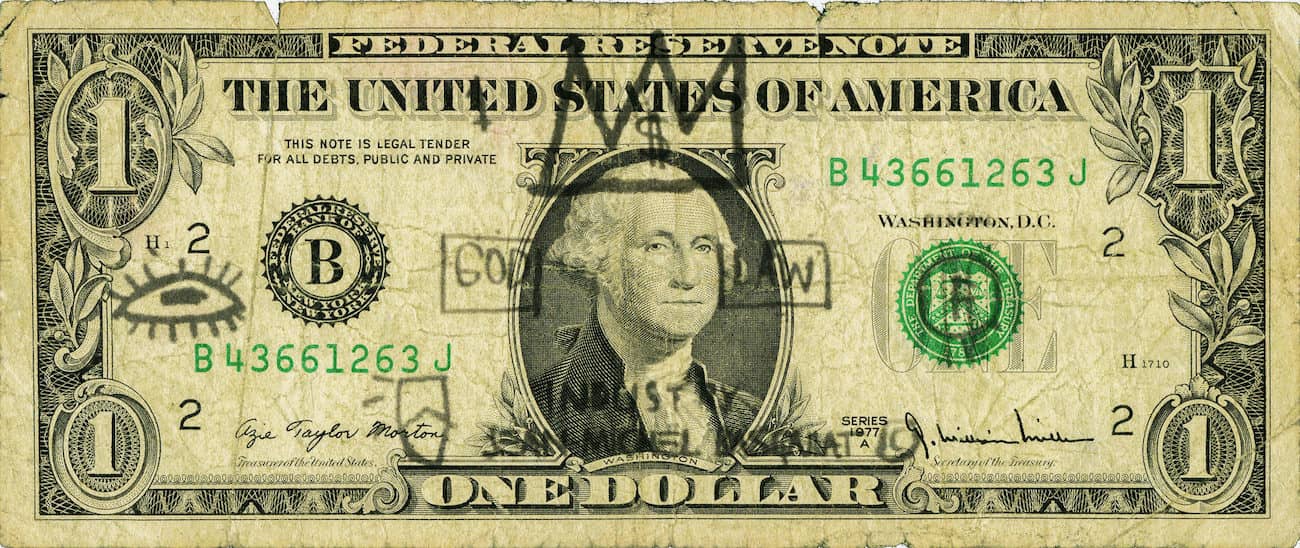 MFN 45 by JEAN MICHEL BASQUIAT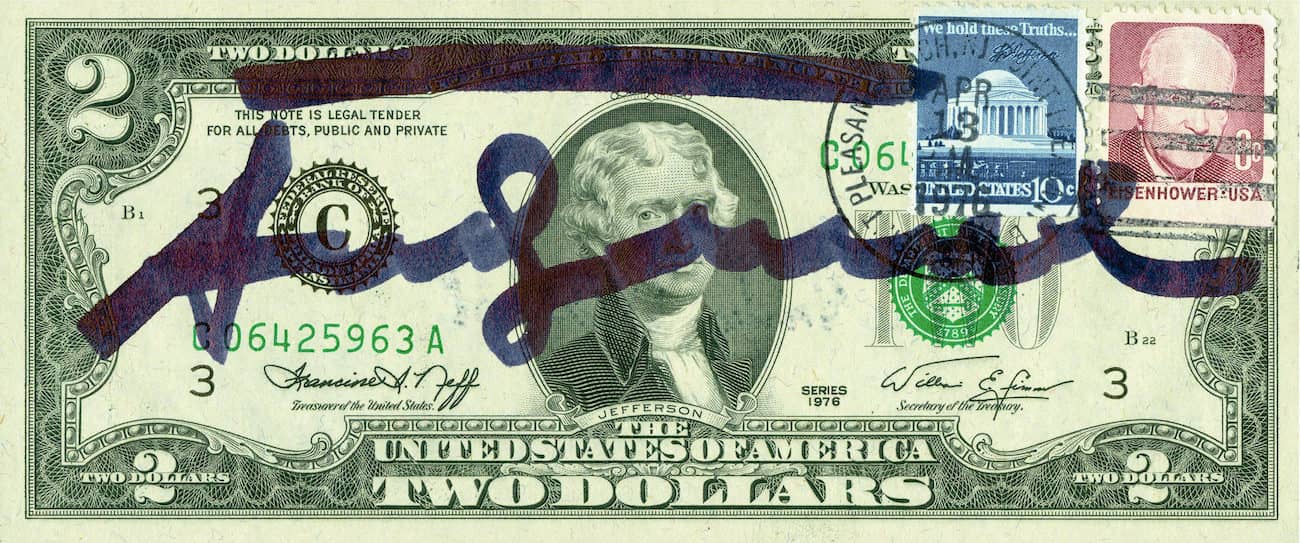 MONEY FOR NOTHING questions the complex relationship between art and money with humor, provocation and fascination. Were the artists completely free in terms of themes, motifs and artistic expression? 
The diversity of the works is enormous. Collected over ten years, they bear witness to our contemporary history and its future, in the form of winks or more serious subjects. Some artists show a great lucidity of the world by subtly seizing the current events. Some works are emulators of consciousness. Some works are committed to deliver ecological, libertarian, anti-militarist, anti-capitalist, or other impactful messages. Some approaches are a satirical vision of the society. Other works are graphic, abstract and figurative. The artists are free in their choice of themes, which I sometimes discover only after the work has been finished. They are also free to choose the medium, except that a banknote must be a component. I am in close exchange with the artists and wish that the banknote is not just a simple support, but that there is a connection between its origin and the images that it eventually conveys, making one feel the energies that instigated the creation when they see the finished work!  
The base of the collection is made up of street-art, graffiti and pop art, but I have progressively approached other artistic forms, such as cinema, sculpture, comics and writing. I wanted this project to integrate aspects beyond the streets, even if the similarities between banknotes and street art are for me the most obvious ones.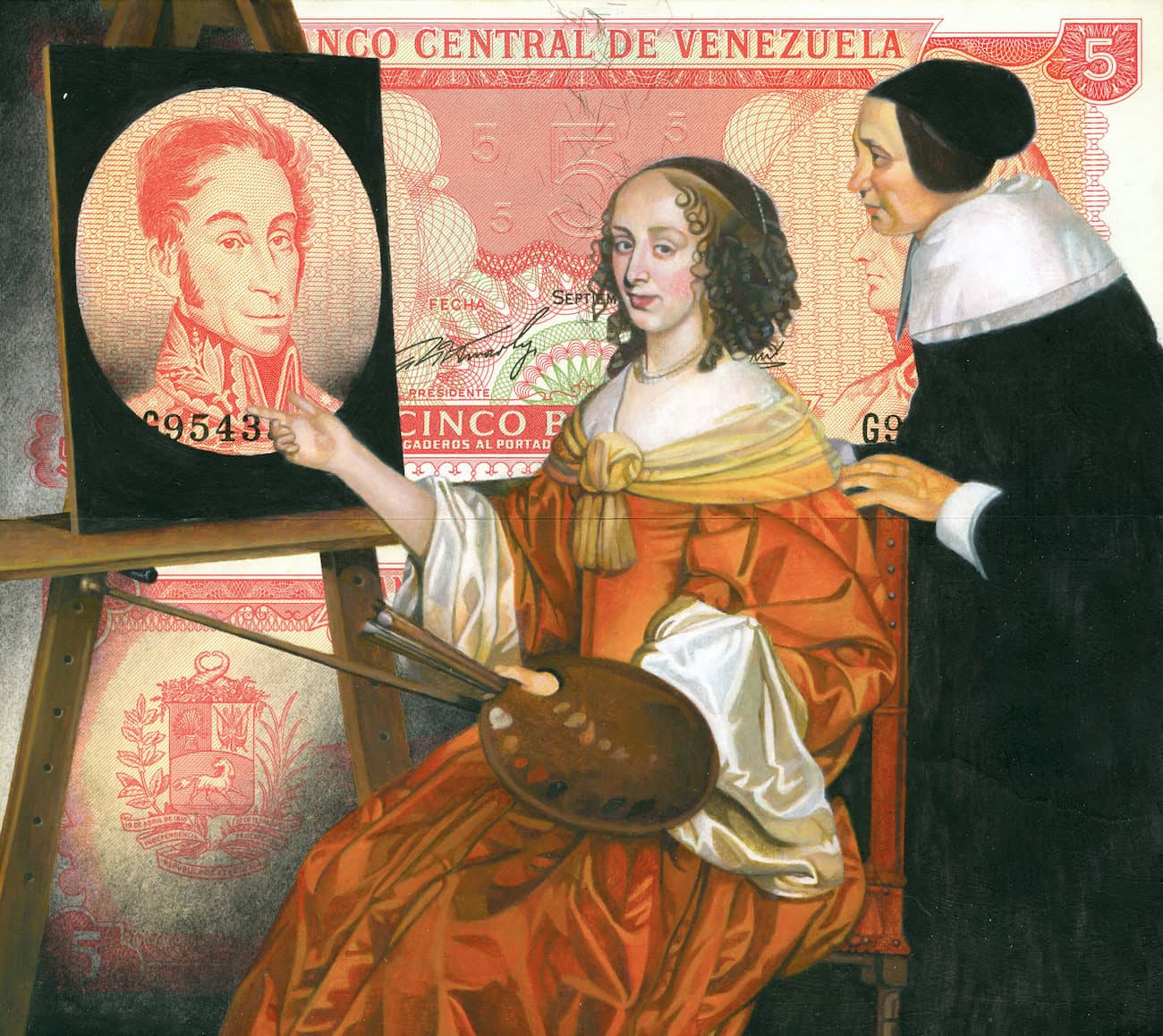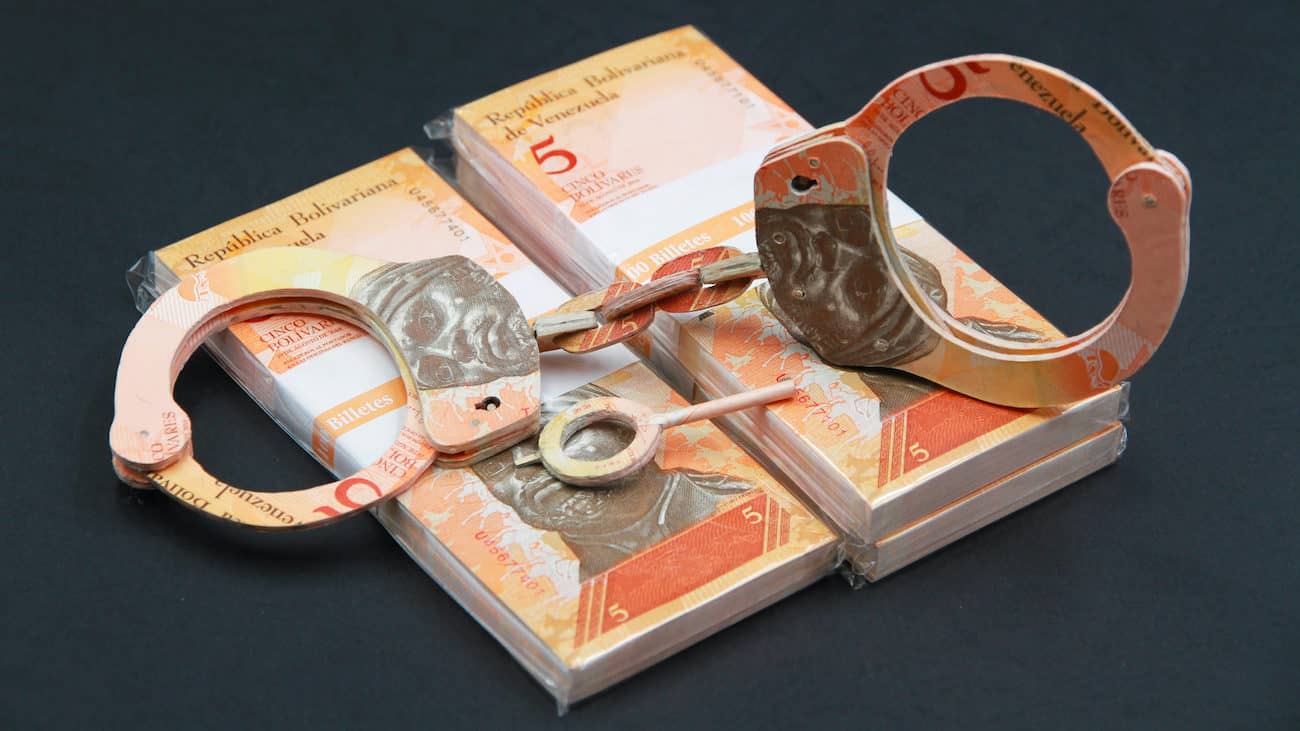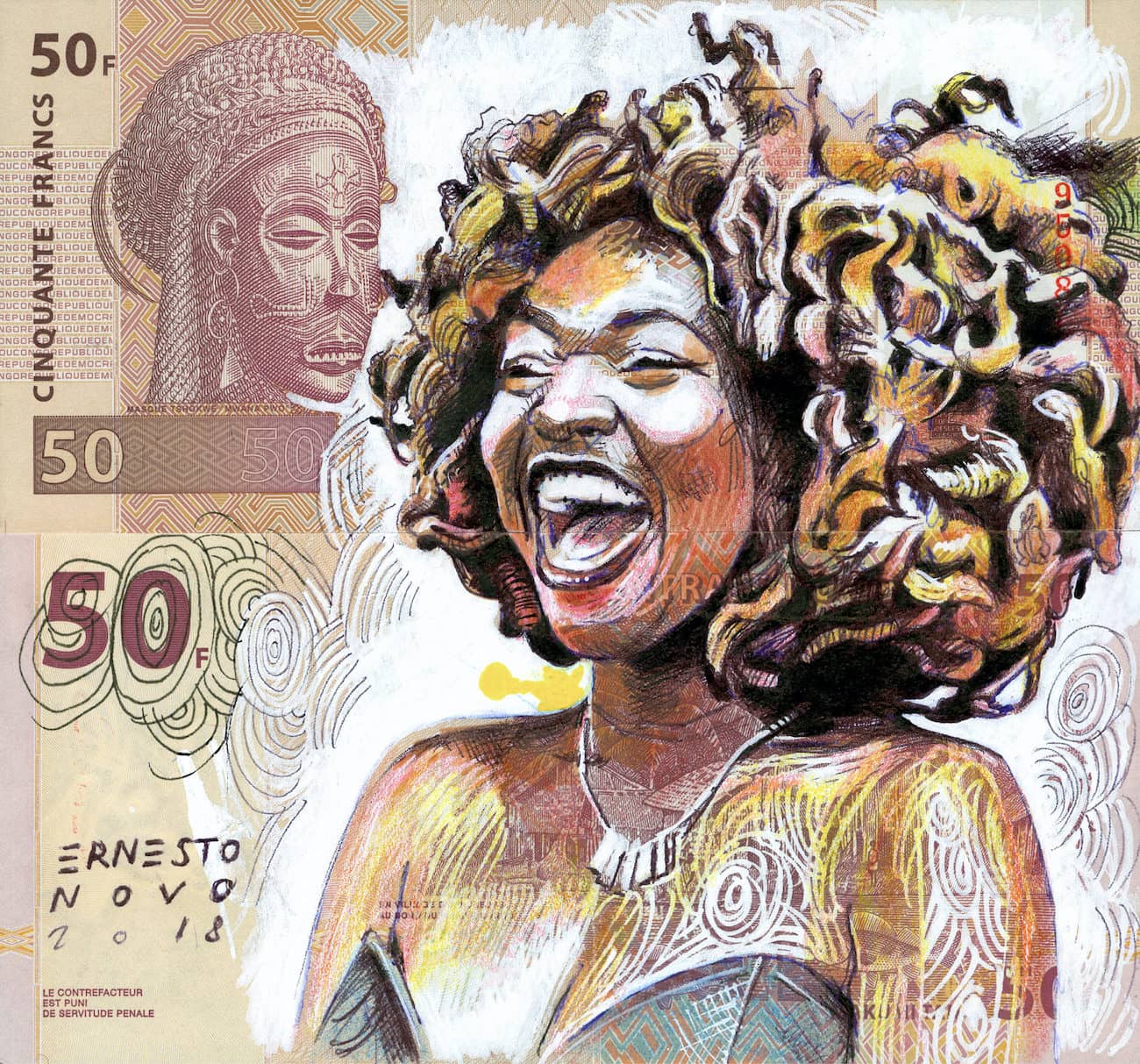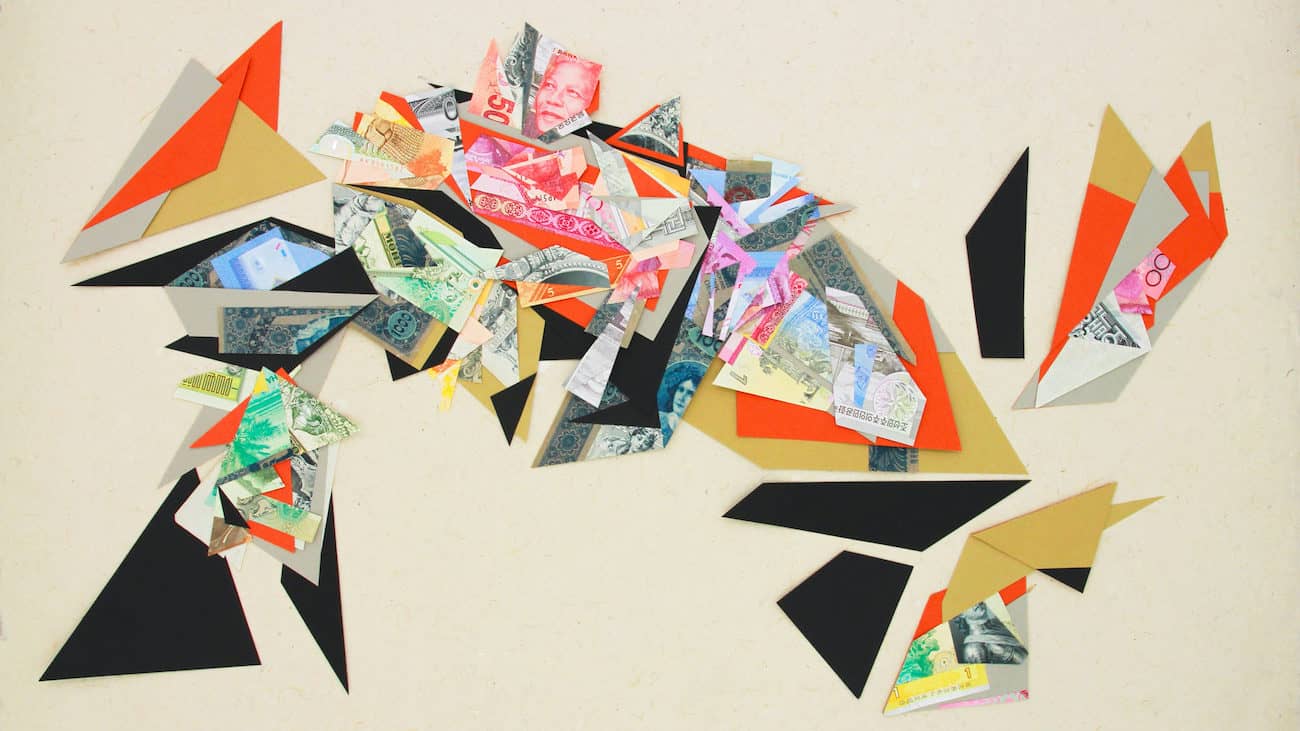 MONEY FOR NOTHING presents an unprecedented collection made of 1001 original works painted by 1001 artists on banknotes from various eras and countries. Where and how will be the works exhibited? Which curatorial challenges do you encounter when it comes to urban art and in its free spirit?
We have chosen to present this 1001 artists project to the public by organizing several exhibitions. Of course, I would like the first one to take place in my city, Paris. We have already started to approach different emblematic places in the capital.
This huge project is being structured as it progresses. To date, around ten volunteers have joined MONEY FOR NOTHING, all of whom are passionate about the project and are contributing to it. At the same time, professional skills are necessary for this organization, that's why we have teamed up with passionate partners. These include a scenographer, lawyers, accountants, communicators, a webmaster and graphic designers. The energy of everyone is fundamental and gives meaning to this particular project.  
The scenography of the project will be considered with particular attention. To stage more than 2000 works will be an achievement: I wish to reconstitute atmospheres, performances, workshops for children and adults, projections and new universes. All merged together in a universal spirit that defines the soul of this exhibition in the various places where it will be visible.
I also want to make this project accessible to as many people as possible, which is why we are also working on touring twenty cities in France. Then we will present MONEY FOR NOTHING in different cities all over the world; foreign galleries have already shown interest. The events in its various forms, bringing together 1001 international artists working on banknotes from all countries and all eras, will be a major and never-before-produced exhibition series.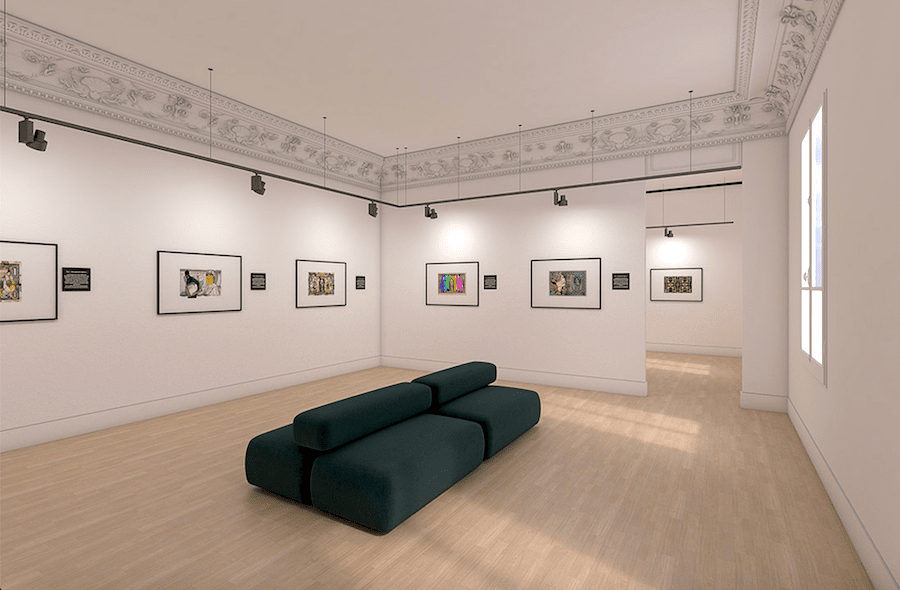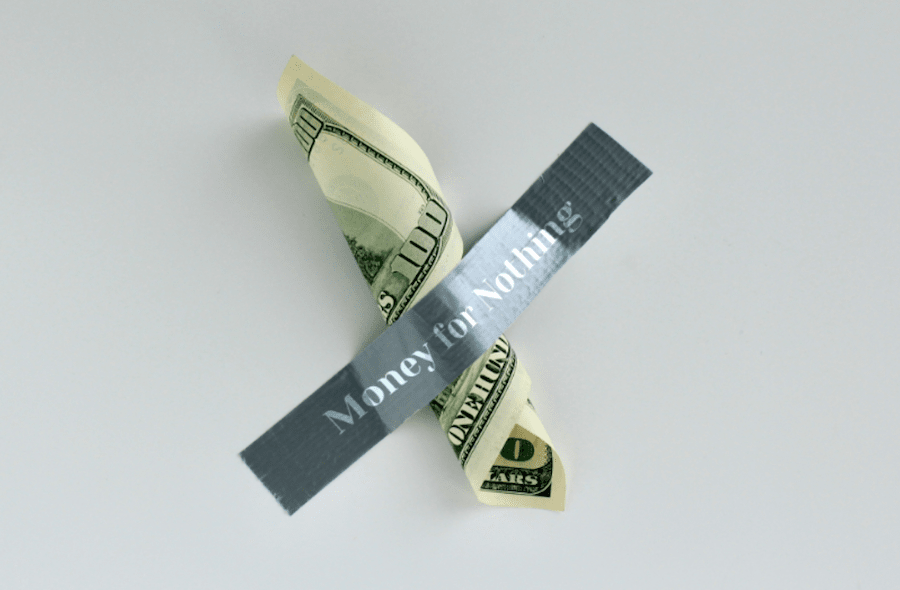 Not only does the artistic approach make this project special, but also the philanthropic part, which combines the love for art with the love for animals. Can you tell us more about this? 
I wished to link to this project to a philanthropic and responsible approach, that of contributing to the preservation of territories untouched by human presence. I grew up in a rural world, in which violence against animals was trivialized and commonplace: these images are anchored in me forever. Today, this same violence still exists, but it is more insidious and human's denial accommodates it. Humans have appropriated the right to destroy the life of both animals and vegetation, and we act in the hope that we can save a part of what should and could be saved.
All profits from MONEY FOR NOTHING will be given to an association or a structure that manages the purchase of territories preserved from any human presence. This will be done under strict legal and accounting control to ensure the sustainability of these actions in France or abroad. 
I have other projects aimed in this direction. I would like, in a second phase, to create a sort of No Man's Land (in the literal sense) belonging to a multitude of owners (each holding a very small portion of the territory acquired for a symbolic sum). This land would be contractually protected from "economic" covetousness and would allow nature to regain its rights.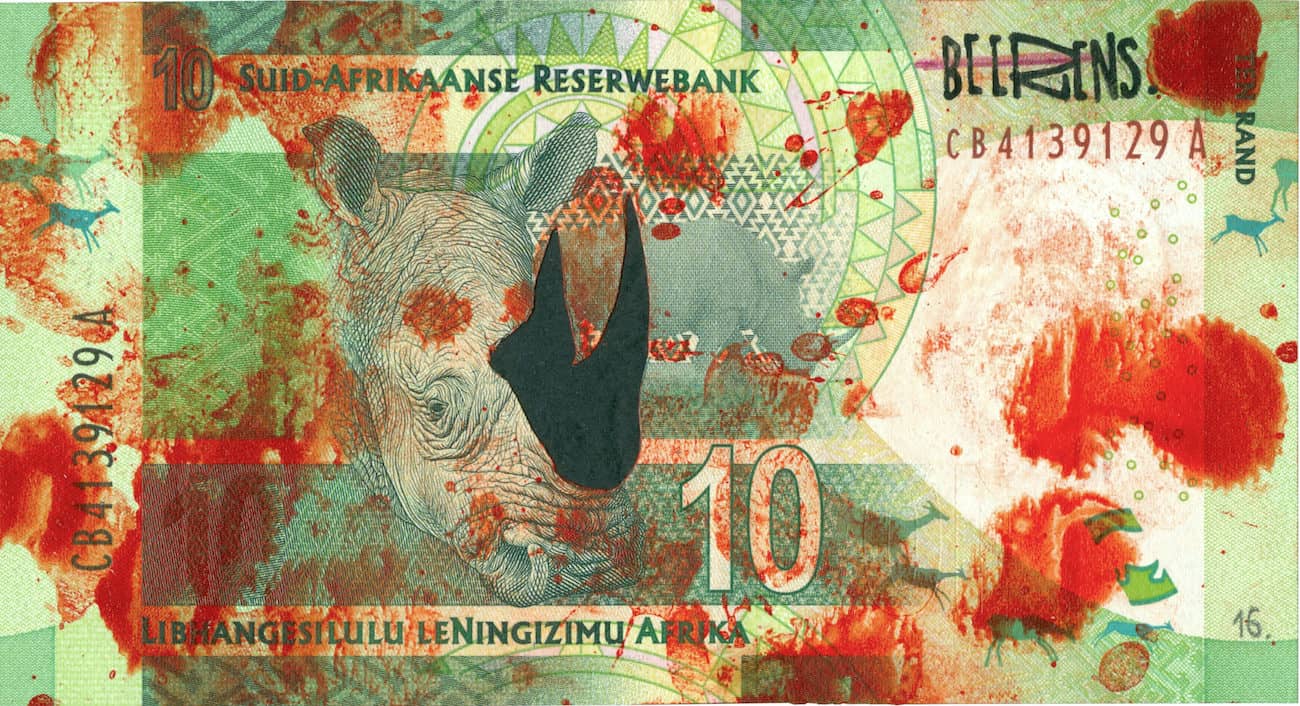 MFN 29 by MICHAEL BEERENS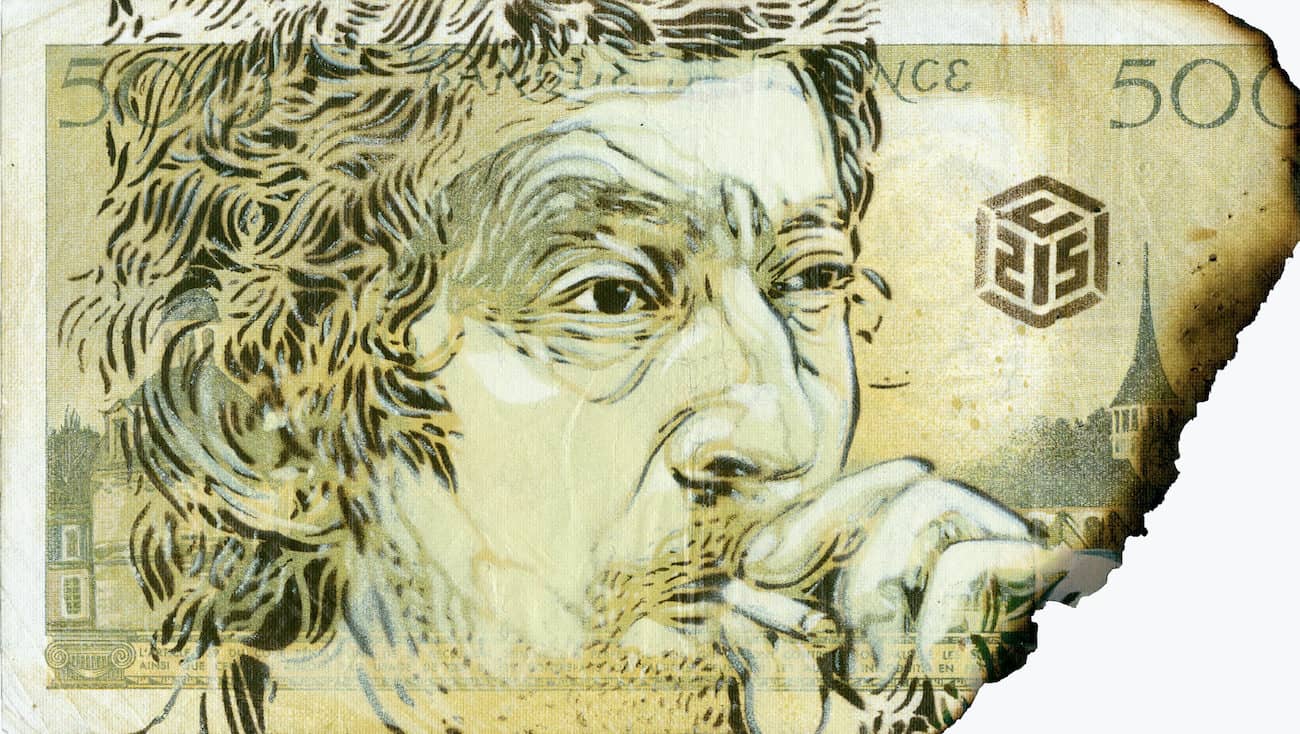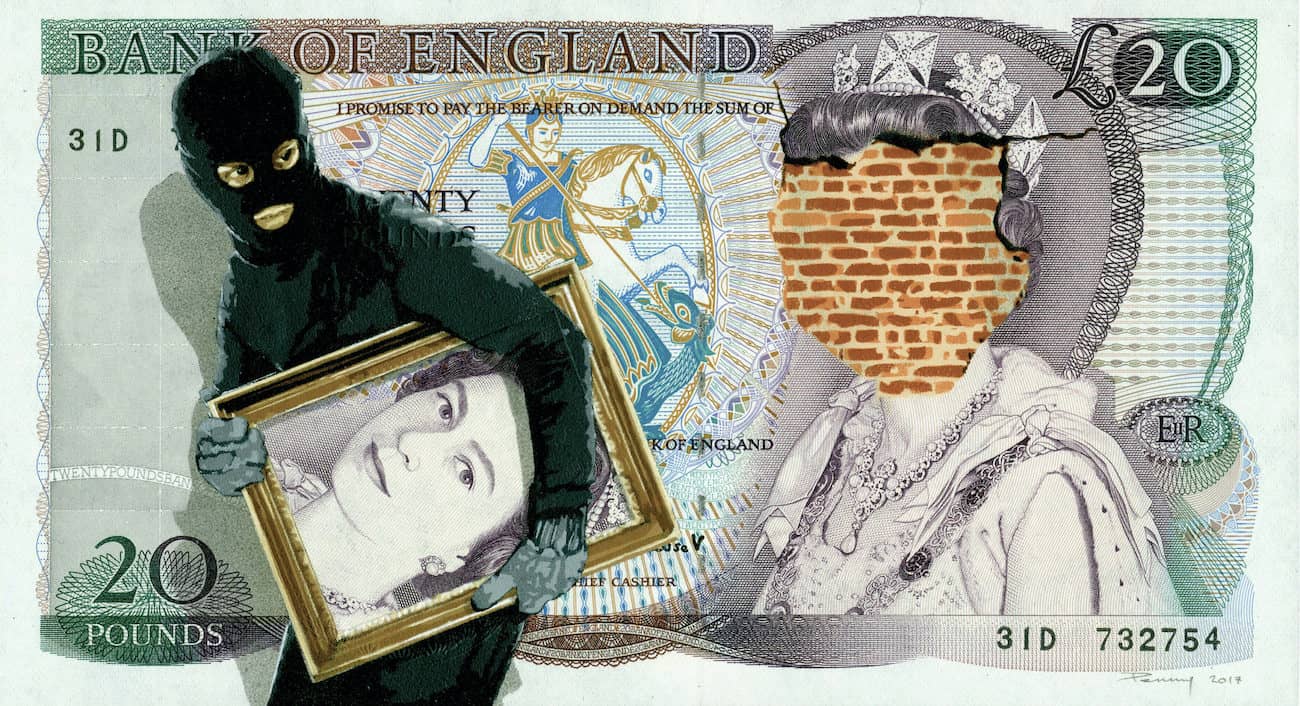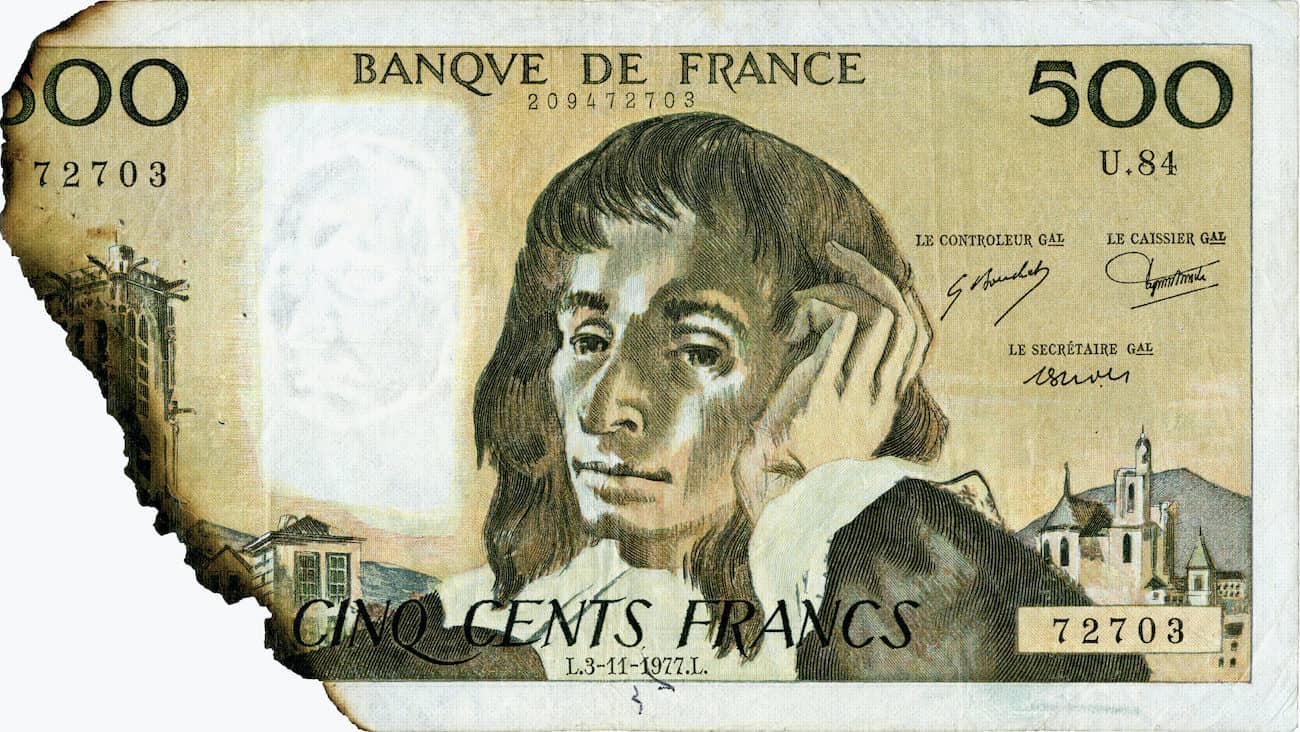 Art is money, Money is art? What is your personal opinion on the complex relationship between art and money? 
The answer to these questions can be found in the name of the project, MONEY FOR NOTHING. The project became conceptual as it was built. Each of the works has been purchased, and some of the banknotes are museum pieces. I wish to ensure, through the legal status, the indivisible and non-commercial character of the collection. The impossibility of reselling it will, therefore, remove any commercial exchange value from it. I am, above all, a collector, but also I am unable to resell a work, even those acquired when I was a student (even they no longer give me the same emotions). To me, Art is emotion, energy and vibration. Art has become money, which is also necessary, especially for artists. Nothing will stop excess, whether to overcharge or undercut an artist, this is also the case in many other areas.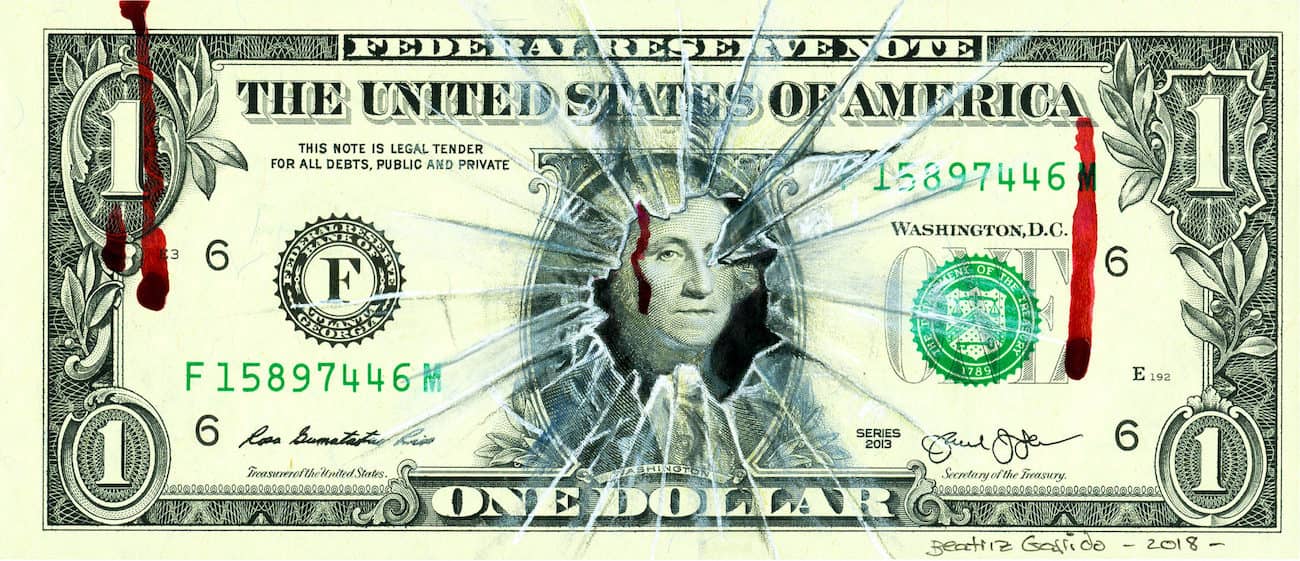 MFN 33 by BEATRIZ GARRIDO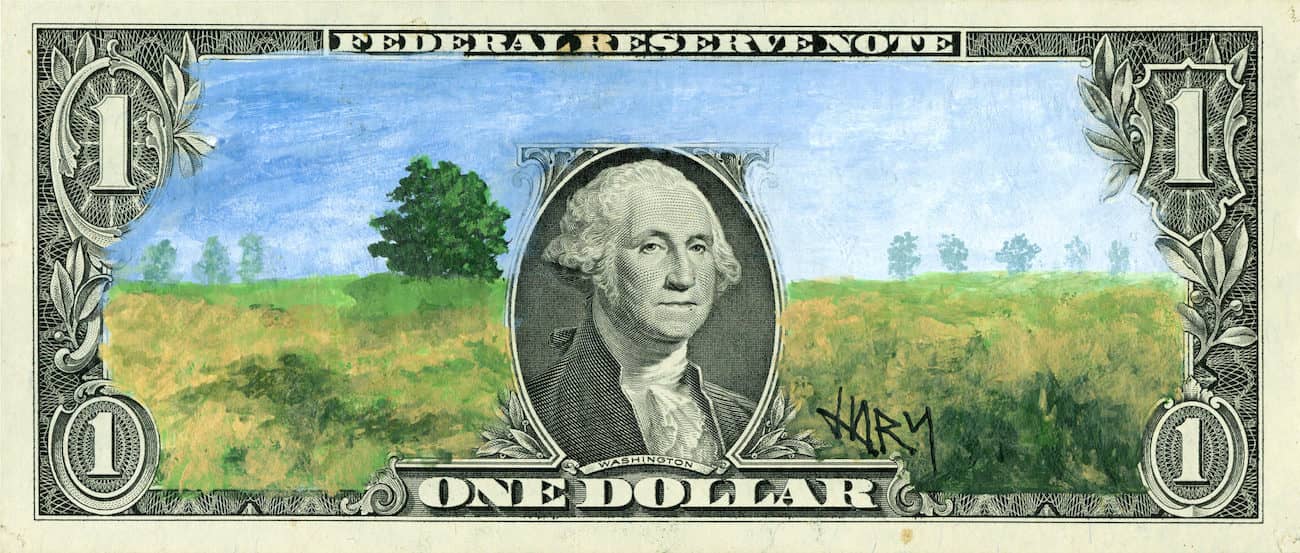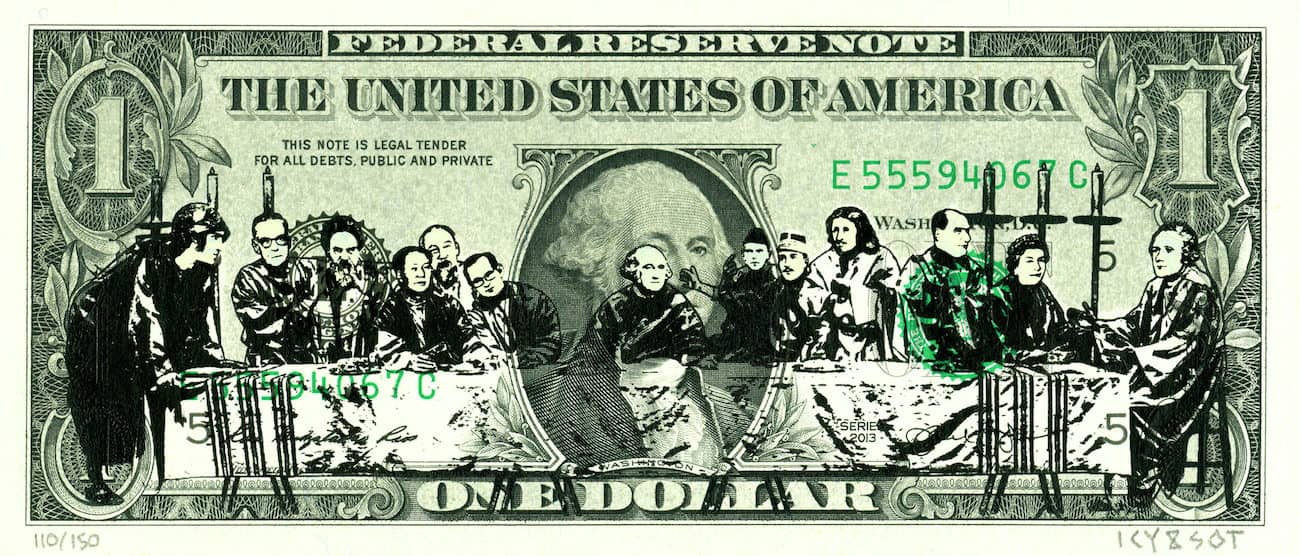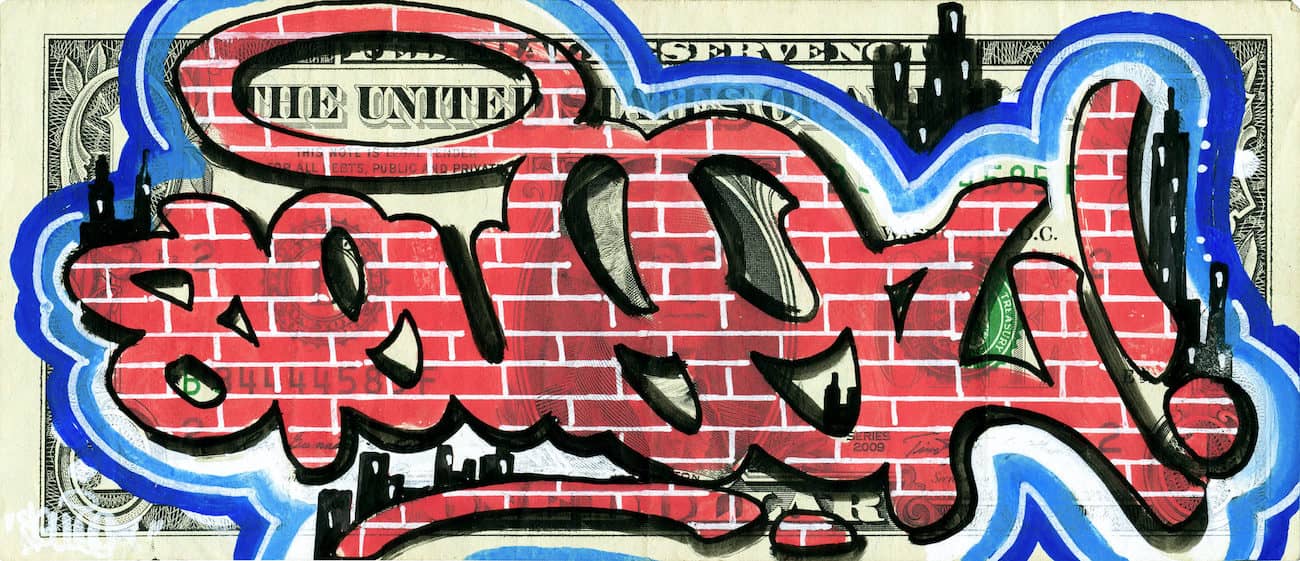 What is planned next? Where do you see the project in five years? 
In 5 years? The first exhibition is planned to take place in about 18 months. A series of 20 to 25 exhibitions will follow in different cities in France during a 1-year period. Some foreign cities are being considered, which would make the project itinerant for 2 years, which means the next 3 years will be booked up. My team and I are considering donating the entire project to a museum or a foundation, the French State or an organization that can keep it alive beyond the 1001. Legally, the project will remain indivisible and without market value.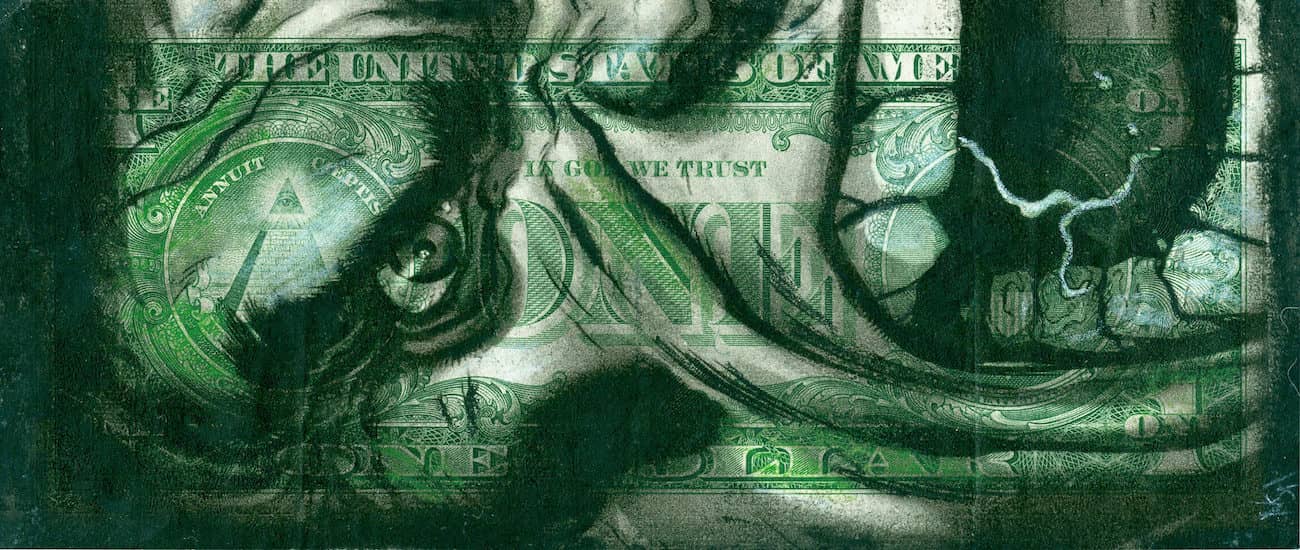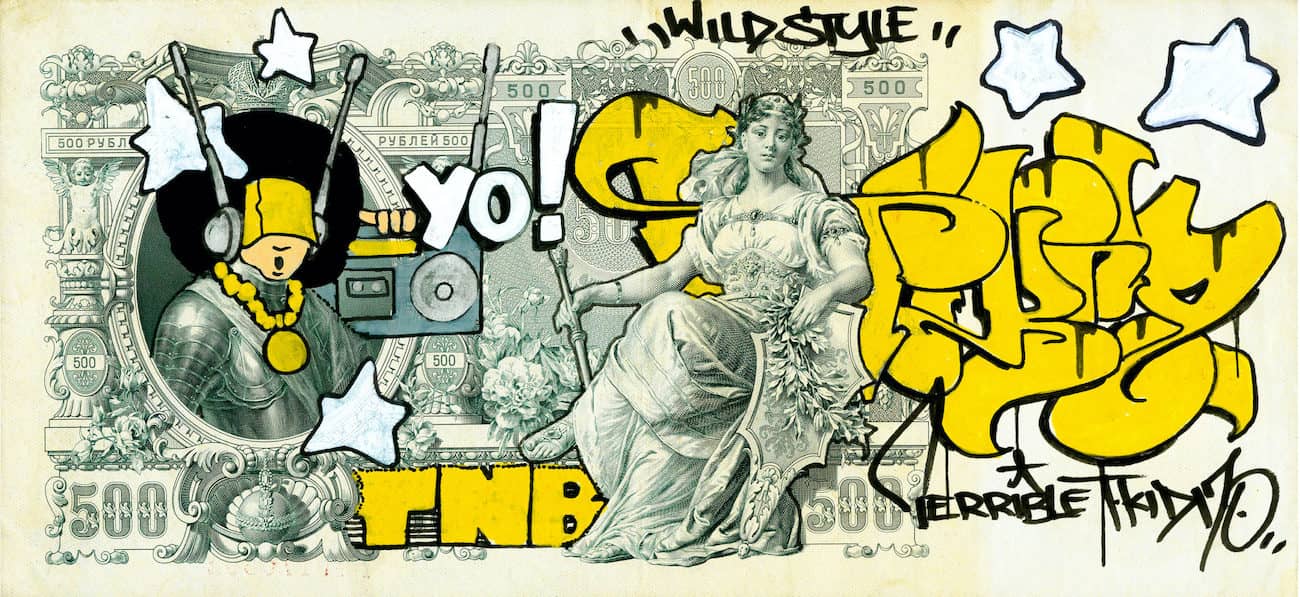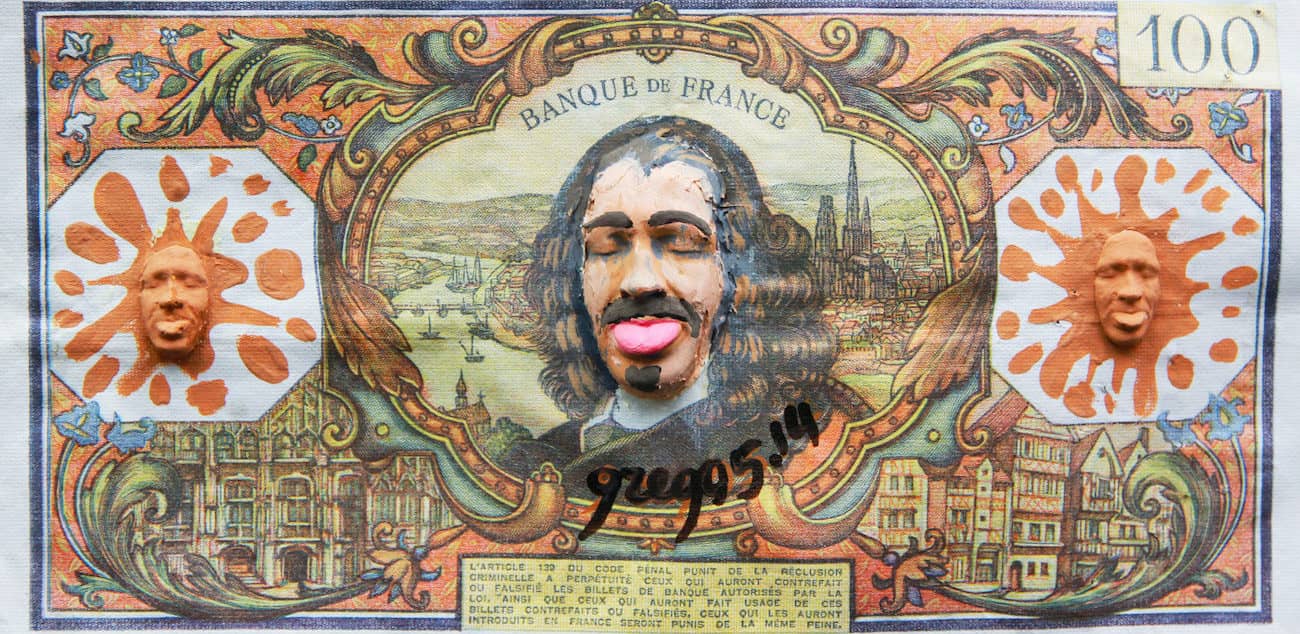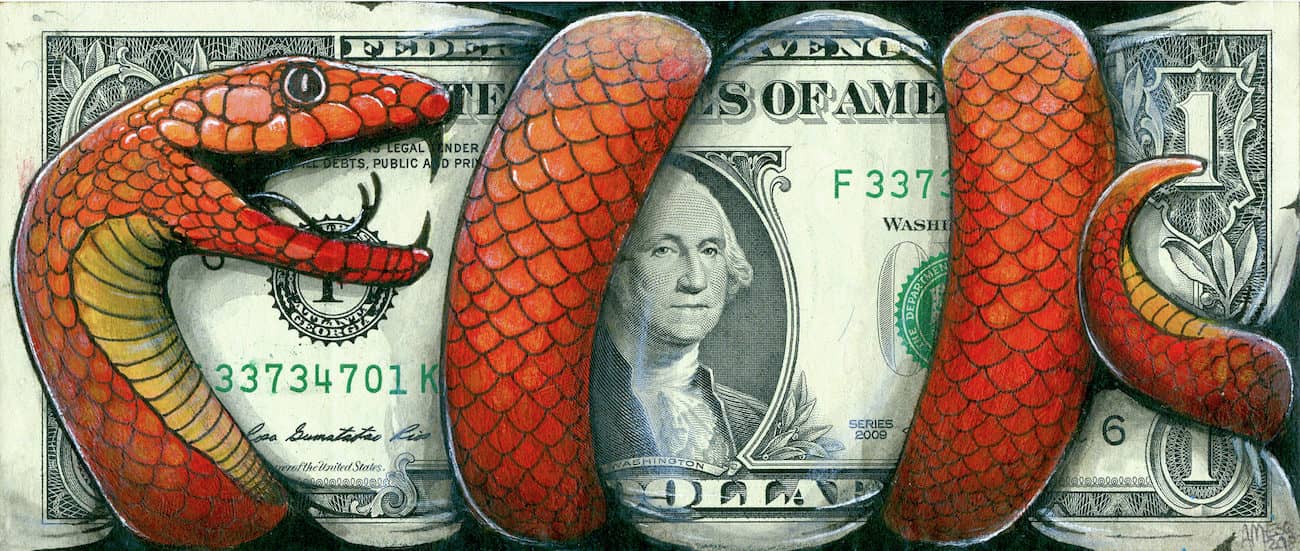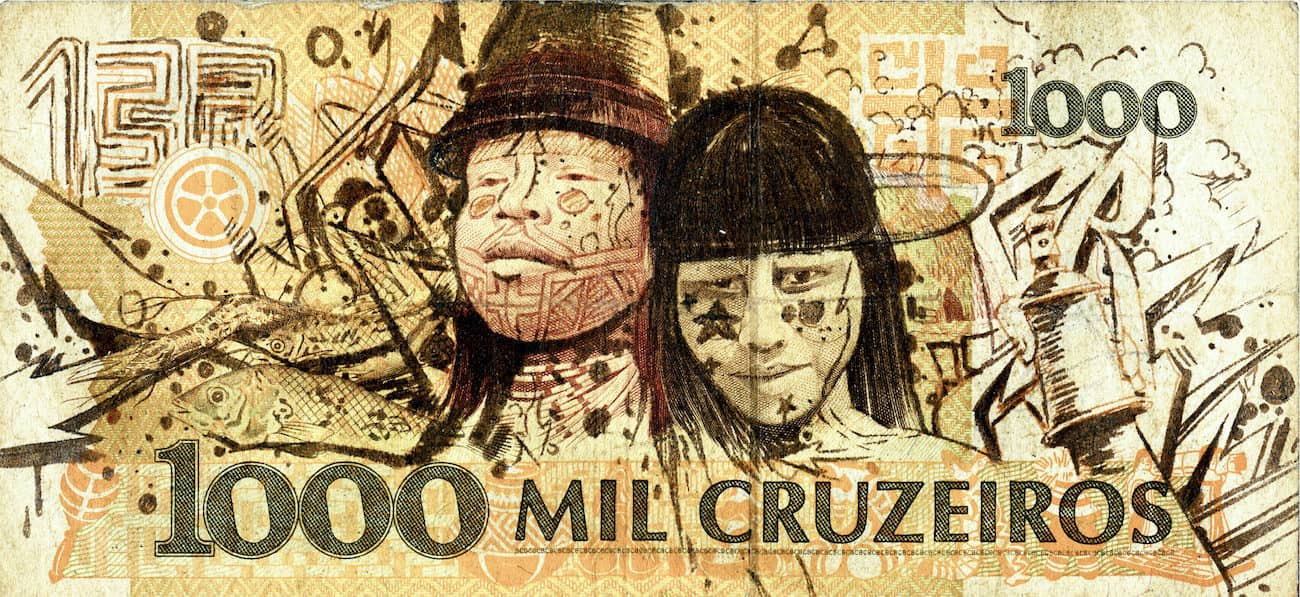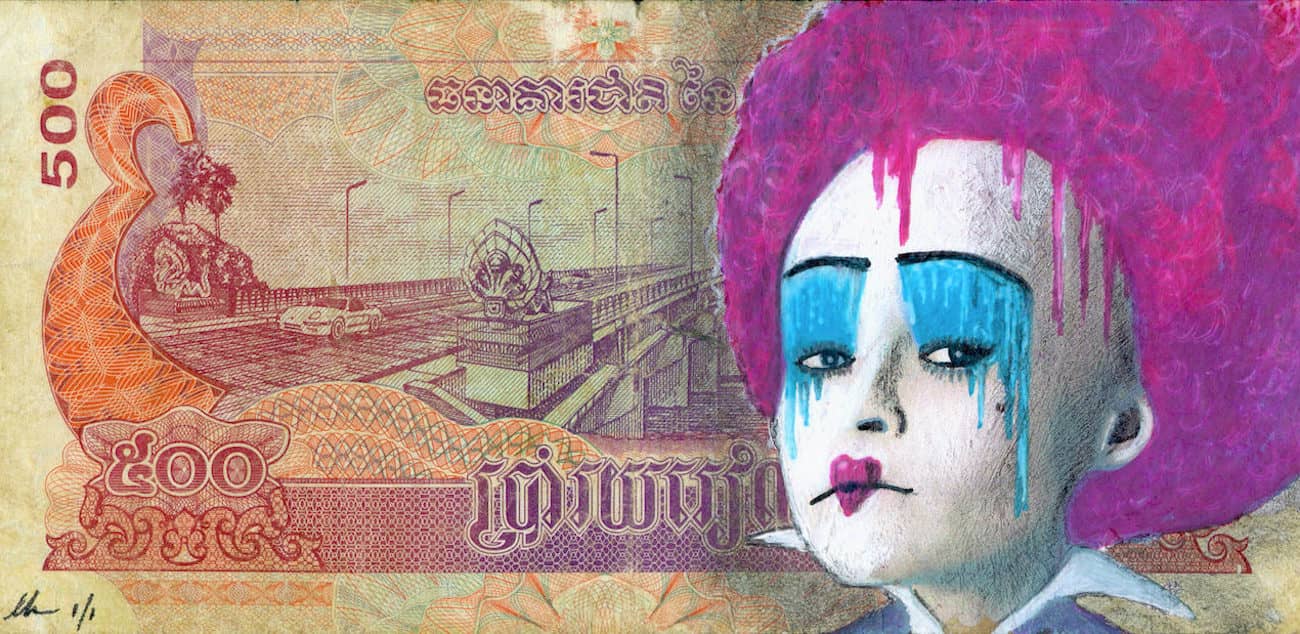 _______________________________________
Pictures © MONEY FOR NOTHING
July 2021
by Laura Vetter