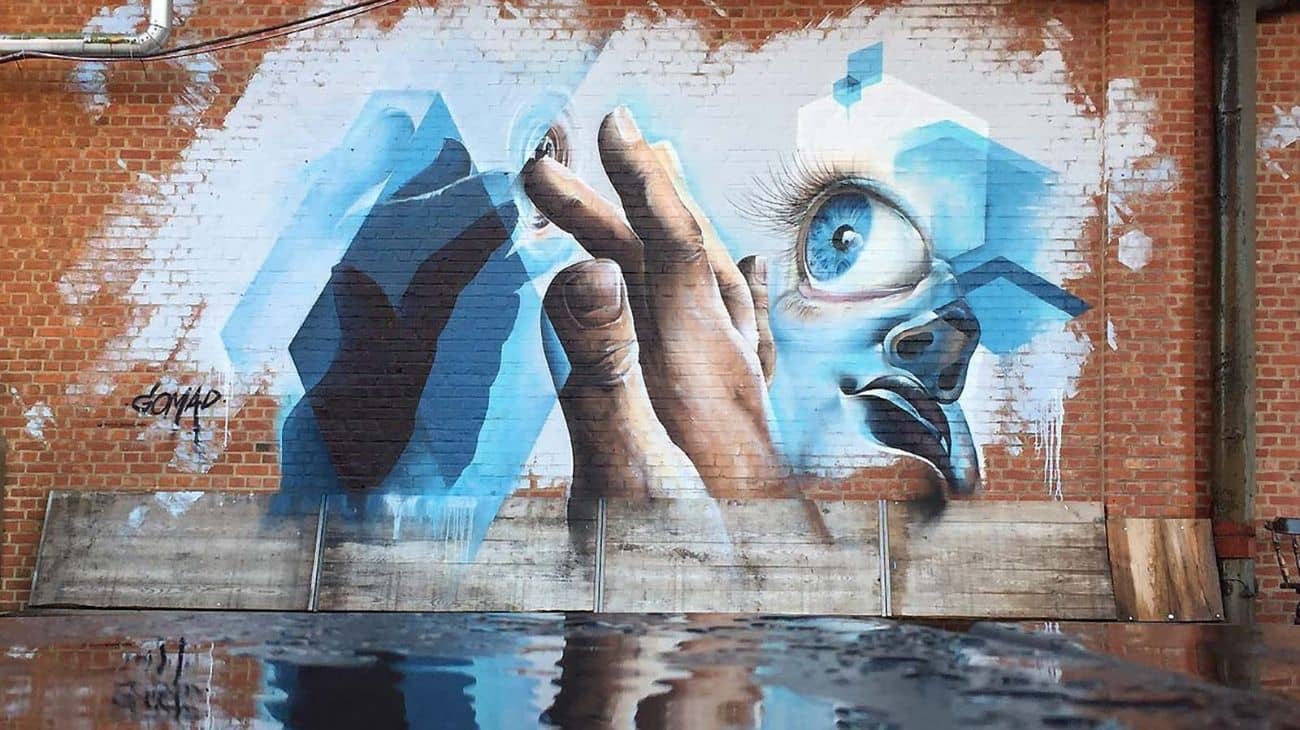 GOMAD
Interview with Dutch urban artist GOMAD: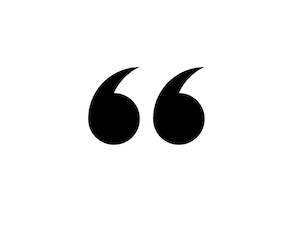 The realism and surrealism is always part of my work: realism with the way I paint my eyes, portraits, flowers, and birds, and mind-bending surrealism by transforming and fragmentizing these subjects, making them look surreal by covering them with organic semi-transparent immaterial shapes.
You started with graffiti as a young boy at the age of 12 and later finished your bachelor of arts at the Art School in Sittard, your hometown. Now you work fulltime as an urban artist and muralist. What made you start graffiti at such a young age? Did your art studies influence your evolution from graffiti to figurative art and muralism? 
As a kid I always drew a lot, but I was really inspired by the movie Beat Street and the documentary Style Wars, of course, back in 1984. These two made me interested in graffiti and the hip-hop scene. I started breakdancing, rapping, and painting myself, and I had my first commissioned graffiti piece in 1988. 
Going to art school influenced me because I also studied art history for four years and learned a lot about other art movements and artists, painters, sculptors, and architects from all over the world and from different time periods. Also I learned different painting techniques like working with acrylics and the way to look at things when it comes to light, shades and contrast, concept thinking, and color theory.
And this was also the period when I changed my style from graffiti letters to more figurative art but still all executed with spray paint. This shift actually took years, from letters to 2D cartoon style and later 3D cartoon style to realism and surrealism.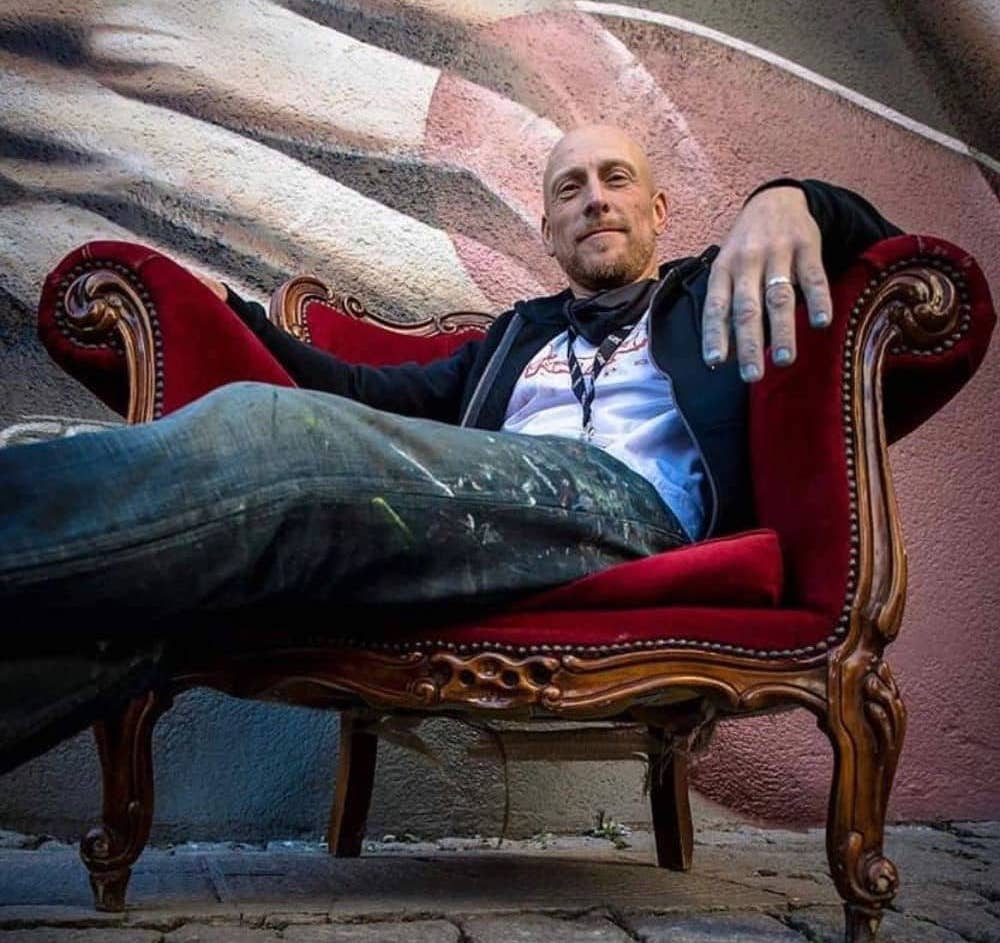 What would you have become if you weren't an artist?
Maybe I would have become a sports instructor or physiotherapist because when I was 18 years old I was thinking about going to the sports academy. 
Or I would still be working as a graphic designer, which was my day job for many years (1998–2013). This graphic touch can also be seen in all my designs nowadays.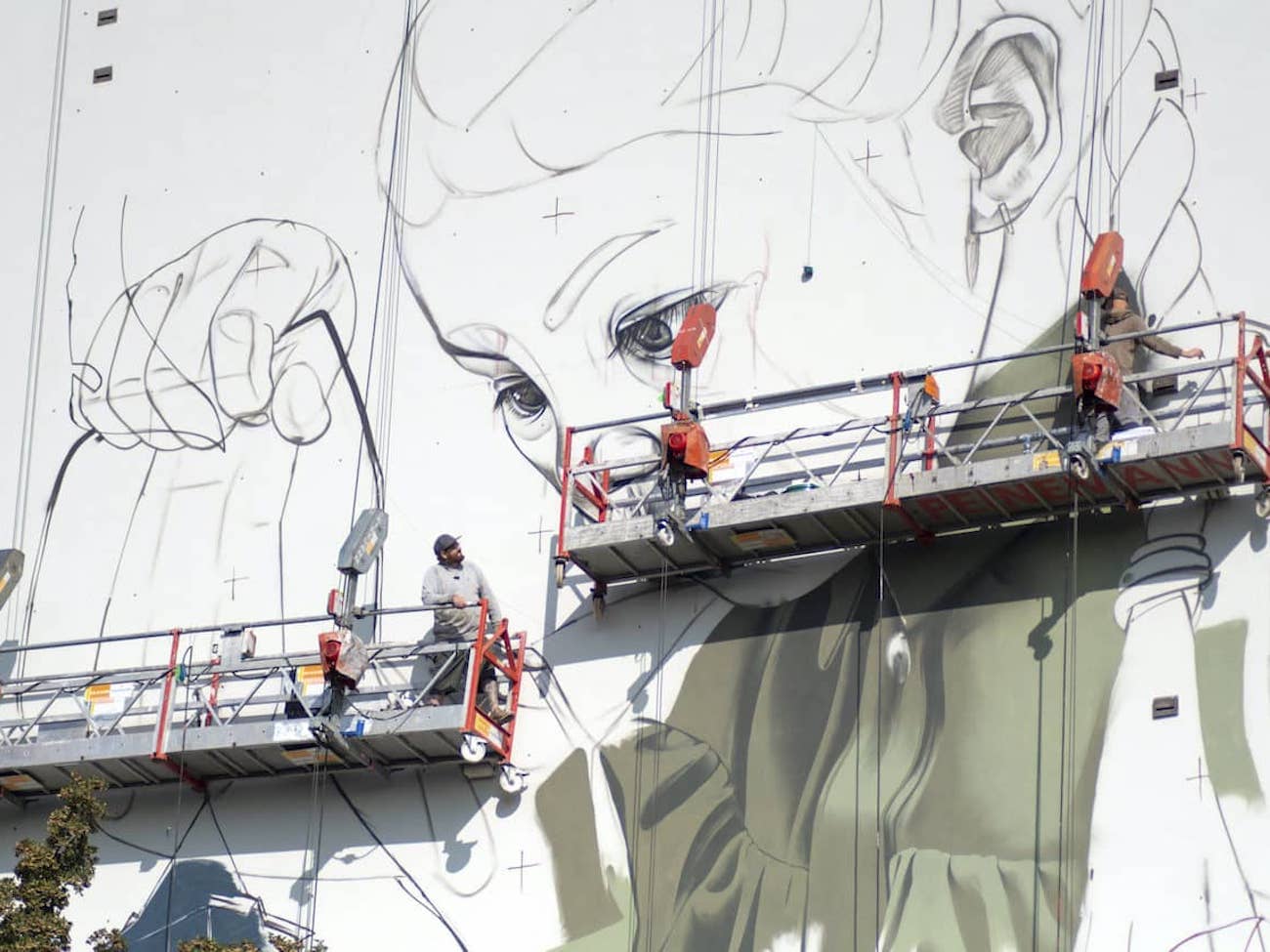 Geleen, Netherlands I 2020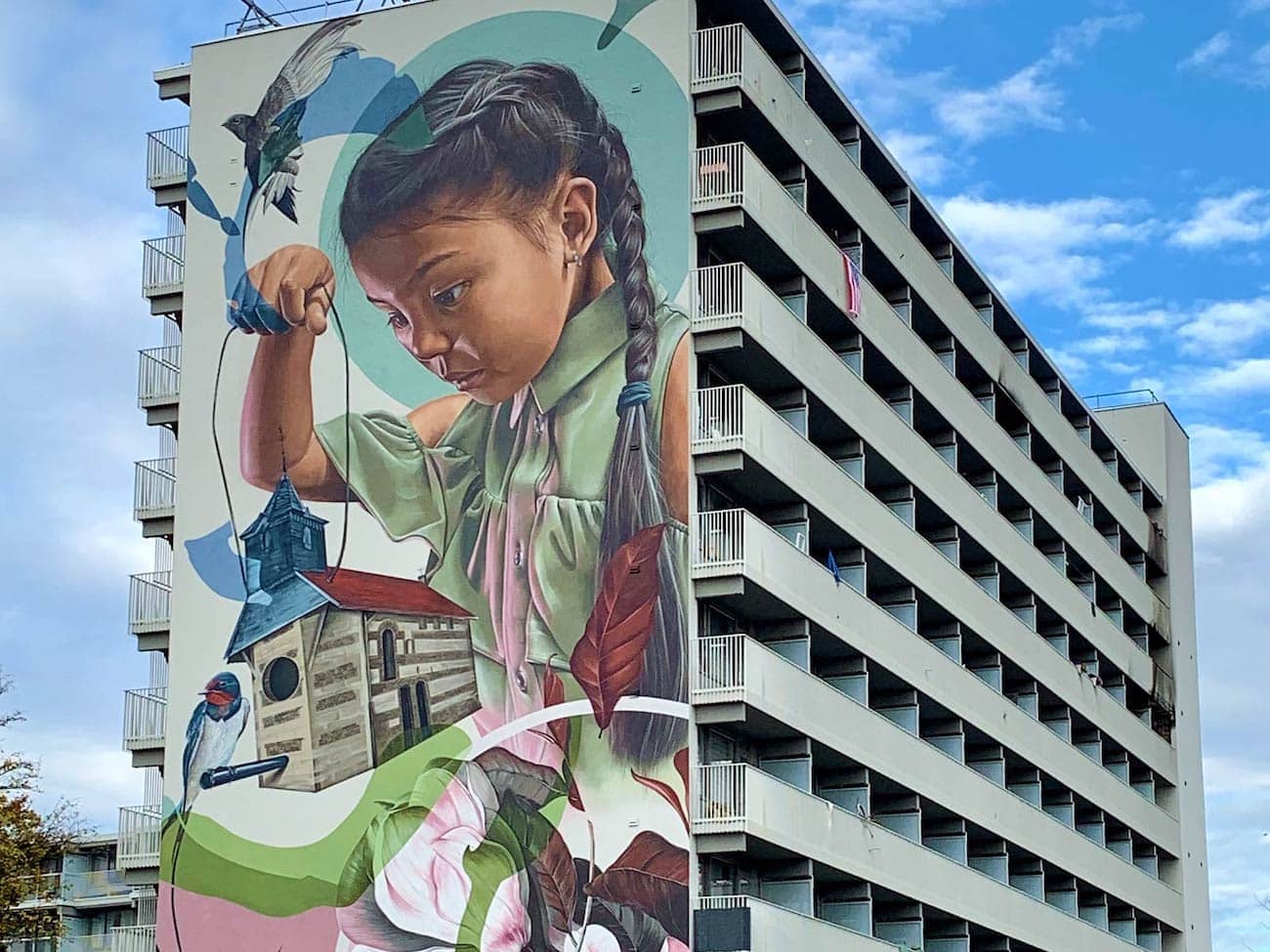 What characterizes urban art and graffiti for you personally? How would you describe the development of this subculturally influenced art movement over the years? 
It's an art form that is accessible to everybody; all people can relate to it. Art from and on the streets, and in my opinion it's the "biggest and newest" art movement worldwide since decades. It seems that the art world stood still for a long time. You see street art and graffiti art everywhere nowadays. It's fully accepted, from TV commercials to galleries and museums and into the business world. It grew from vandalism to a fully fledged art form with all its aspects, like graffiti, street art, muralism, paste-ups, stickers, etc.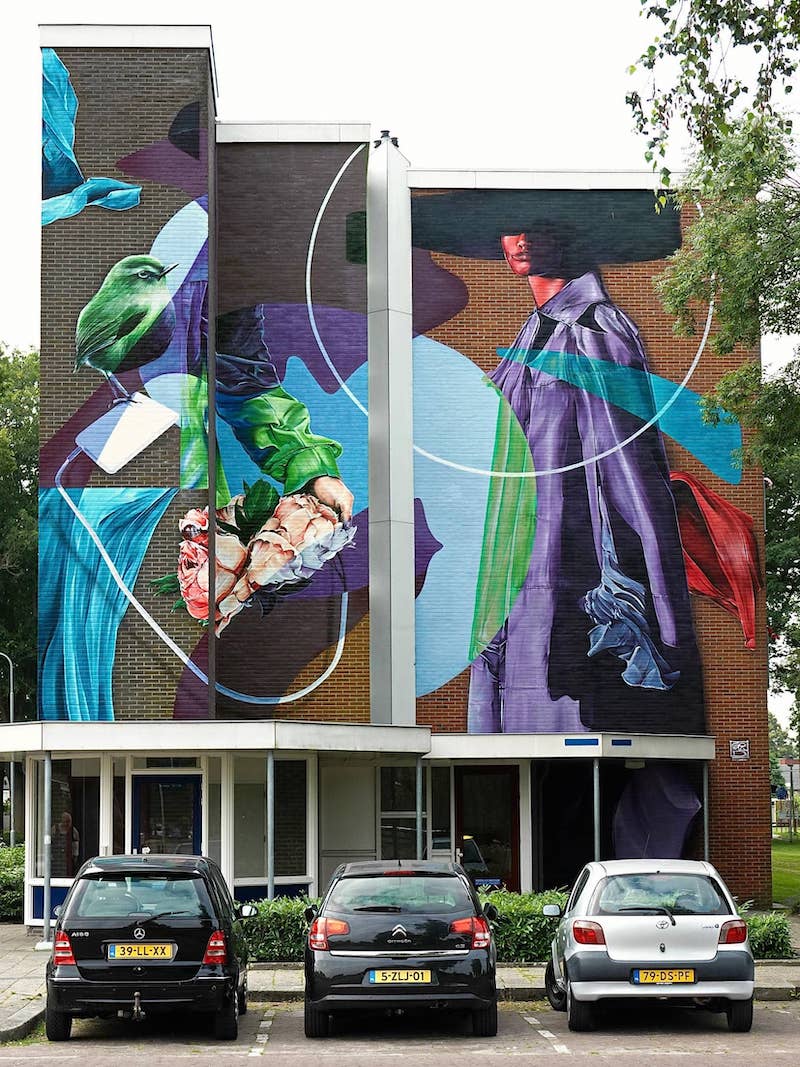 Stadskanaal, Netherlands I 2021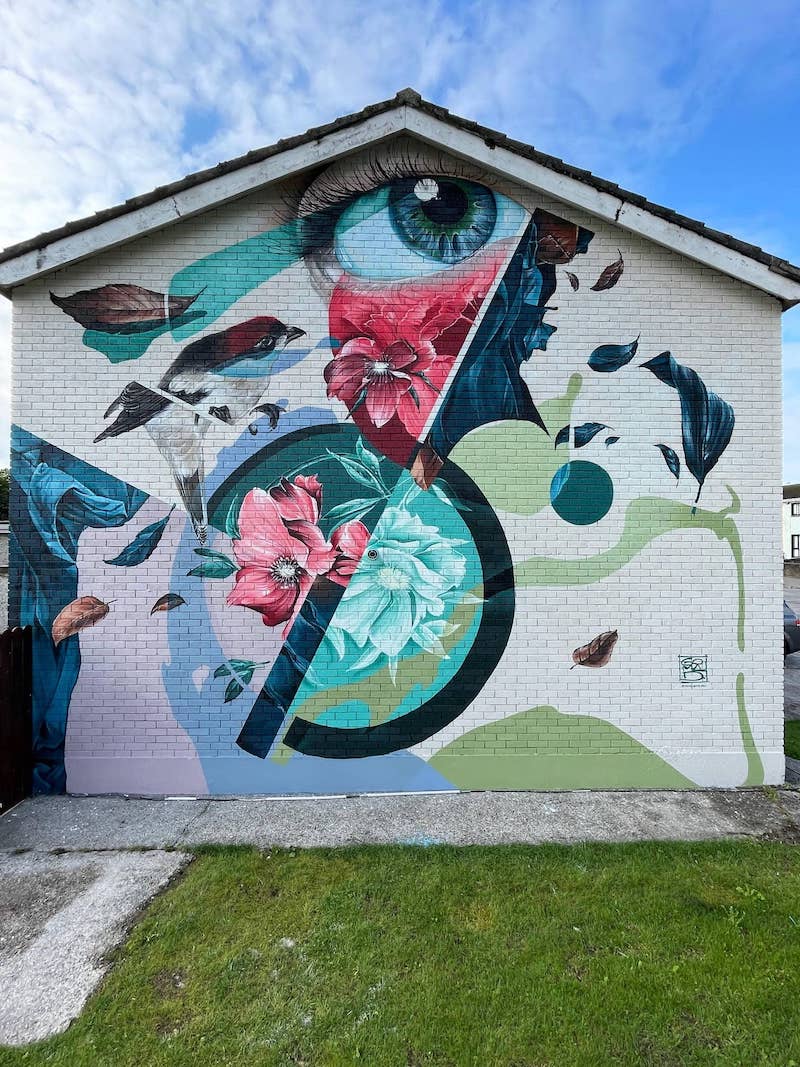 Waterford, Ireland I 2021
One factor that makes you particularly interesting as an artist is that you are colorblind. Two out of 25 people are colorblind, but the number of renowned artists is comparatively minimal. How do you approach your work in terms of method and techniques? Does being colorblind influence the way you work in any way?
I have some form of color blindness. I can see colors but maybe in a slightly different way. I have some trouble with the third range of colors, the tertiary colors, like the mixed colors of brown and green or blue and purple. This never stopped me from doing my art or working as a graphic designer. I used to keep this deficiency to myself, but in 2013 I decided to make it public. I always had a specific relation with eyes and colors. The eye became my trademark because the iris has a lot of colors in it and this is the way we can see the colors in the world. This was also a way for me to differentiate from other artists.
Since 2013 my wife Nancy and I have formed an artist duo where she is my sparring partner when it comes to designs, helping me with my mural agency in general, keeping the books in order, being the calming factor, but also painting our murals together doing background fillings and such. She's a real helping hand. She also picks the paint when I'm unsure about certain colors.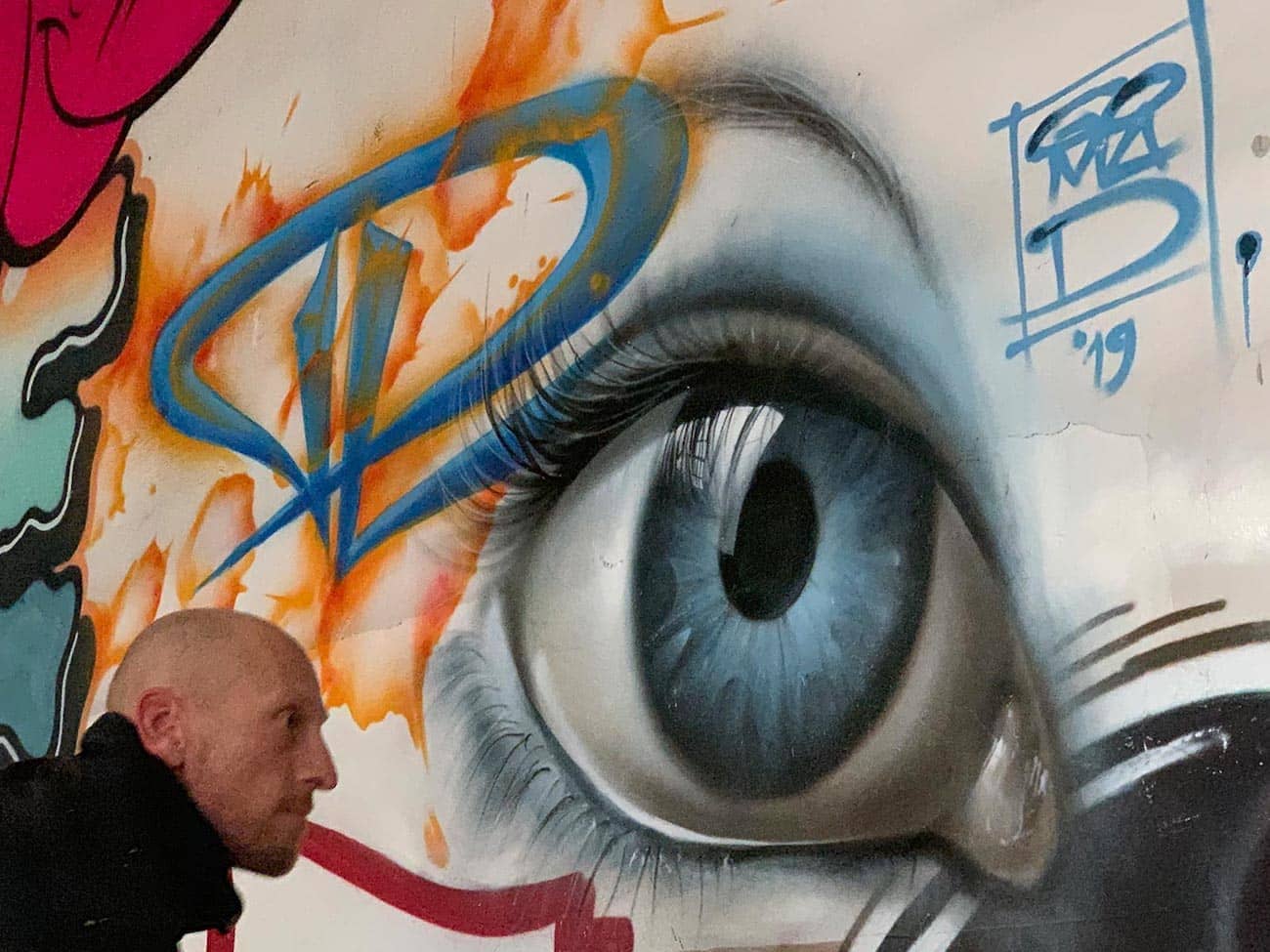 Kaiserslautern, Germany I 2019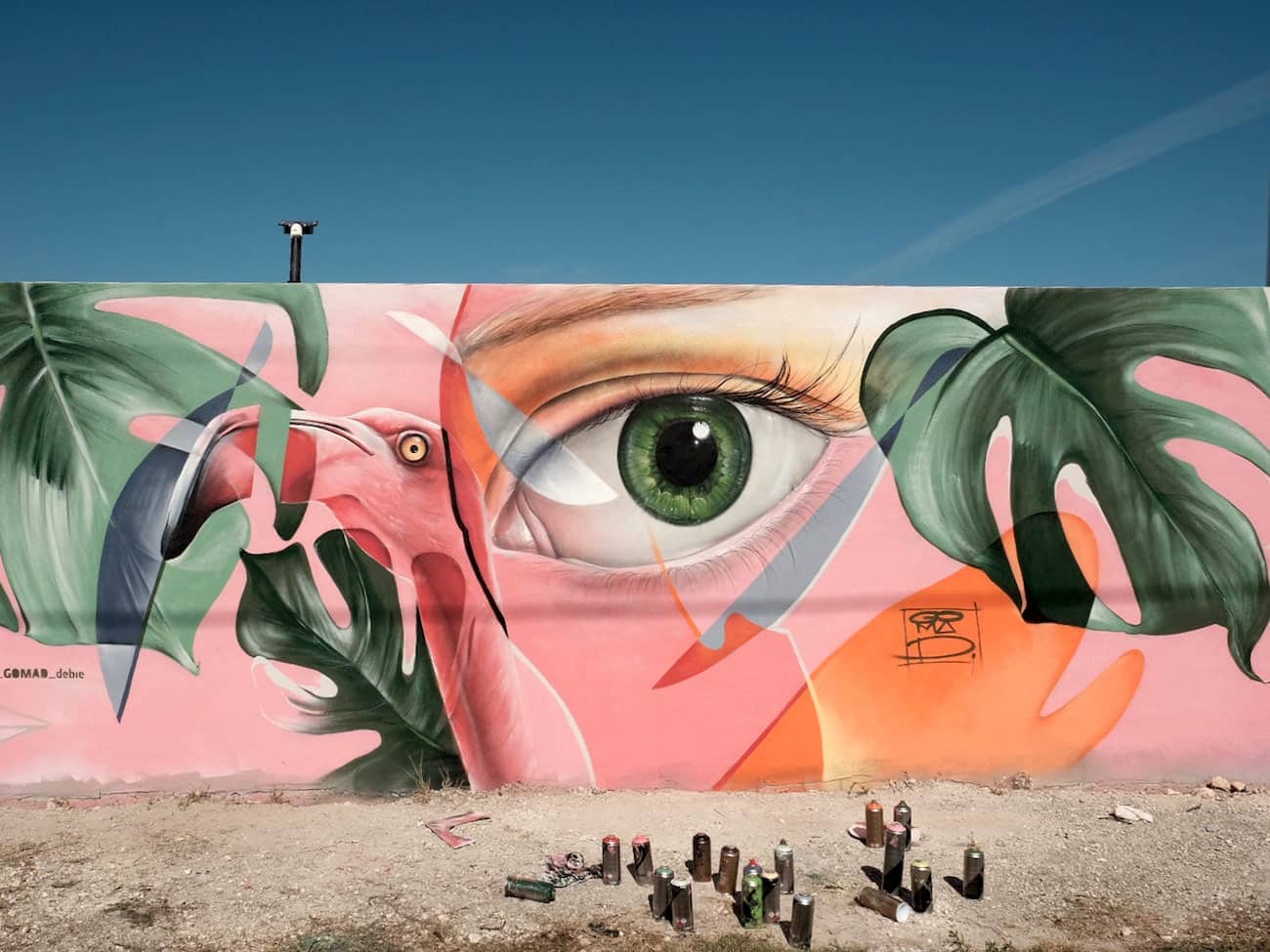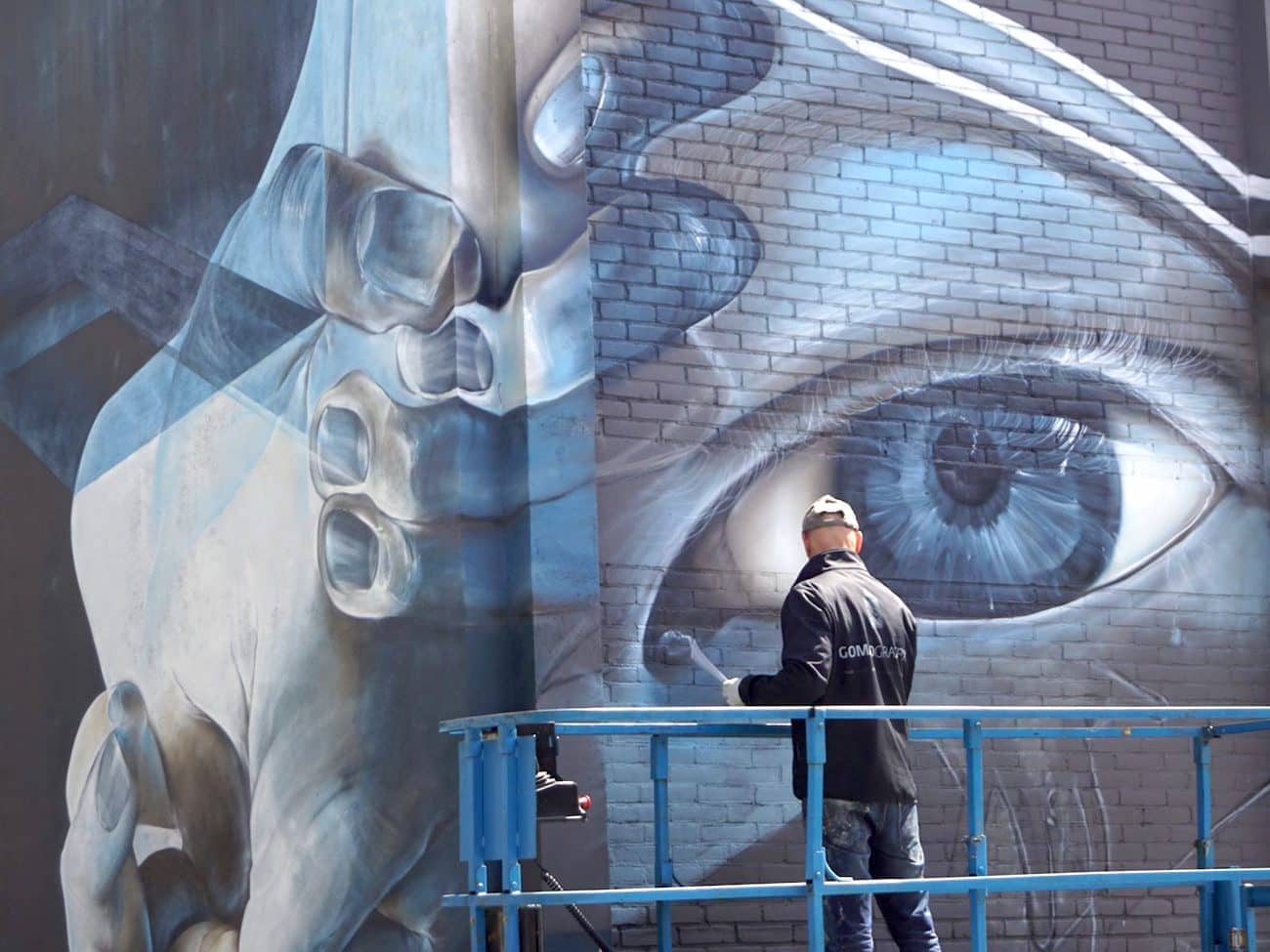 Bodegraven, Netherlands I 2018
Your personal style is often characterized by photorealistic elements, combined with cubism-like abstract color shapes and animals – surrealistic compositions, which some describe as post-neo-Cubism. How would you yourself describe and classify your style? 
Post-neo-Cubism was a period from 2016 to 2019 where I was experimenting with straight shapes in my backgrounds that looked like Cubism. But now I am making more use of organic shapes. As an artist you always keep developing and renewing your style. The realism and surrealism is always part of my work: realism with the way I paint my eyes, portraits, flowers, and birds, and mind-bending surrealism by transforming and fragmentizing these subjects, making them look surreal by covering them with organic semi-transparent immaterial shapes.
So now I would describe my mural style as surreal post-neo-Graffitism.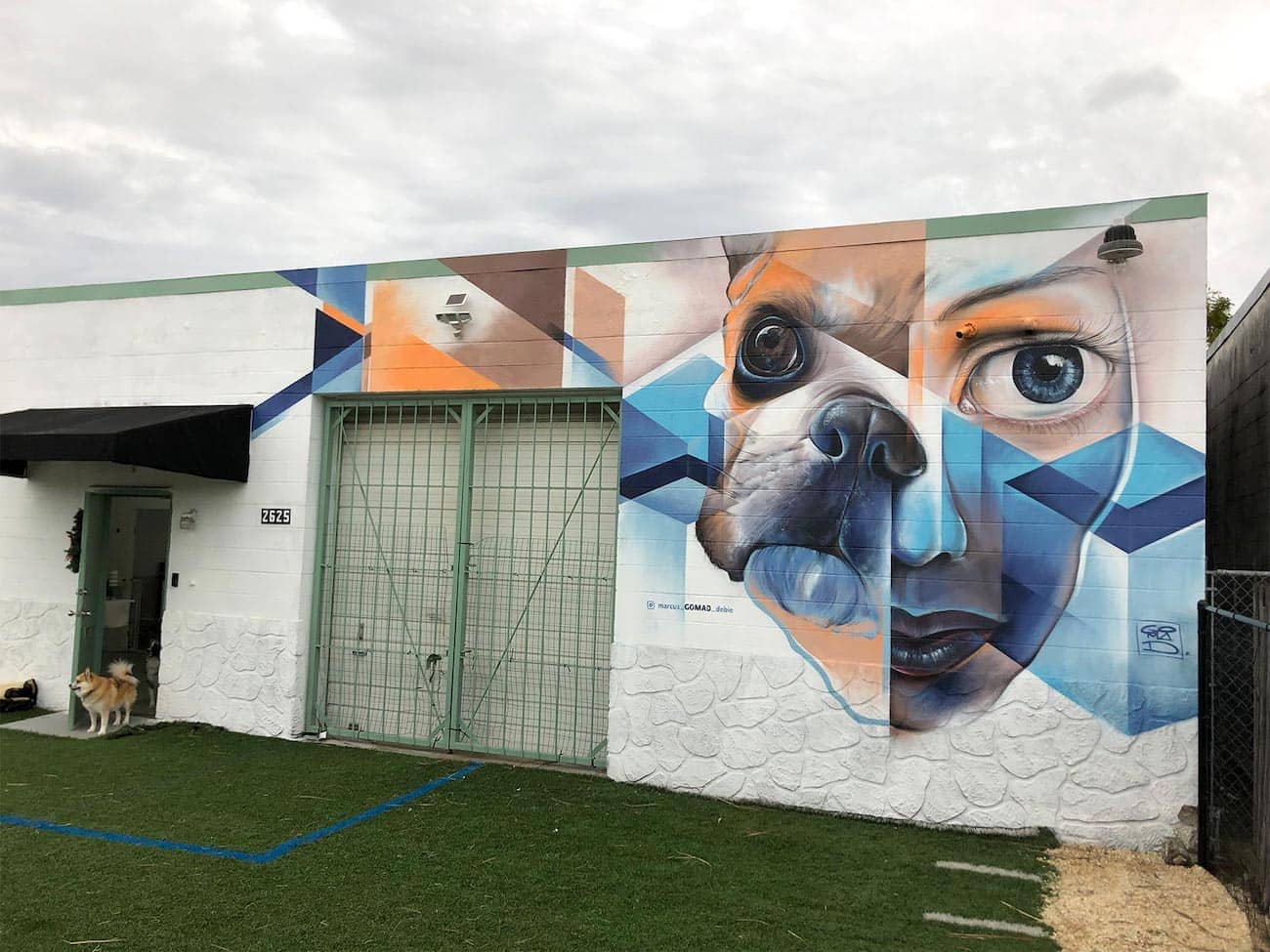 St. Petersburg, USA I 2018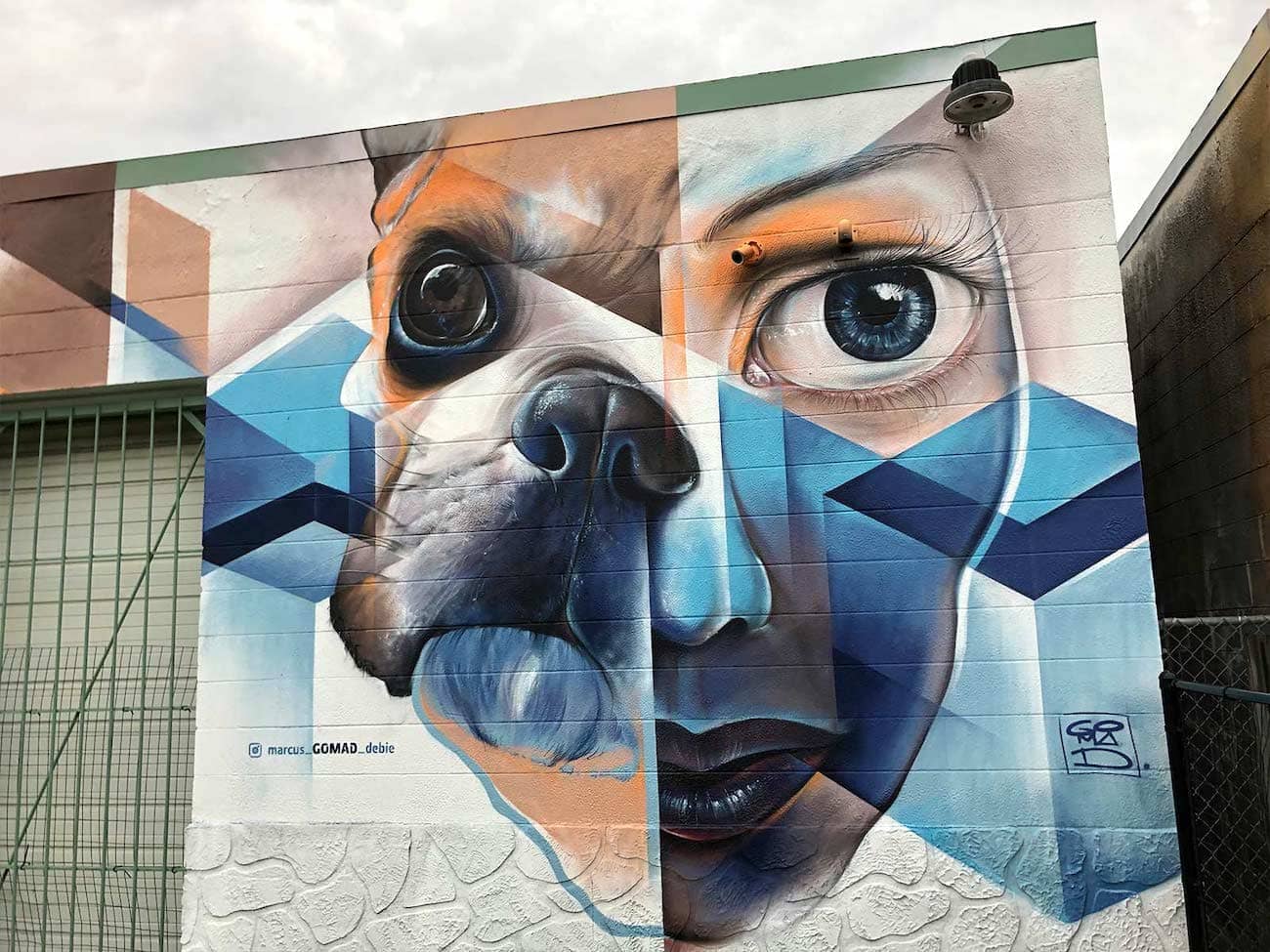 What are your sources of inspiration? Are there other artists who inspire you?  
Everything around me can inspire me, like other art and artists, or our surroundings, like nature, animals, people, etc. Some artists whom I respect for their skills and who influence me with their art are the artist duo TelmoMiel from Rotterdam, the Spanish artist Belin, and the Italian artist Vesod. But there are many more, of course.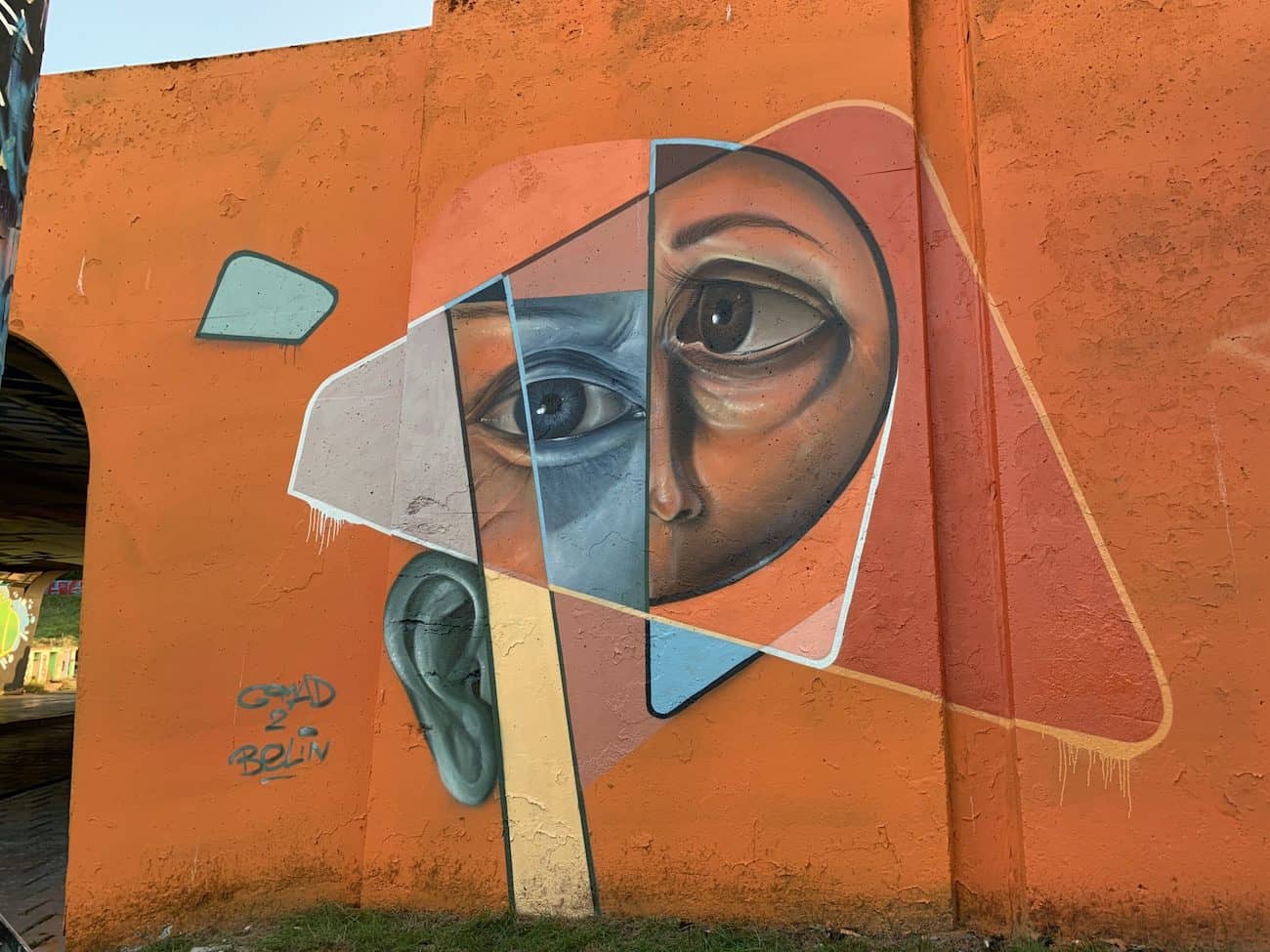 Eindhoven, Netherlands I 2020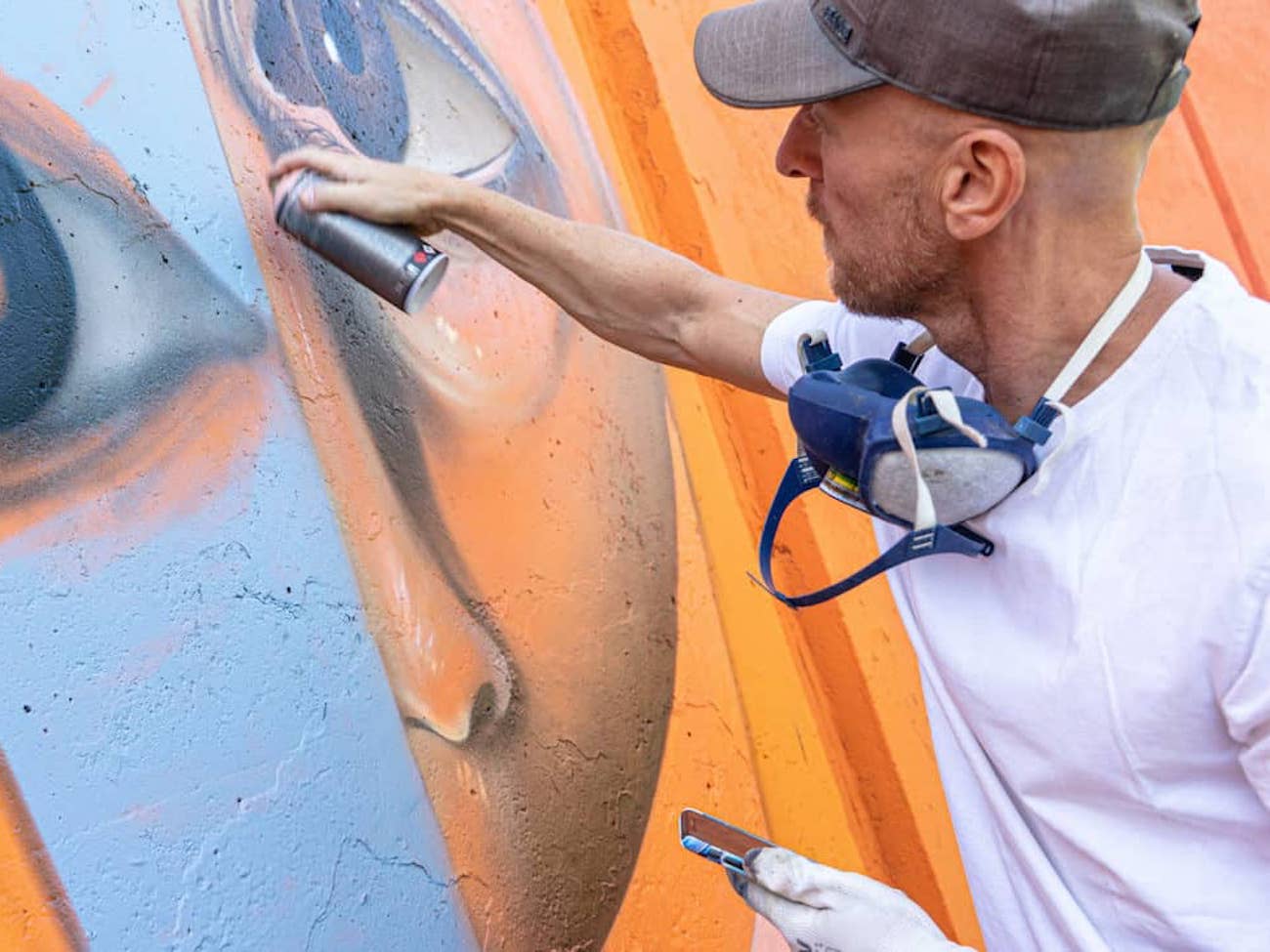 What thoughts, reactions, or feelings do you want to evoke in the viewers of your works? 
The ooh and aah effect is always nice. I always hope they feel it, appreciate it, and like it. Also, I like when people just start talking or discussing art, actually "really" seeing art for the first time, becoming aware of it, when normally they would just pass it by without noticing. Or they just find it beautiful or want to know the meaning of my art and the message behind it. Or the artist behind it. Just the how and why maybe.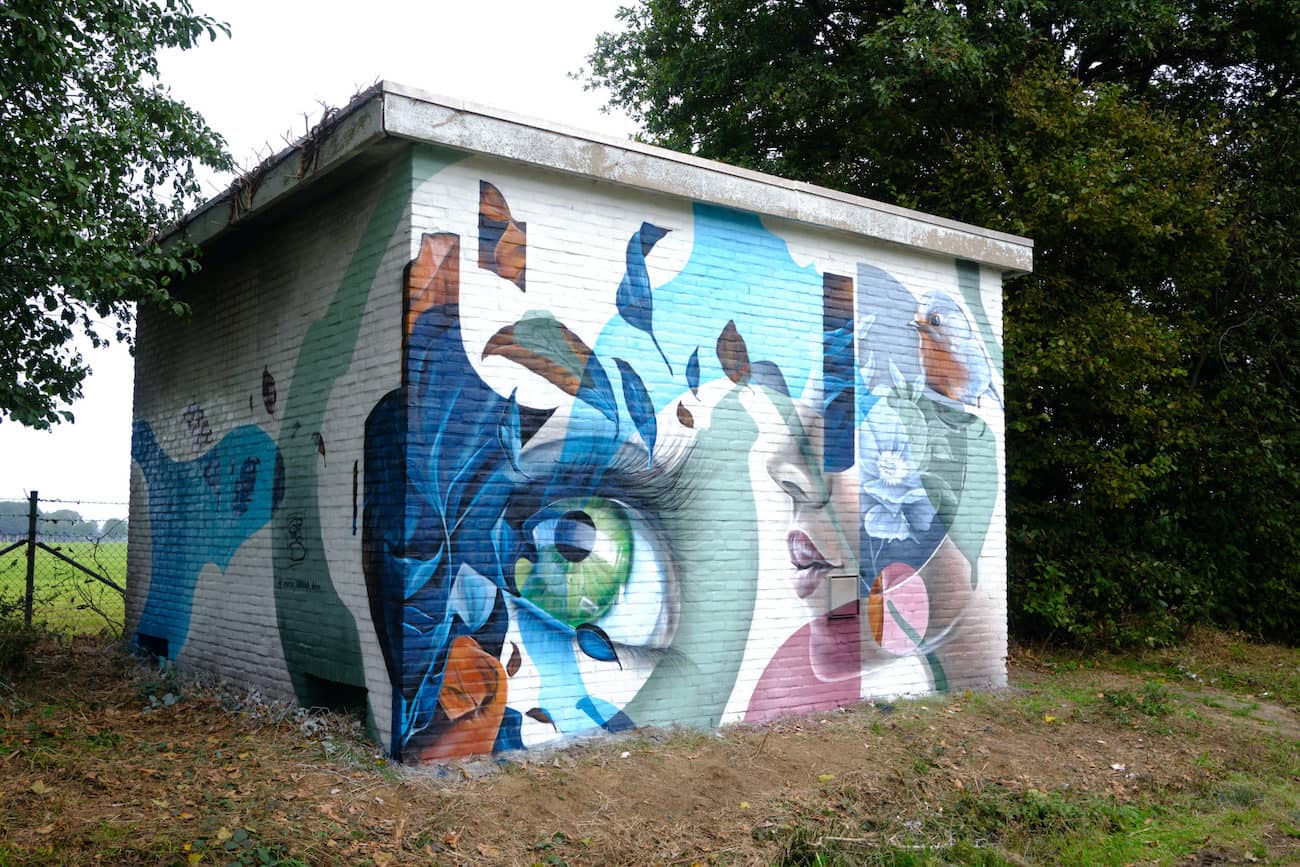 Geleen, Netherlands I 2020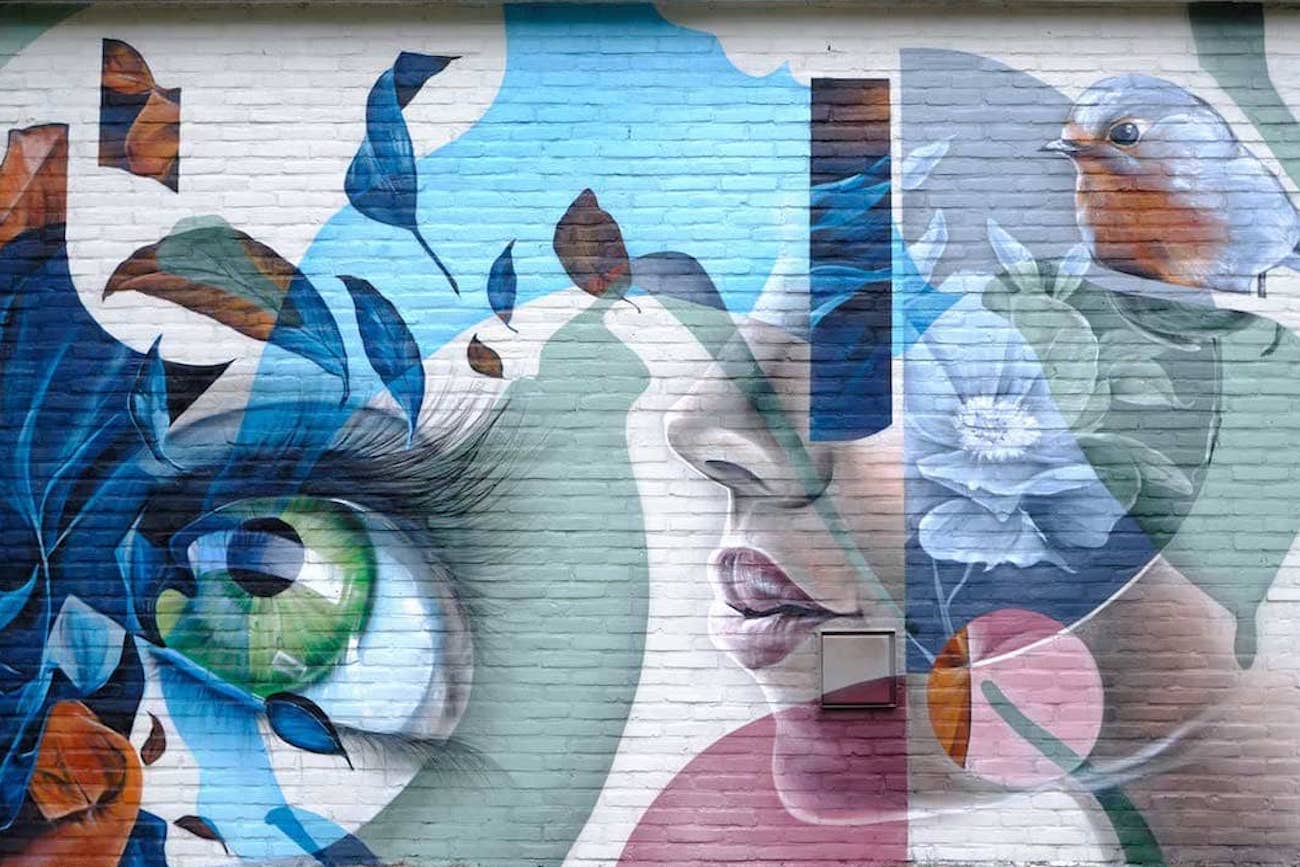 What has been your most challenging and rewarding piece of work thus far?
It was a challenge to complete the biggest mural in Holland, together with some colleague artists. It was approximately 2,000 square meters of metal wall, just after a period of nine months of recovering from two broken heels. I fell down from a collapsing scaffolding and shattered both of my heels into twelve pieces. So the first mural I did after this long period when I couldn't anything except lie down was this big wall. It was a challenge to stand, walk, and work on the biggest mural in my career. But this gave me the chance to start experimenting with oil paints. Some things happen for a reason.
The most rewarding is, actually, every piece I successfully complete.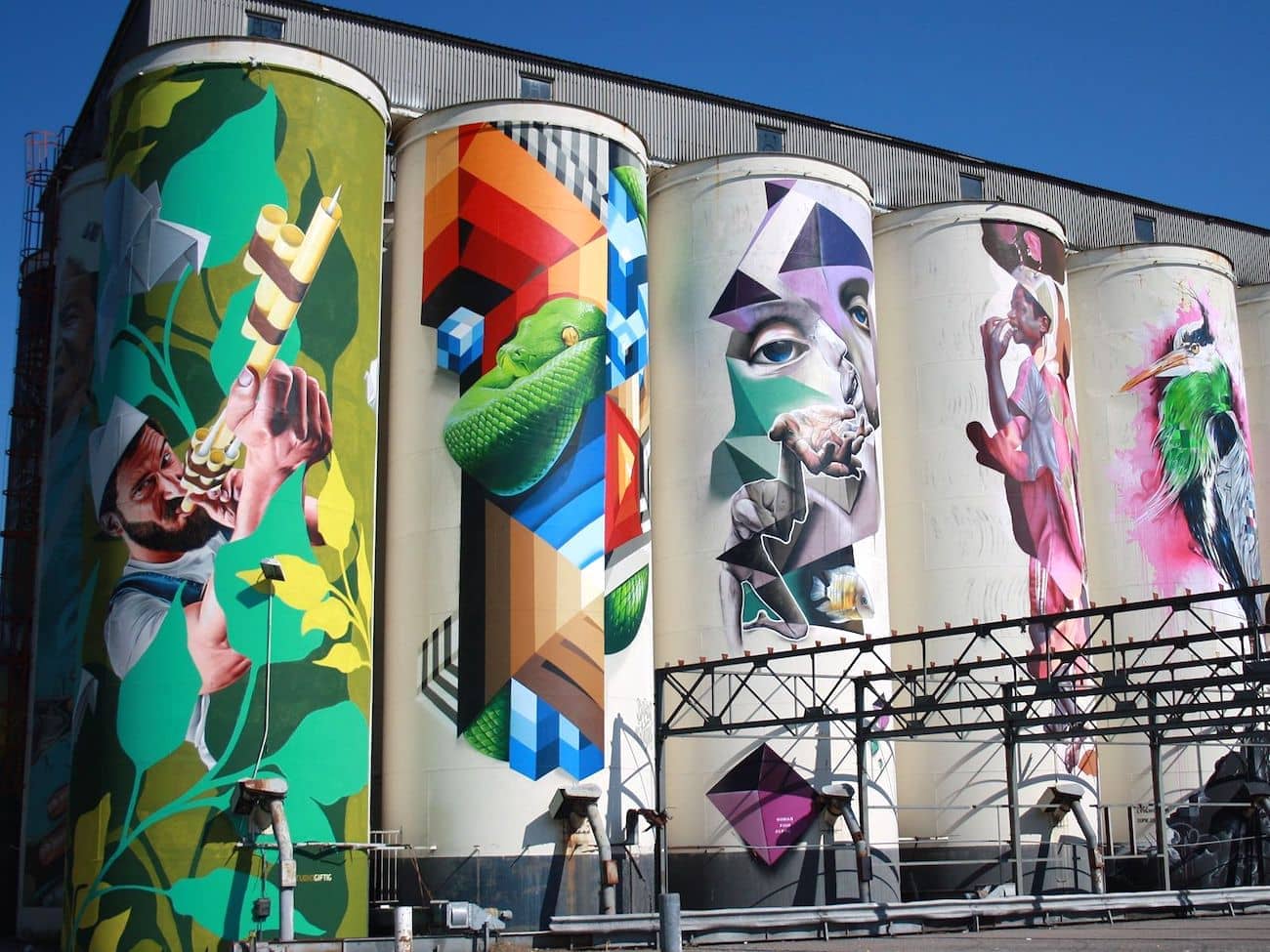 Den Bosch, Netherlands I 2016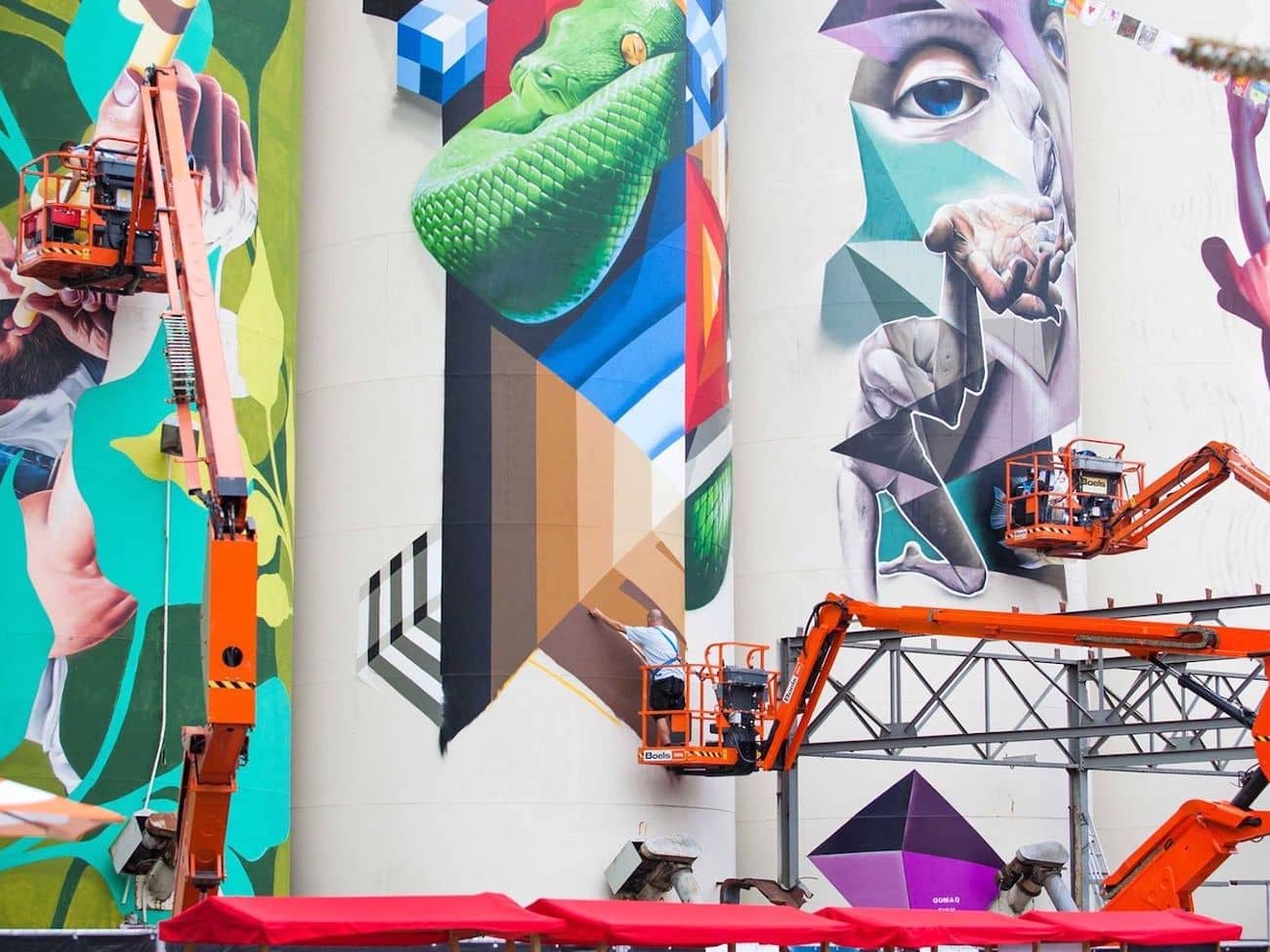 What are your ideas, goals, and dreams for the future?
I hope to see even more of the world, traveling for my art wherever art takes me and meeting different people and cultures where I can show my art and make them happy.
I love visiting street art and mural festivals and doing commissioned murals as much as I can and making art on canvas to show in galleries and exhibitions in every corner of the world.
Before Covid, we would have traveled to Chicago, Denver, Greensboro, and Brooklyn to do some big murals. I was also talking to festivals in Canada, Russia, and Australia. So let's hope we can travel again soon to catch up on these projects.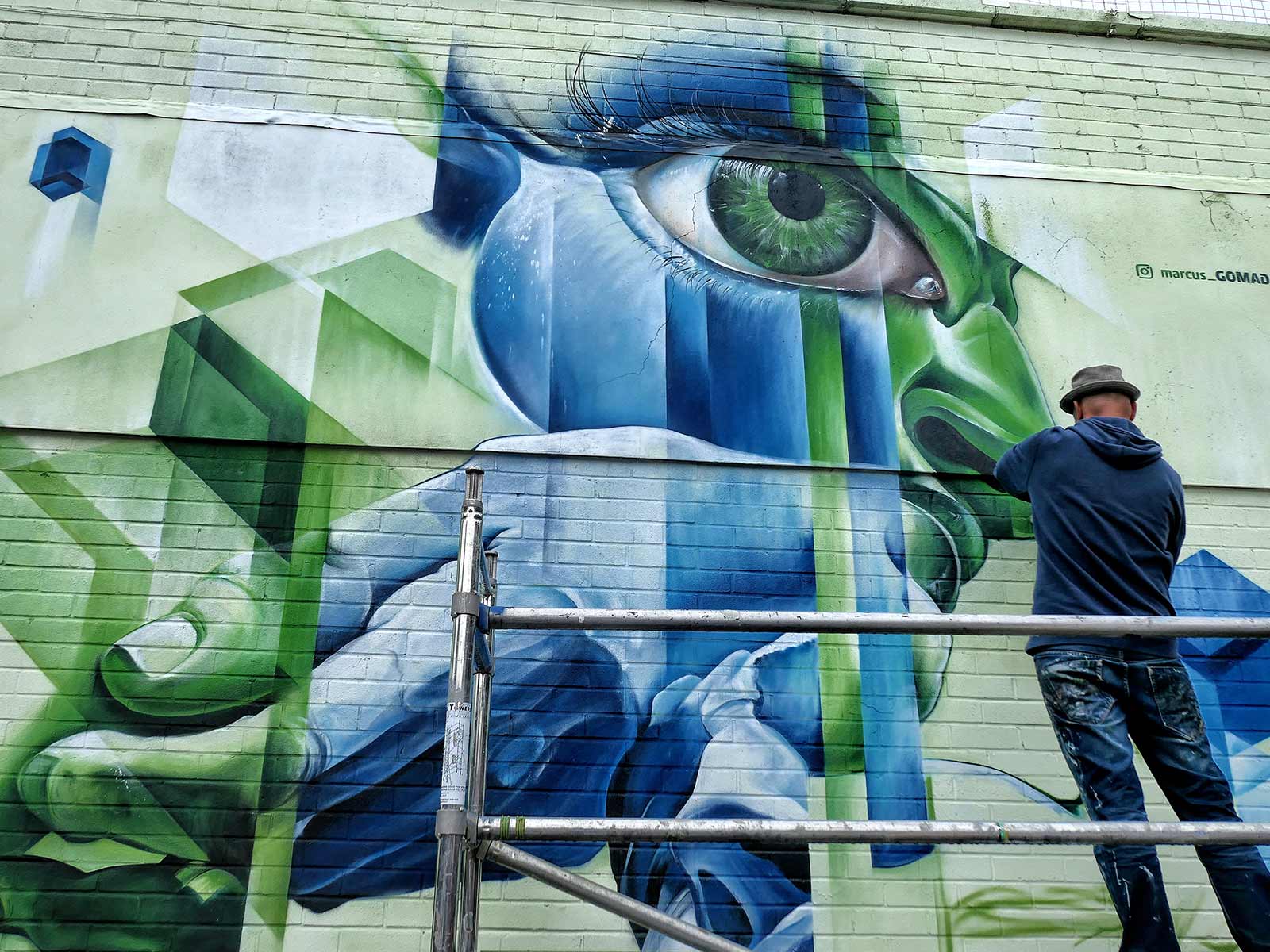 _______________________________________
Pictures © GOMAD
August 2021
by Laura Vetter