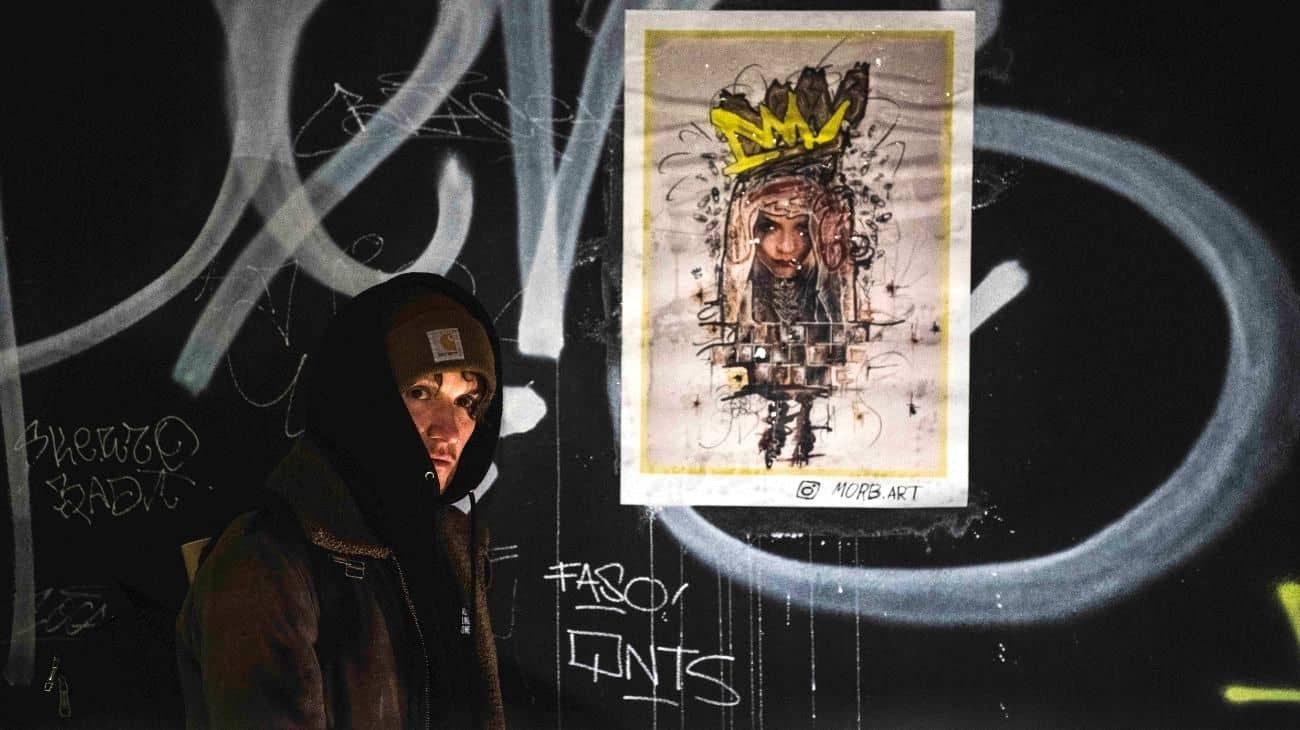 MORB ART
Interview with Turin based street artist Morb: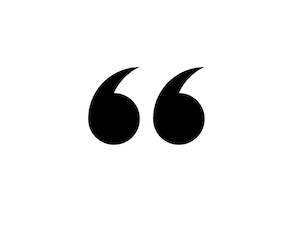 Street art, I would dare say, has a more collective impact. It brings people together and detaches them from their lives; it alienates them for a few moments; it immerses them in a dimension that is different from the ordinary one.
What's behind the name Morb Art? Can you tell us more about yourself and your artistic background?
The name Morb is a diminutive of a nickname I had as a kid, which I then adopted as a tag in the early 2000s. At that time I was active as a graffiti writer in the hills of Modena, and it is in that period when part of my artistic expression today originated – from the world of graffiti, underground culture, and the American music scene.
How did you come in contact with street art and graffiti? What was the impulse to place your works in public spaces?
As I said, I was very fascinated by a culture so far away, such as the U.S., when arriving in Italy, and how it contaminated cities with a note of color that they did not have before. Maybe this artistic expression, rebellious and out of the box, captured me so much that I ended up being part of it. This was probably, at that time, what brought me closer than anything else to street art or, better to say, graffiti. 
Now, years later, things have changed. The increased tolerance and evolution of this culture have given anyone the opportunity to enjoy art, even without having to go to a museum. I, for example, don't paint on walls like I used to but instead create urban installations.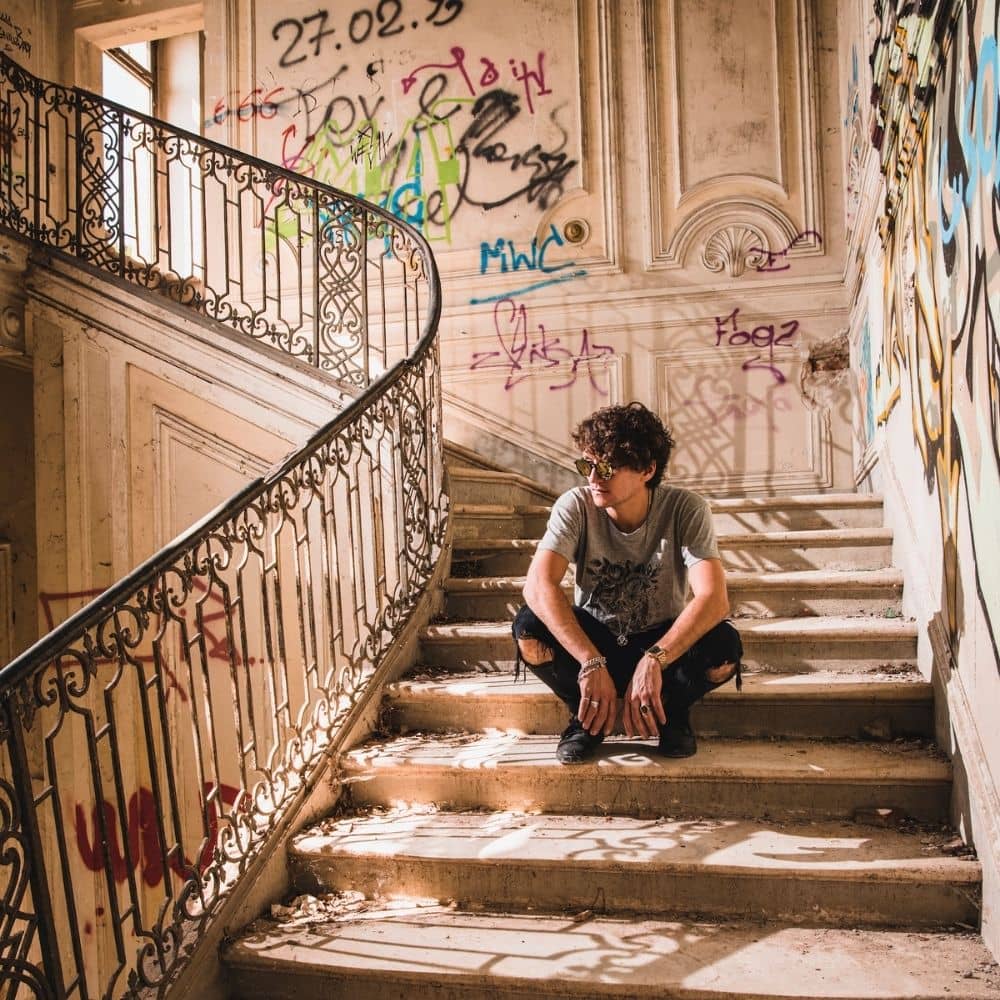 How would you define "urban art"?
Within everyone's reach. There are works that are more or less simple to understand, but that has always happened in art.
"Art as a vehicle of the human touch, on the actual world." Is this how you would describe what drives you to be creative? What relationship do you want to create with the viewers of your works? 
Art is my expressive vehicle, through which I try not only to express my feelings but also to show what happens in the world. I analyze people and their behaviors a lot. Recently, in my latest series of works, "Modern Eternity's," I try to fully involve the viewer, making them connect with the subject of the work itself. The aim is to make the work more dynamic, creating a very personal experience for those who, by observing it, can contrast it with their own reflected and distorted image.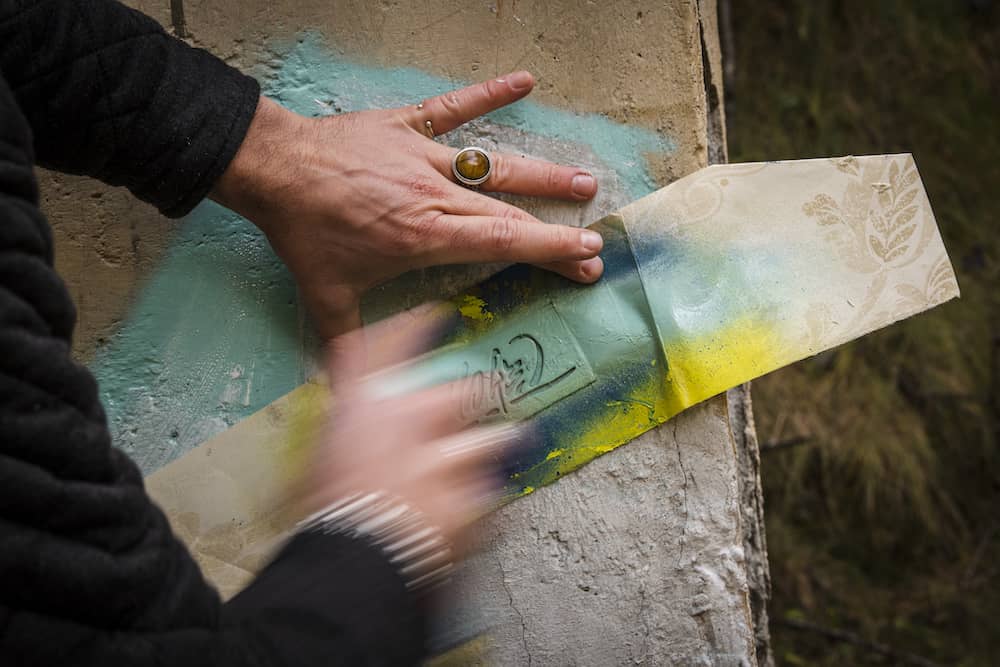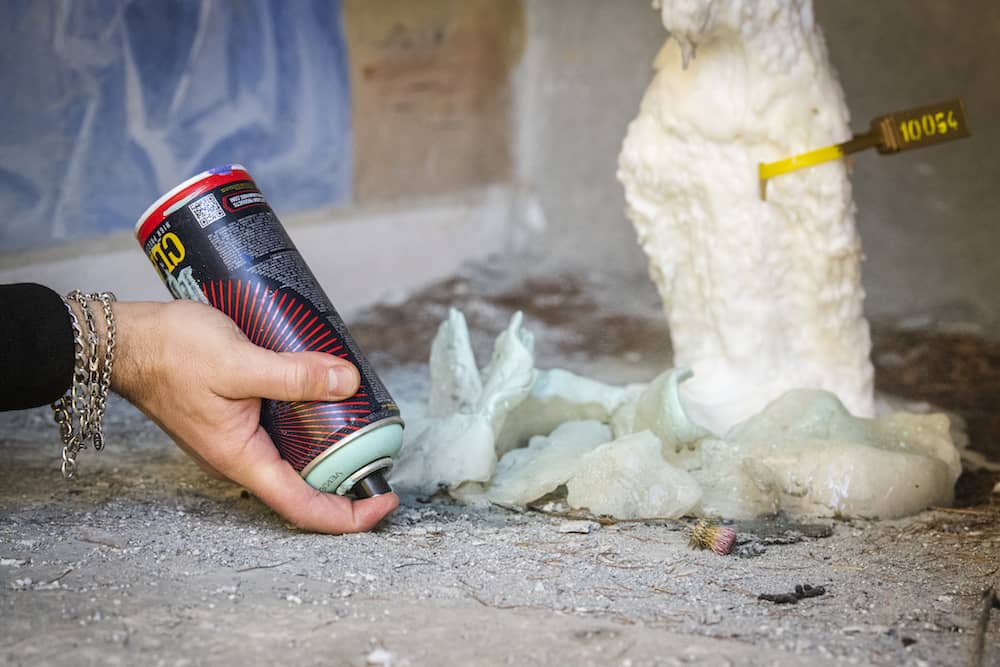 Your art focuses on themes such as the destruction of reality, human genesis, denunciation for consumerism and animal abuse as well as faith, religion and divine – work as "a vehicle of mutations and metamorphoses of reality". What are your sources of inspiration? Are there other (street) artists who influence you?
I think I draw inspiration from the reality around me, which is constantly evolving. We are bombarded with information, images, and feelings, which trigger a kind of connection with a more visceral and less tangible, more intimate, and personal world. As is evident in my art, I am very attracted to the female figure, which comprises almost 100% of my artistic expression. It is her, in her beauty and elegance, the muse, so complicated to understand and the expressive vehicle of mutations and metamorphoses of reality.
I love photography very much, especially when related to fashion, and I like photographers who deal with it. In many of my works from 2020 I have used the subjects photographed by Peter Lindberg, recreating a different reality from the one originally captured and contrasting them with urban art. 
I have been following the duo Pichiavo for some time, which I love very much both for their works and for the change they have imprinted on the image of street art. I really like African Ginger, an American artist who blends painting and digital art. Others that I could say influence my art are David Lynch, Daniel Arsham, Reederone, Axel Void, Feral_kid, Isaac Cordal, John Washington, and many others.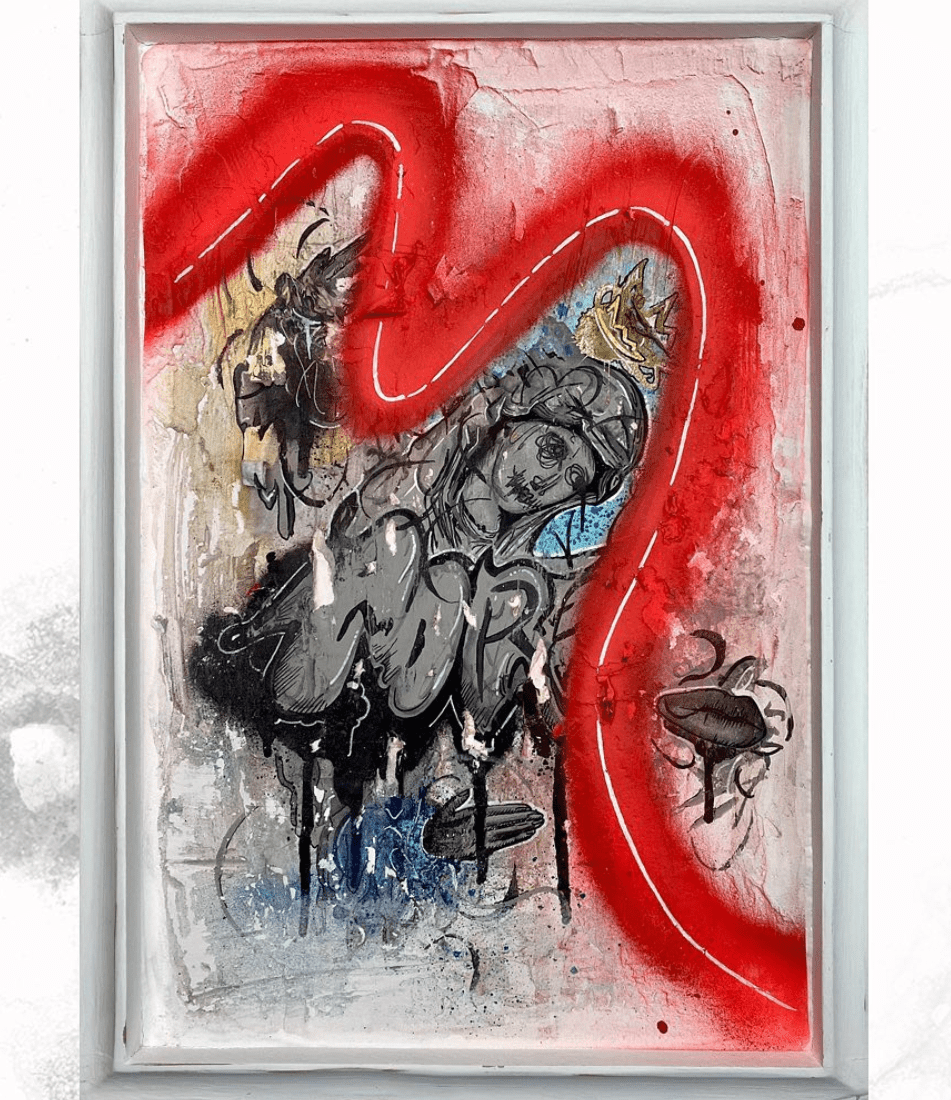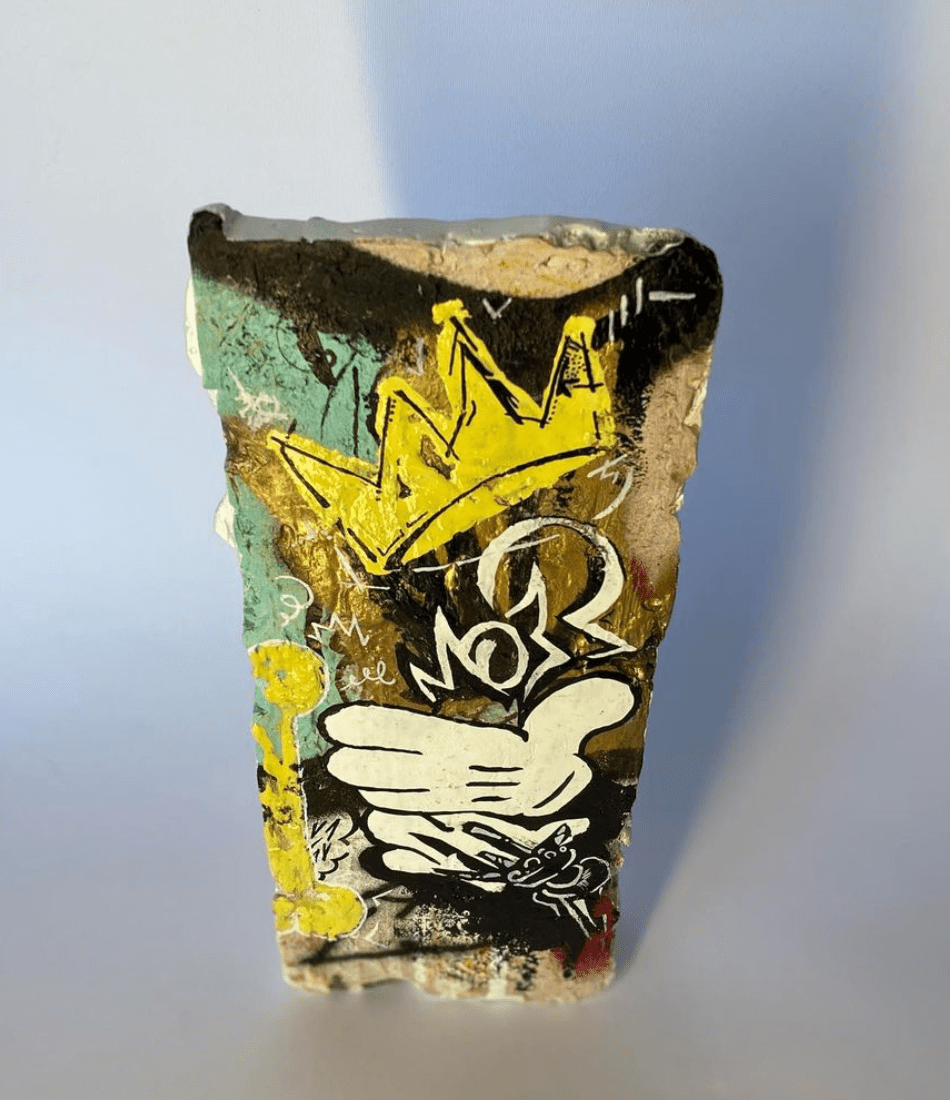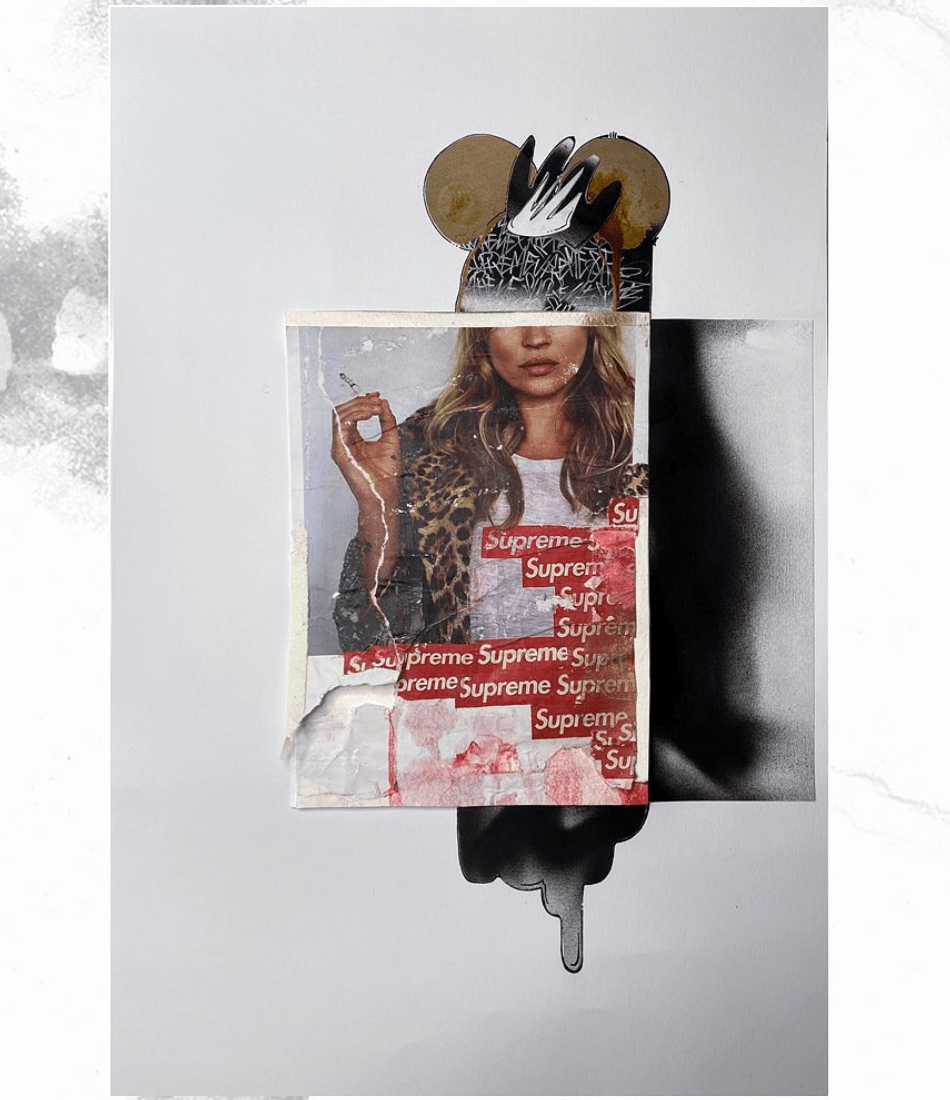 You are very versatile and create art from canvases, installations, and collages over sculptures, and from photography to street art. Are you still looking for your final medium of expression, or is it the diversity that attracts you? 
The beauty of art is that it basically has no real limitation. So, for me, it's nice to be able to do it, in all these mediums, so I don't have to limit my creativity. 
Besides art, you also make your own canvases from recycled wood, in an artisan way, with attention to detail, creating unique pieces and giving them a second life. What significance do recycling and sustainability have for you, in general and in your artistic practice?
Nowadays, people are more careful about the environment; they have realized that the impact of man on the ecosystem of the planet is very strong. I think that if we all, in our own small way, try to do our part, together we could make a difference. We would inhabit, in short, a better planet. It is from this and other reflections that "Hope Crisis" was born: a series of urban installations aimed at making people think about this very important aspect. Basically, it is an attempt to make life more sustainable, and that is why the materials I work with are recycled. Through my work I try to have a minimal impact on the planet, as happens in my personal life.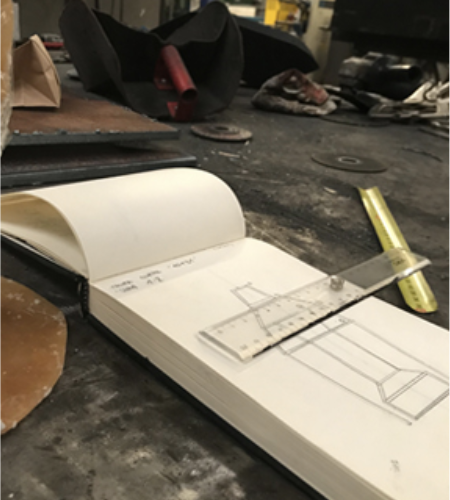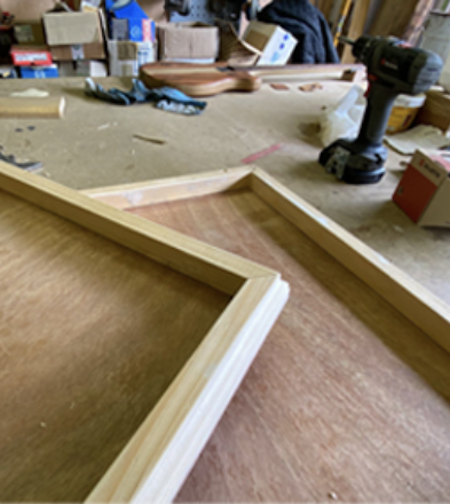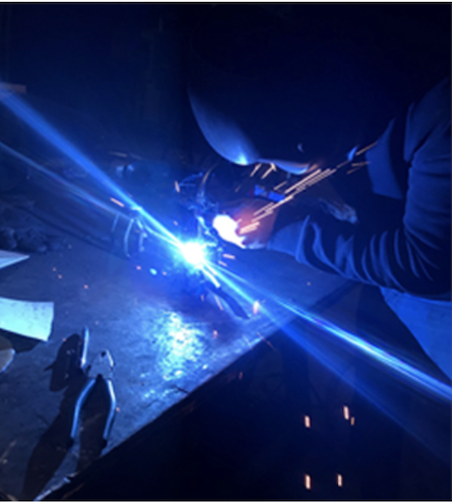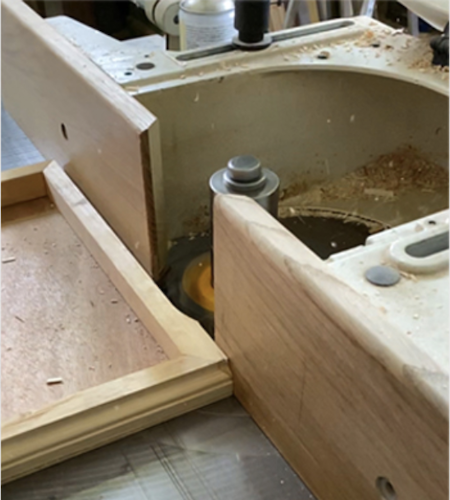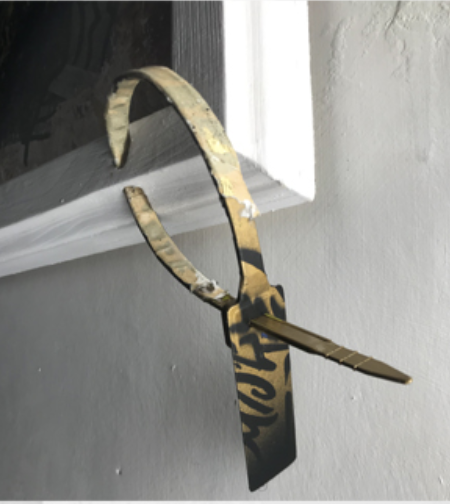 Can you describe your techniques and process of working? Do your works arise in a planned way or out of spontaneity? 
My works, as you said, are very different from each other, as are the techniques I use. What they have in common, however, is the recovery factor. Their creation takes place in a spontaneous way, which explains the variety. The canvases I use are always made of wood and have no real standard. 
In 2020 I found myself working on a small batch, because they were made from recycled material, while now the dimensions are the opposite. Technically I prefer "mixed media" because I feel freer in the combinations, and I work in a manual way from start to finish of the process. However, I am still tied to spray paint, which I often use to give my works an urban feel. I don't disdain technology, as it has been in my background for years. I've worked a lot and created a lot of album covers and music EPs, and at the moment, in my latest creations, I'm trying to enhance these techniques. Now I'm working using a smartphone, without any retouching apps, to analyze the difference in the visual relationship between the human eye and the artificial one, but also the different sensations that are created when you look at a work of art.
You are not only active on the street, but you also transfer the style of street art onto canvases – "the effect is just as direct and controversial" as you say yourself. What is your opinion on the discourse that urban art must remain free and public? Or do you think a wider recognition of the street art movement by the traditional art market is long overdue?
I believe that urban art lives a life of its own, because those who create it are part of the social fabric; they face daily problems, they clash and rebel. Certainly, urban art will continue to move in parallel with traditional art, as it has done so far. However, there are now galleries that deal with street art and street artists, so there is a desire for recognition. I believe that urban art will continue on its way, or rather in its streets, in the middle of the city and beyond. I have found myself doing installations overlooking the sea or in the middle of a forest. Urban art and traditional art are definitely connected, and the recognition of this movement is now evident and accepted, while once the juxtaposition was despised. 
Street art now has as its task the valorization of the territory. There are spray paints that purify the air of daily pollution, and it's an art that I would dare say has a more collective impact. It brings people together and detaches them from their lives; it alienates them for a few moments; it immerses them in a dimension that is different from the ordinary one. This is exactly what happens in museums with more traditional art, so to speak. So I think at the end of the day they are one and the same.
Hope Crisis – 13039  I Art Project and Concept by Morb I Photography by Massimiliano Sticca I Videography by Giovanni Bottisio
Your new "Hope Crisis" series is the result of five years of research that was only recently made public. You describe it as "the materialization of human belief, in the form of a votive figure, that raises issues related to environmental pollution with the purpose of providing hope for a better future." What is this series about? How did you develop it and what does it contain?
As in life, there are natural, evolutionary, and growing paths in my art. "Hope Crisis" was born in a period of change both personally and artistically. It is the materialization of human beliefs: its symbol of faith, in fact, is a kind of wax Madonna dislocated and placed in abandoned former votive shrines or deteriorating places such as chapels or churches. We often find ourselves walking, and during our journeys we come across such places. Maybe it's because industrial archaeology has always attracted me, but maybe I can make people ask questions when they see such emotionally strong works. Why is there a sort of little Madonnina with a half body made of metal? Why is it here? What does it mean?
Curiosity drives us to search for answers, places, ourselves, a better future. "Hope Crisis" is a search that comes from hope, in faith or in ourselves, in the world – it doesn't matter. It is a disguised message that makes us hope for a better future. Reflections make us grow, and with them, we can discover new things every day. I hope that with its messages "Hope Crisis" succeeds in raising awareness. 
The first urban installation was placed in the city where I live, a very fascinating and meaningful place but with the sad record of being the most polluted city in Europe in the last ten years (at least until 2019). This explains why this figure, half wax and half metal, is completely gray. Turin, in the Italian imagination, is the city of Fiat, an industrial city (hence the use of metal in the installation), a city with its own tone of gray (Turin gray), but also magical. 
Therefore, it wasn't a random choice to start a series that has faith as its background in a place defined as esoteric, important for white magic, worldwide. The name of the installation is 10131, which is the ZIP code (Codice di Avviamento Postale) of the place where it is placed, the area around the Gran Madre di Dio, the church symbol of the city, right in the center.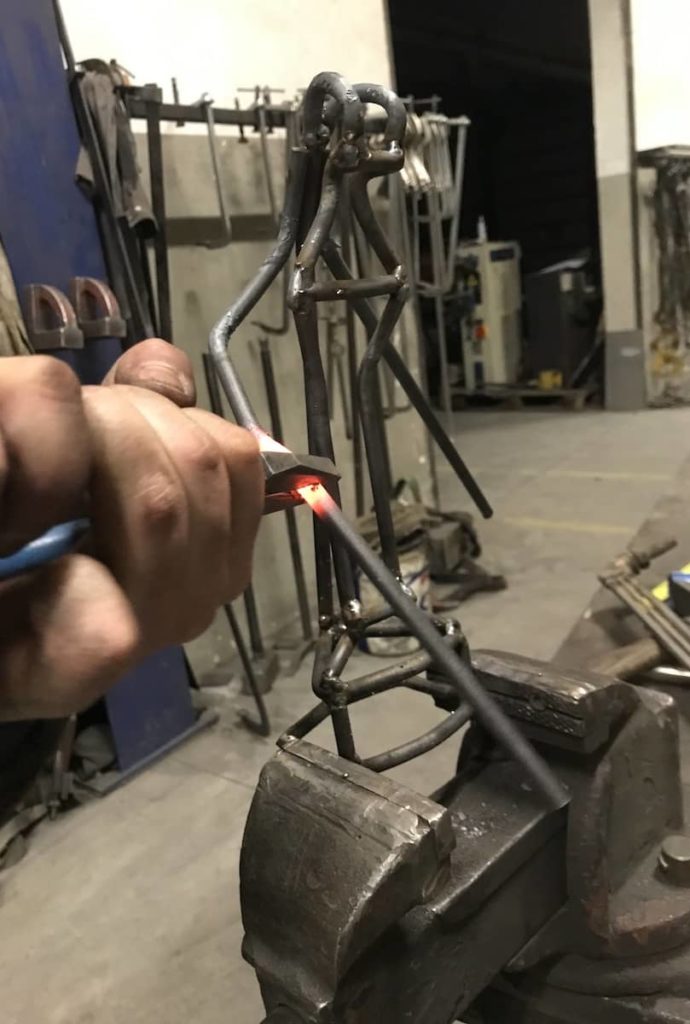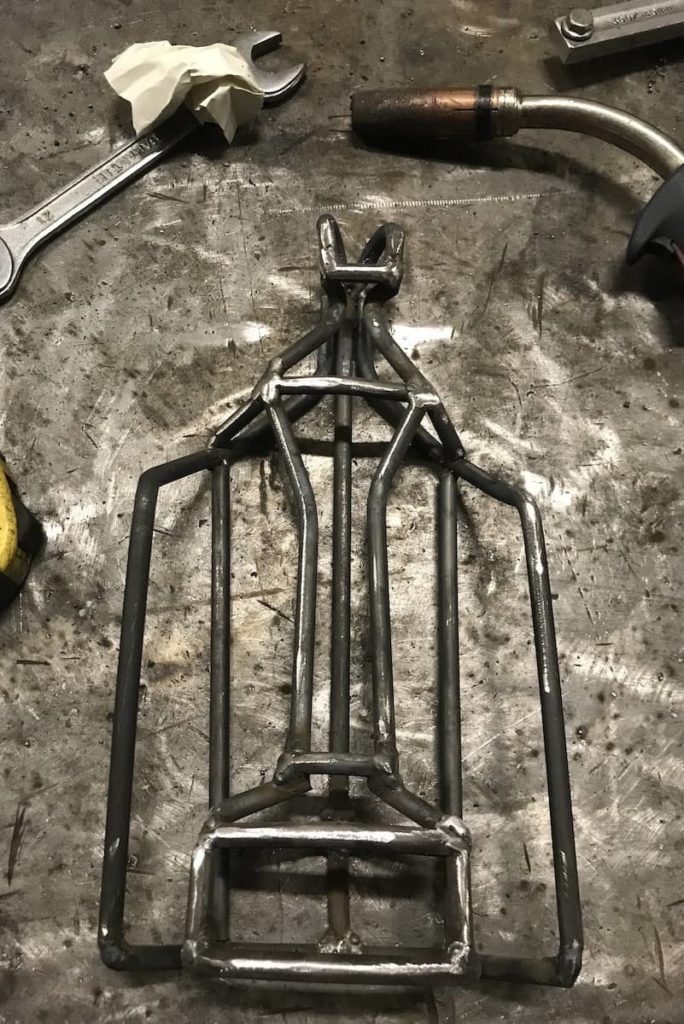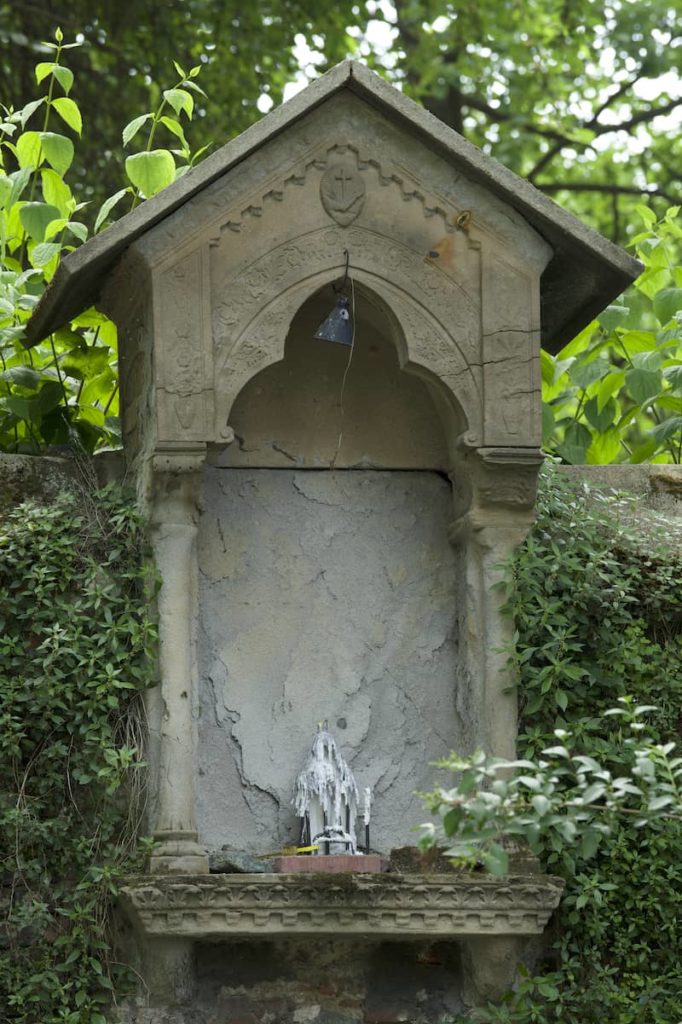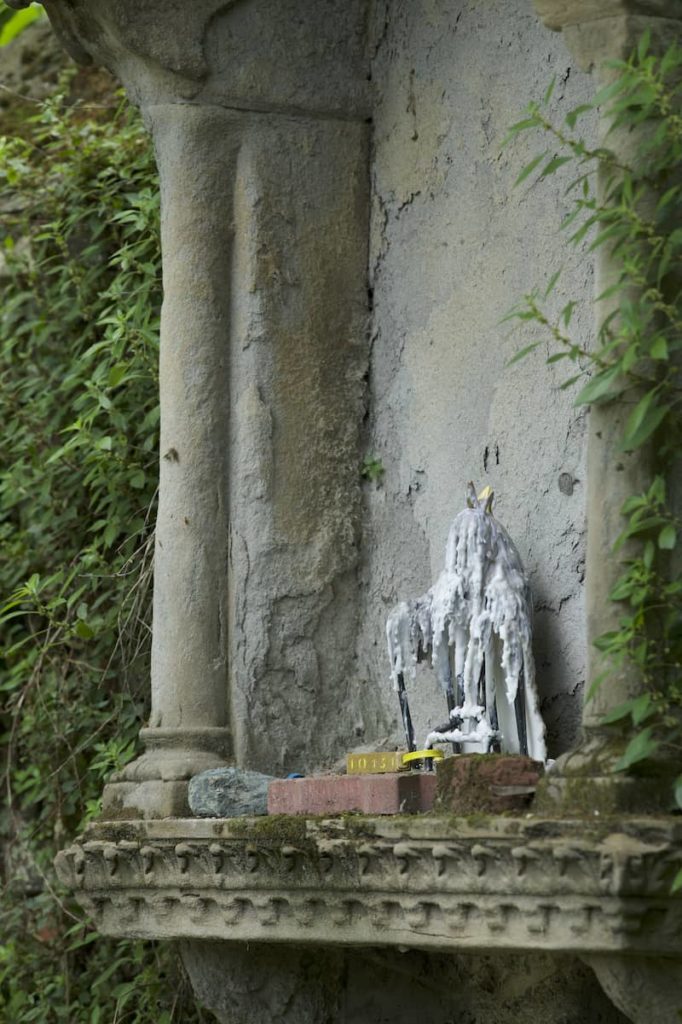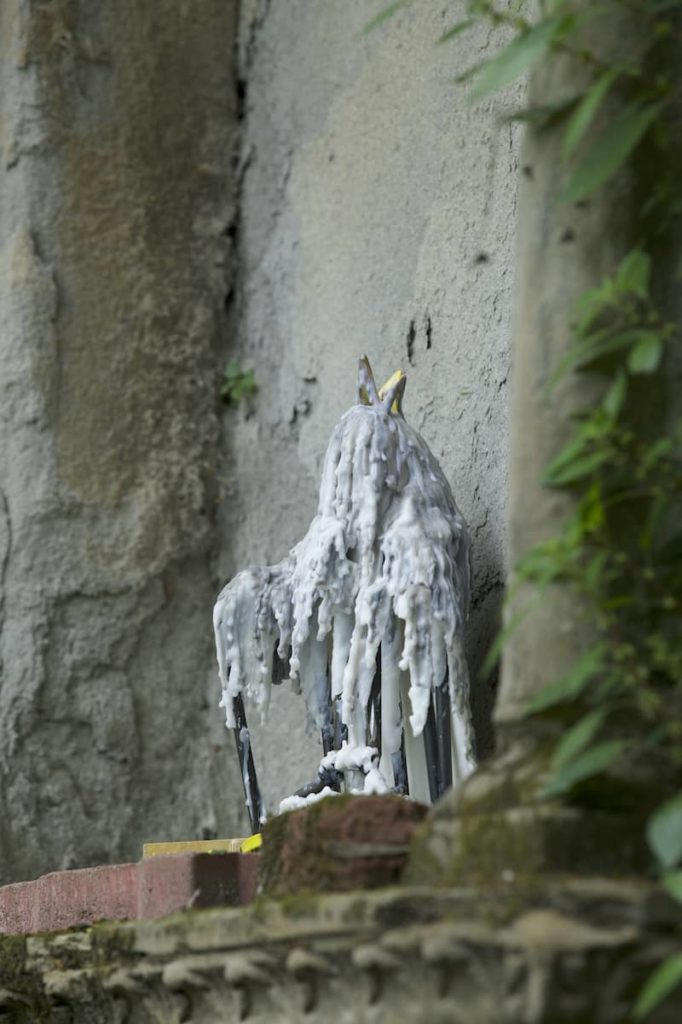 "Hope Crisis" is a project that embodies a new concept of street art for you. Can you explain in more detail what you mean by this?
As mentioned, "Hope Crisis" is the result of a long journey. Street art has been part of the global art scene for many years now, and for me this series is an active part of this movement, but embodying it in a different way. Its themes analyze the most intimate aspect of humans, a less tangible aspect. To represent this, it would not have been enough for me to have a huge painting on a wall; the opposite was needed: a smaller object to be touched, to be placed on the same level as the viewer, whose fragility it shares. 
These installations are opposed to the dogmas and ideologies of the church, which make the human being feel small. Just think of the effect that the majesty of St. Peter's Basilica has on us. So I wanted to create something diametrically opposed, almost as if the faith and its symbol had been vandalized and marked by time. For this reason, the installation 10123 is placed in an abandoned chapel; like the place that hosts it, the statue created is also completely graffitied. It took some time to choose the right place for the installation and have it connected with the work itself.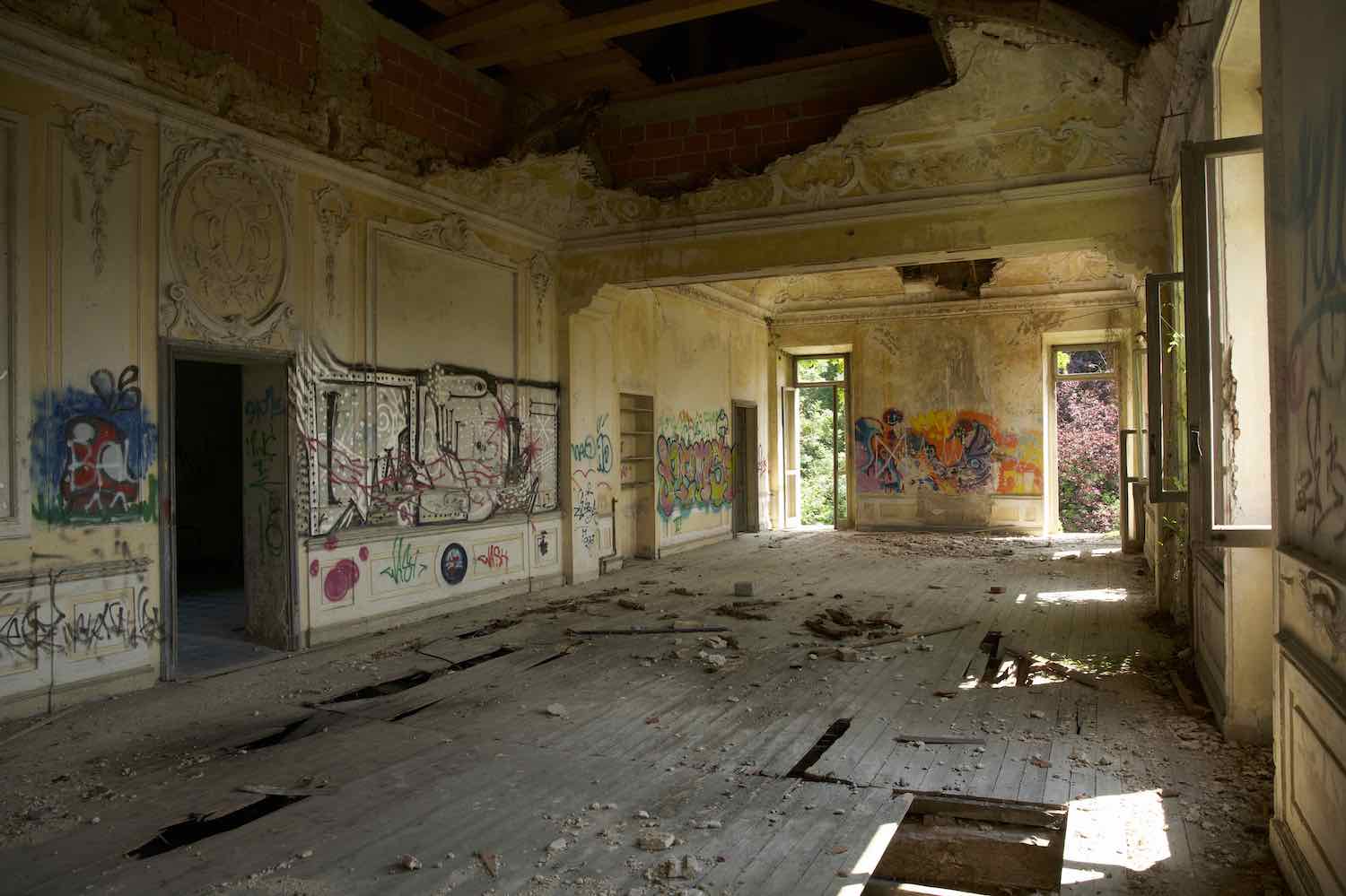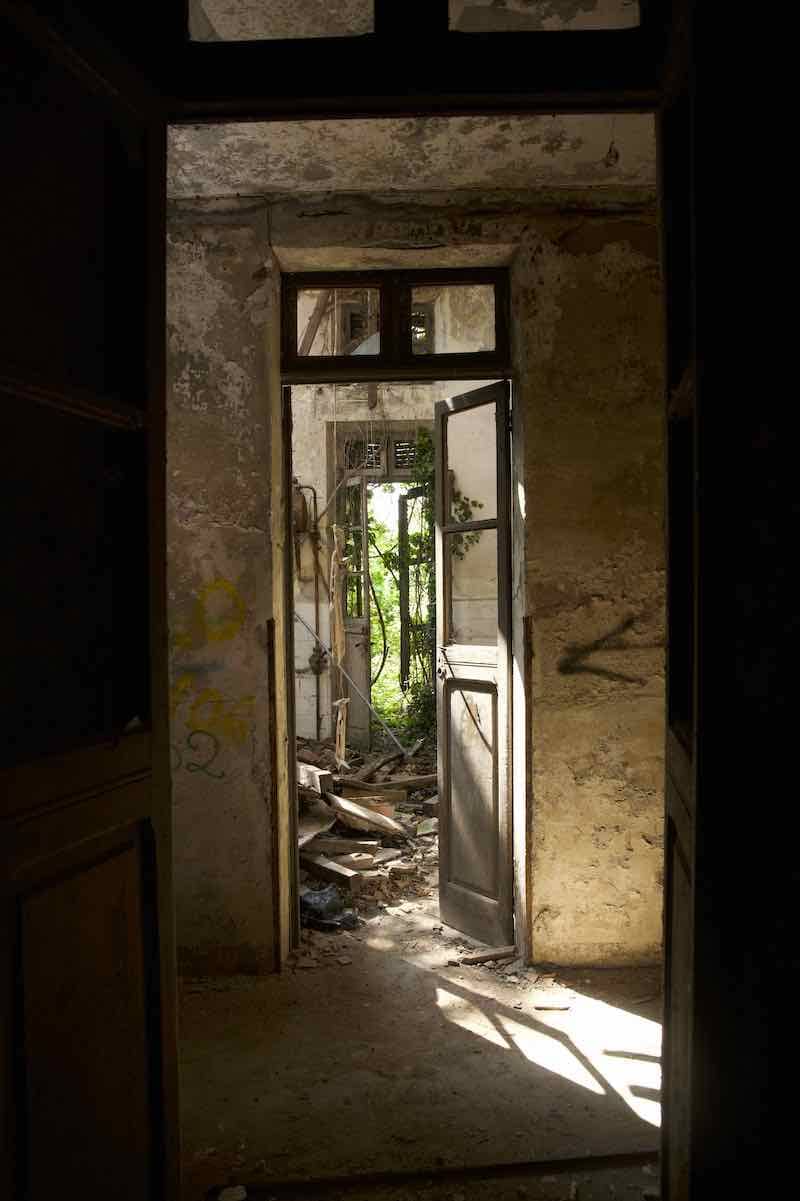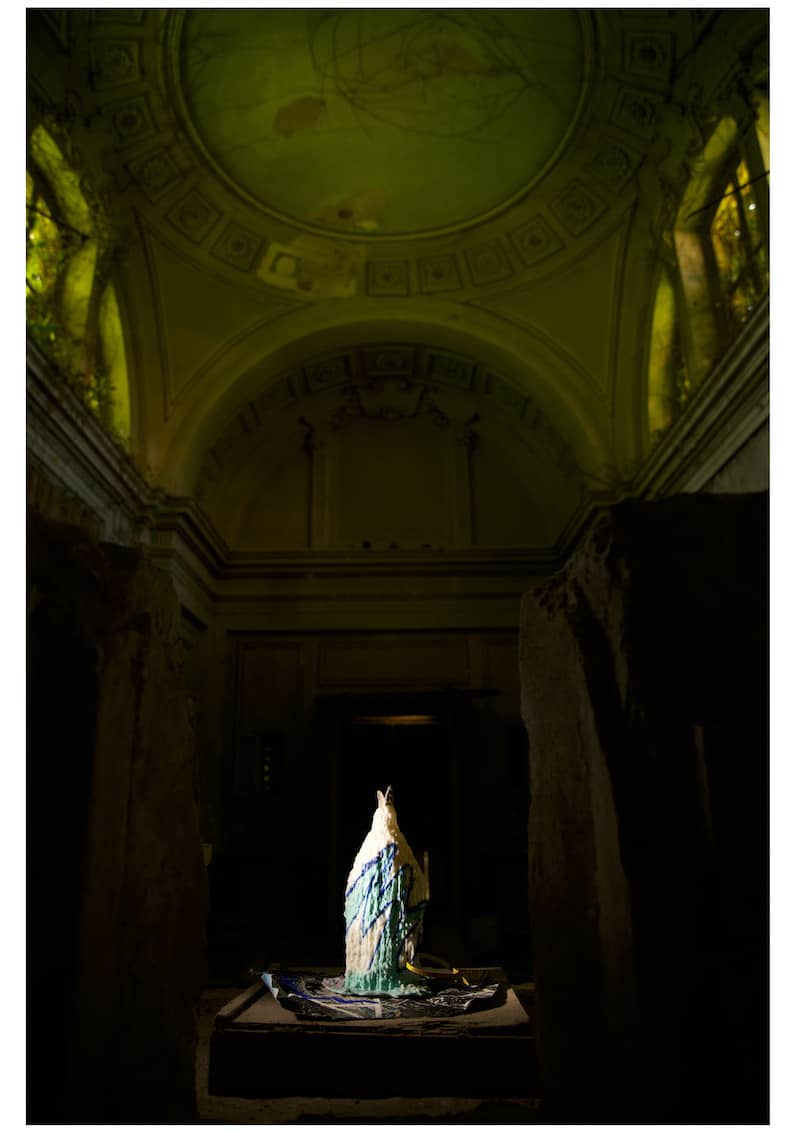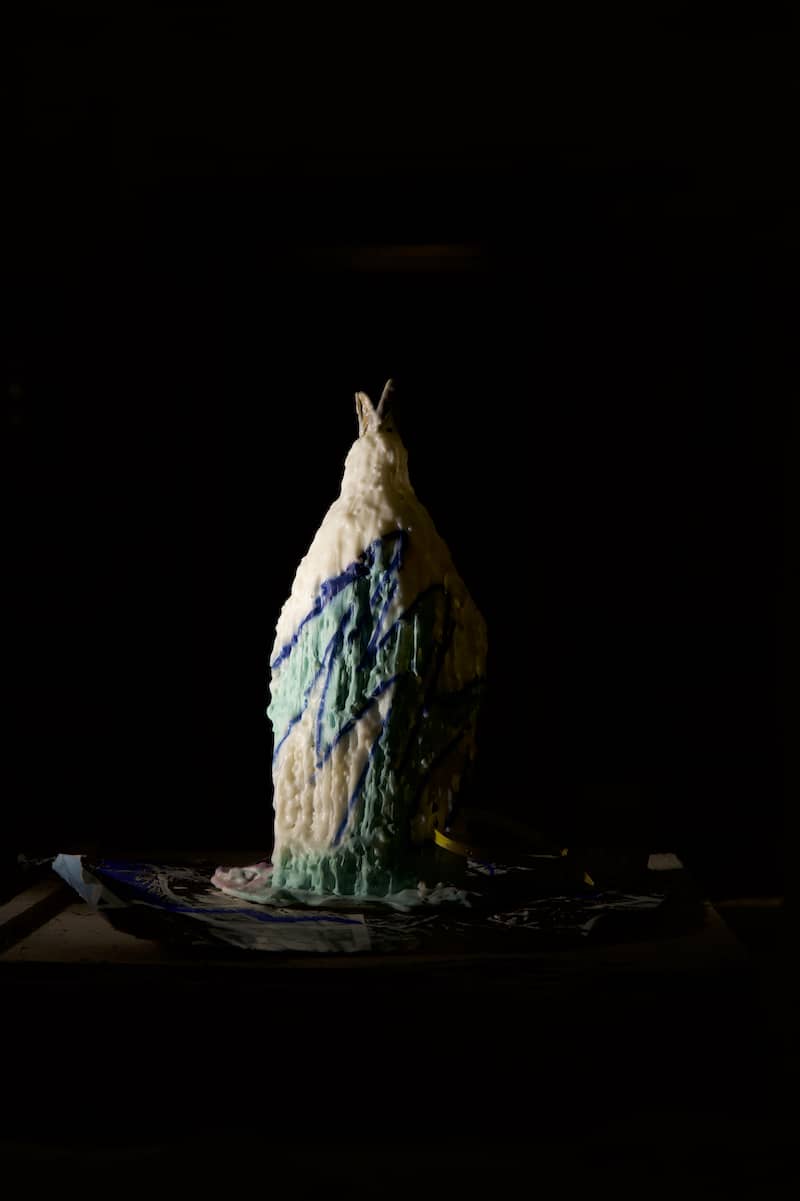 There was a moment during the installation of the work 13039 in Turin, Italy, where a unique connection was made with the surrounding place. Besides being in a chapel, we were immersed in the nature of the rice fields, completely enveloped in the color gold. There I realized that it wouldn't be enough to just place the installation and go. I had to transport that feeling that had pervaded us, to transmit what was happening, so I gave it a note of color that would remind us of the gold of the sunset over these rice fields. After that installation, the subsequent ones began to be more in line with their surroundings, and the processes of realization changed. 
In the installation 10054 in Valle Argentera, located in the middle of a forest, a place where there used to be a glacier, the votive figure has half animal features – the head is that of a polar bear. I adopted these features to symbolize the melting of the glaciers; in addition, I used fire to melt the wax and made stylized iceberg drawings on the exterior walls of this small votive shrine to add strength to the context itself. 
Each installation of the series has a serigraph tag that makes it recognizable and unique, just like the message it carries. For example, 17024 is located in Liguria, overlooking the sea. Like the previous one, it has a peculiarity too: the upper part, the head of the female figure, is made from a plastic bottle and is wrapped in nets. Facing the sea, only the back is visible, in the hope that whoever looks at it will realize that she is concerned about maritime pollution. I think it is partly the combination of these themes, as well as the fact that they are urban installations, that makes this concept of street art different for me, and able to call it new.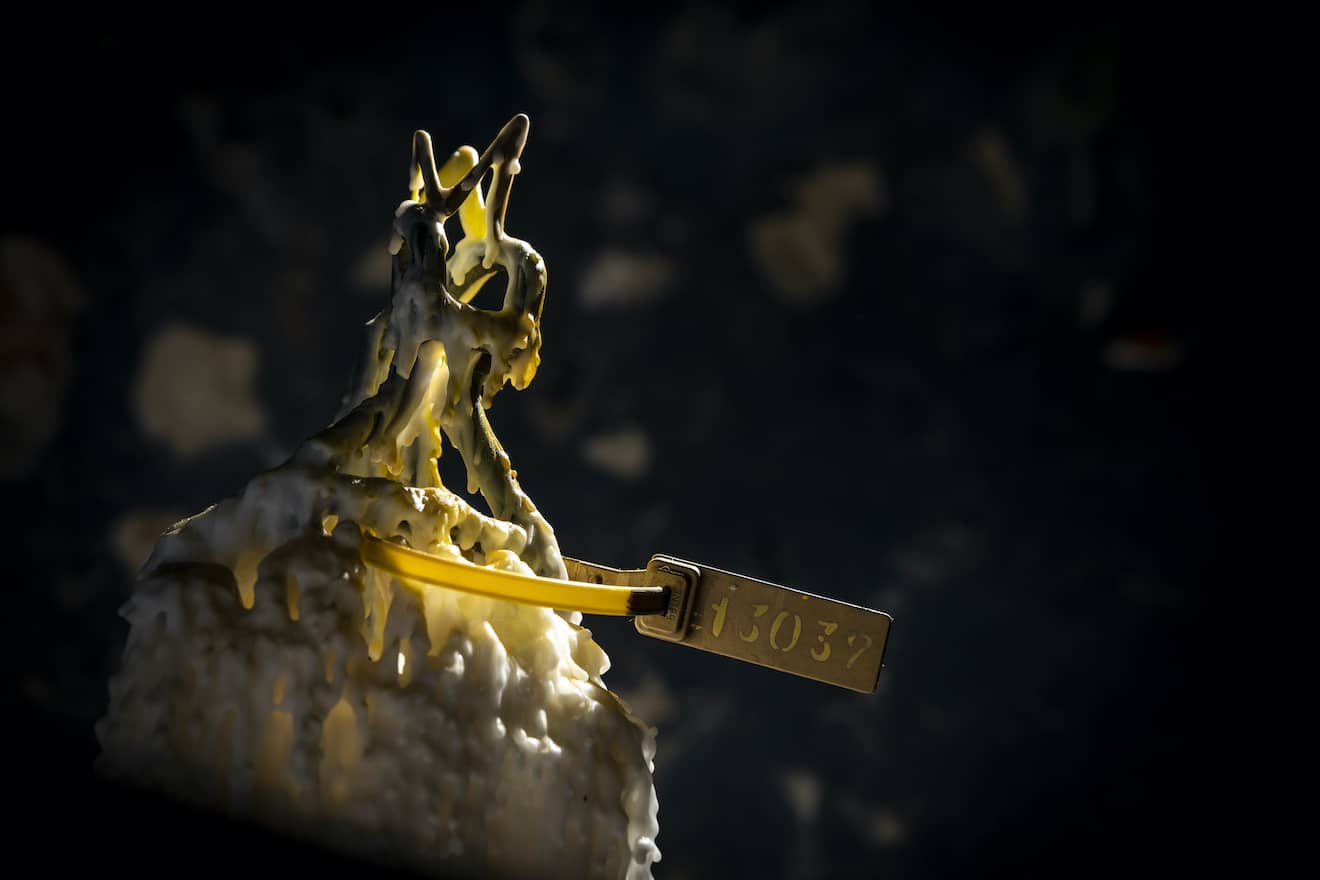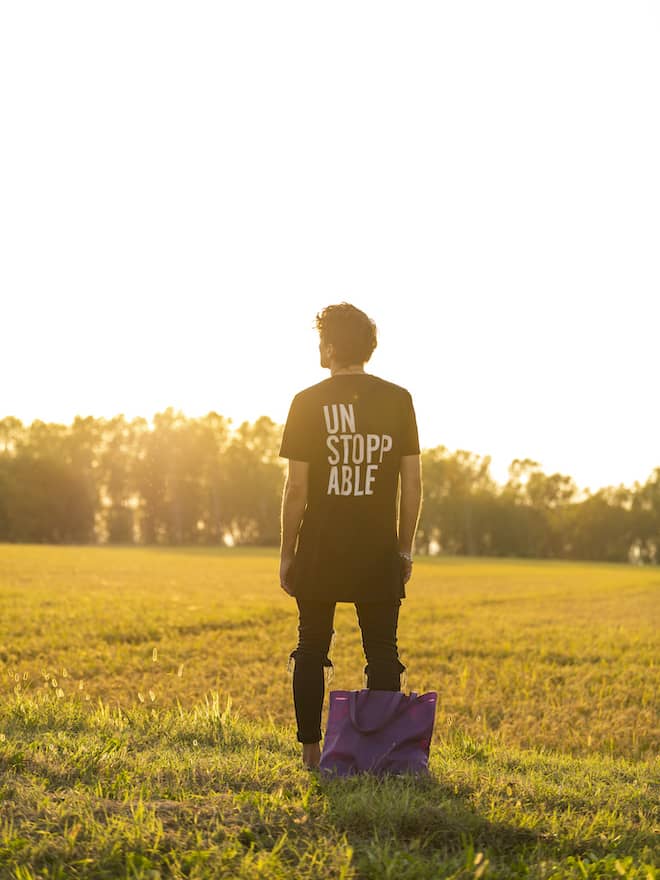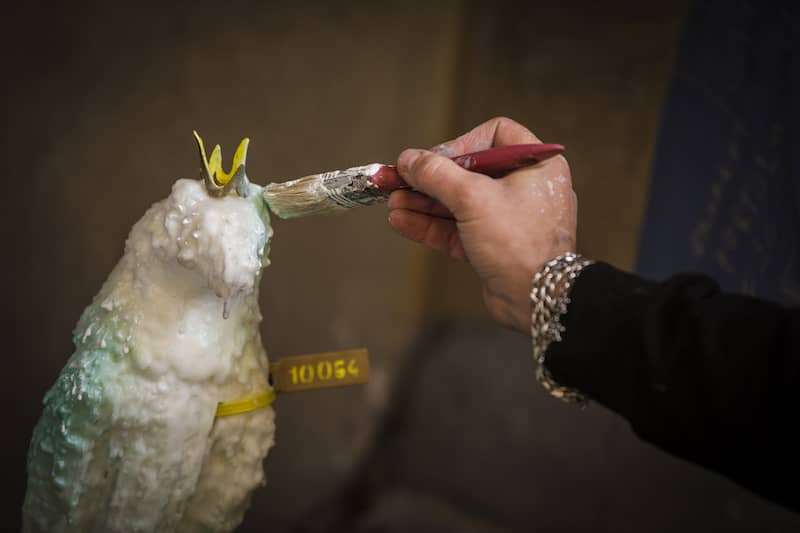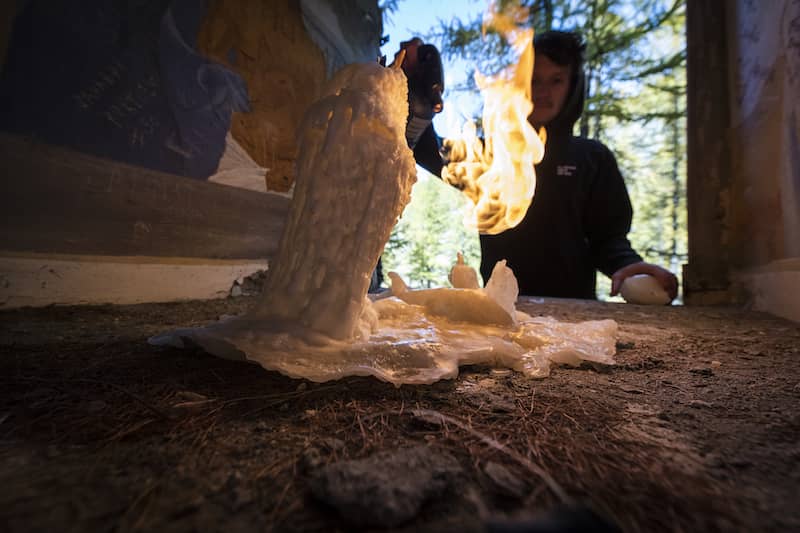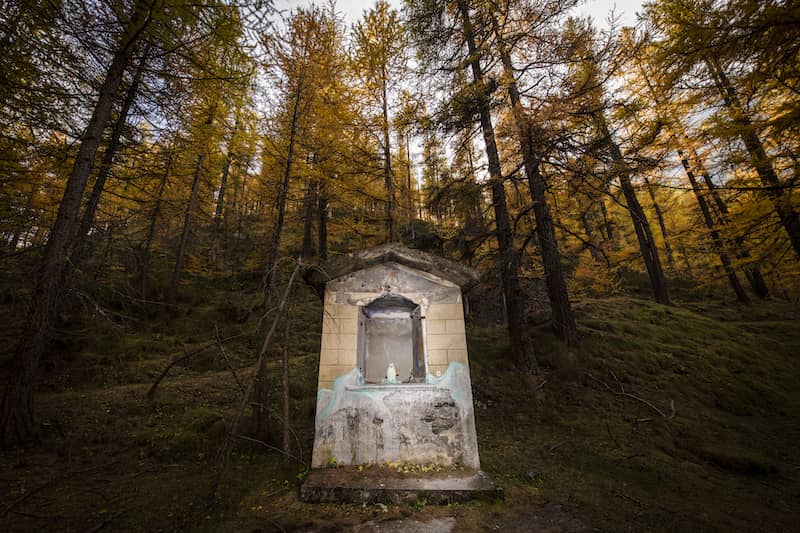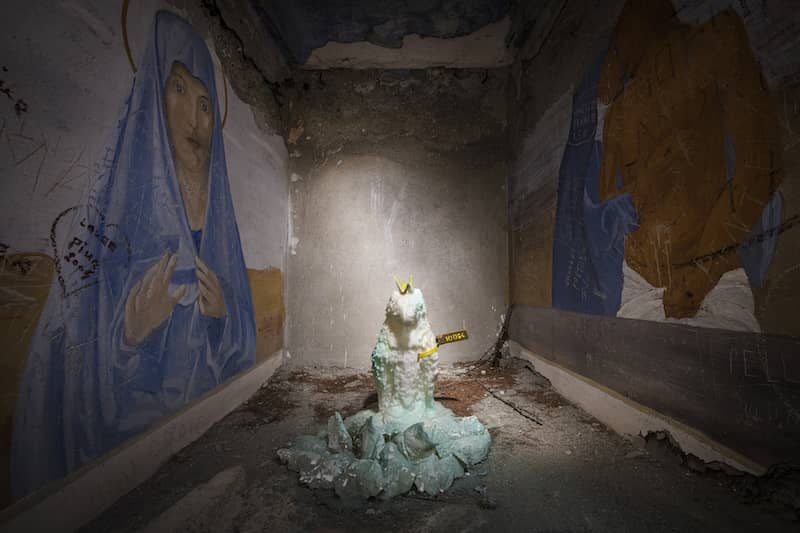 Hope Crisis – 10054  I Art Project and Concept: Morb I Filmmaker: Sara Ceci I Photographer: Massimiliano Sticca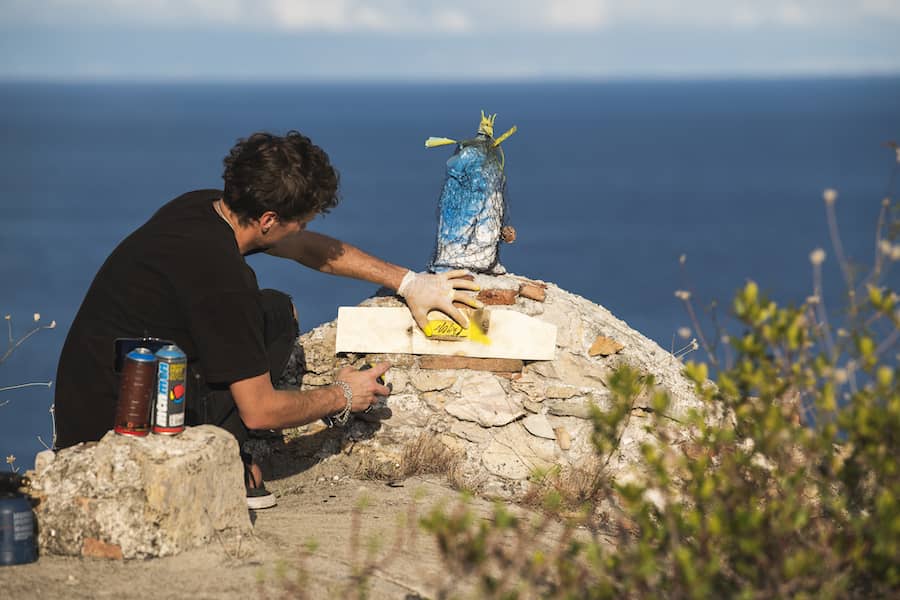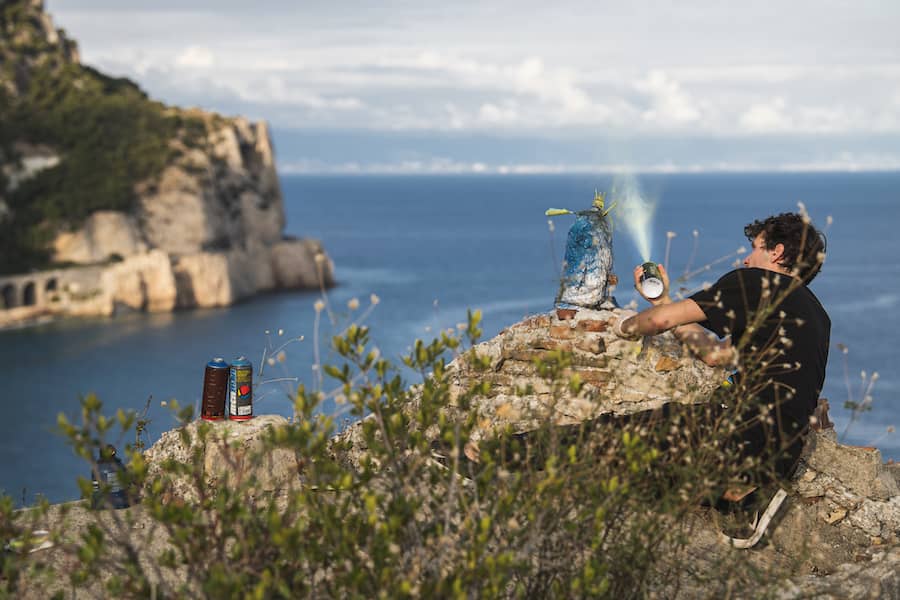 Alongside your love for painting and drawing, which now "represent an ideological part of your life," you are also passionate about poetry and music. What can you tell us about these areas of your artistic practice? Is the music in your "Hope Crisis" videos also made by you?
Yes, these have always been some of my strongest passions. When I was young, I published a collection of bilingual poems titled "Attimi fugiti dal vento," but like Rimbaud, whose writing fascinated me so much, I later abandoned the practice, dedicating myself more to music and art, which are now the protagonists of my life. I personally produced the tracks that are the soundtrack to the videos of "Hope Crisis," which proves the bond that I have established with these passions. I love music so much, in its various genres, but I only produce electronic music, which I love to listen to on vinyl, playing and mixing it.
What's next for you? What do you have planned for this year (or as soon as coronavirus allows)? 
I don't want to make any predictions about what the future holds for me; I only know that I will continue to move forward on my path. This year I finally managed to merge my passions, art and music, two worlds that went hand in hand and now become one.
"Art Connection," a current project, was born with the idea of linking art and music, through street wear. For this reason I developed a limited series of original Vintage Levi's jackets with a real canvas applied to them. In this way you can wear art, in the true sense of the word, changing canvas whenever you want. There are three cities that inspired this project – Milan, Berlin, and London – and in each of them a collaboration with an internationally renowned DJ has been established to represent them best. By purchasing a piece of this series you will actively support the music scene, currently in great difficulty. In the package there is a vinyl chosen personally by the DJs who collaborated with me for this project. 
Also, in regard to "Hope Crisis," there are plans for national and international collaborations to bring the project around Europe. I can only say that I will remain very active, and I will continue to have people at my side who support me and make sure that my work continues to grow and reach as many people as possible; this is also possible thanks to you and to this interview.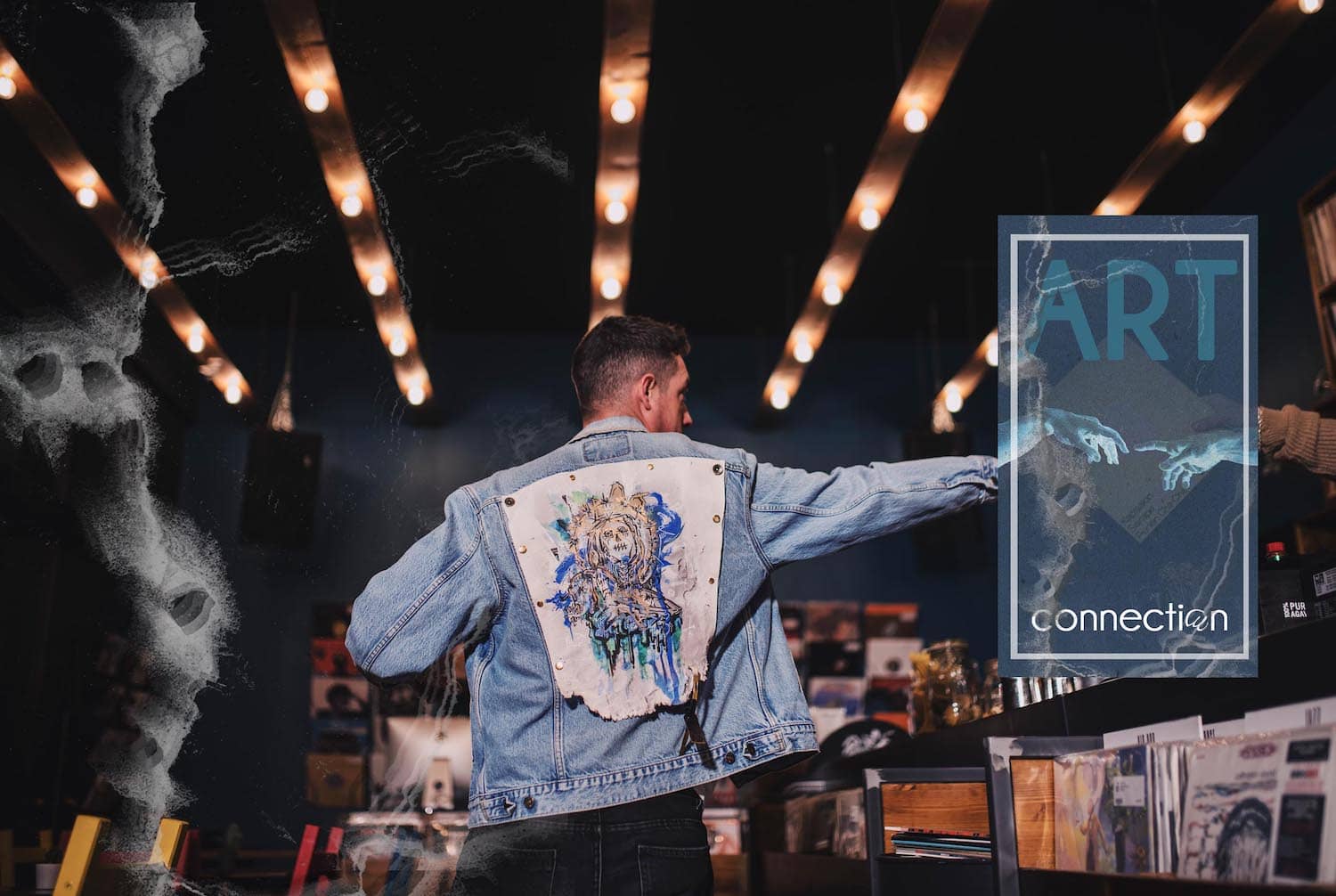 _______________________________________
Pictures © Morb
April 2021
by Laura Vetter